Perfect pairings of SBBlooms wedding flowers with Revelry's wide variety of bridesmaid dresses
Once you've decided on your color palette and overall wedding vision, it can be hard to imagine how everything will look together. Our friends at Revelry created some gorgeous combinations including our premium silk florals and their wide variety of bridesmaid dresses. No matter which SBBlooms collection you decide to rent for your big day, you are sure to find dresses from Revelry that your bridal party will feel beautiful and confident in!
Keep reading to get inspired by our top floral and dress combinations with Revelry.
MODERN LUXE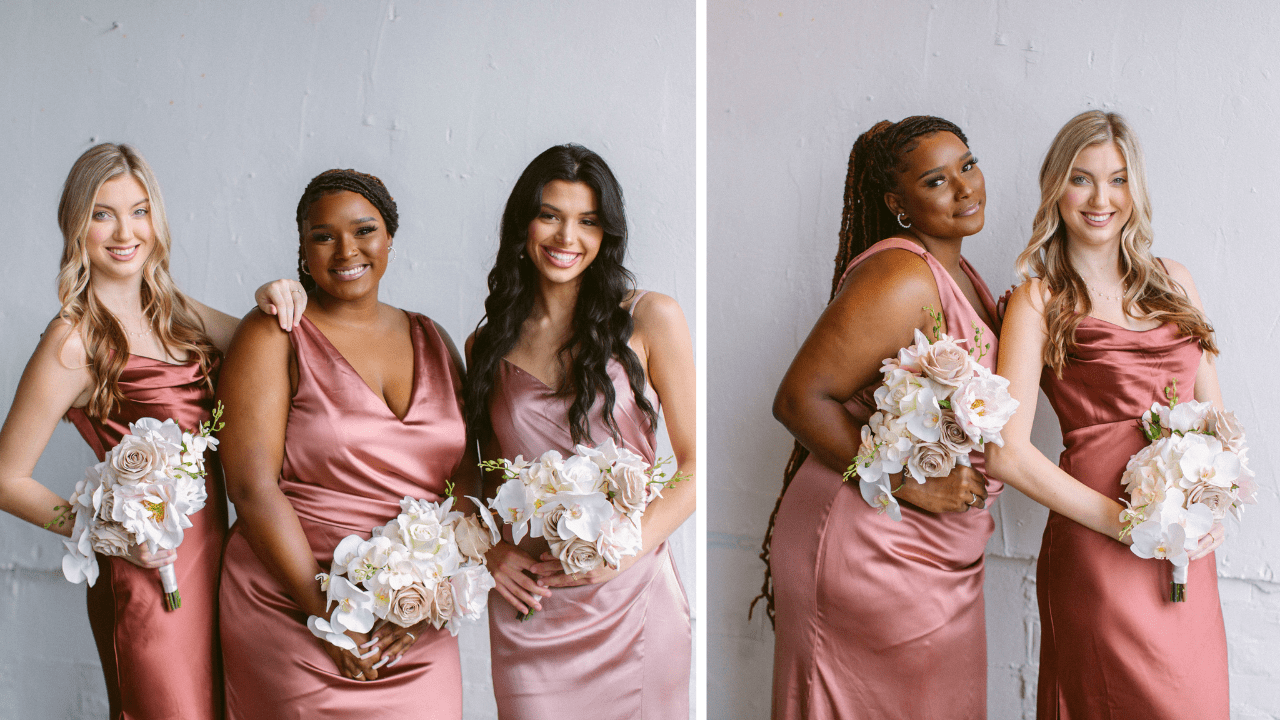 We couldn't have come up with a better name for this stunning lineup if we tried! Revelry styled our modern and elegant Wren Collection with their beautiful shades of Dessert Rose, Rose Quartz, and Cinnamon Rose. We've noticed our Pinterest feed overflowing with different colored bridesmaid dresses and we're especially loving this trendy ombre look. The dimension and tones of the satin gowns allow the florals to speak for themselves. With its natural design of overflowing blooms, the collection includes a beautiful mix of white, cream, linen, and soft blush open rose varieties paired with white and pale peach orchids.
Shop the WTOO Collection here.
DREAMY AND ROMANTIC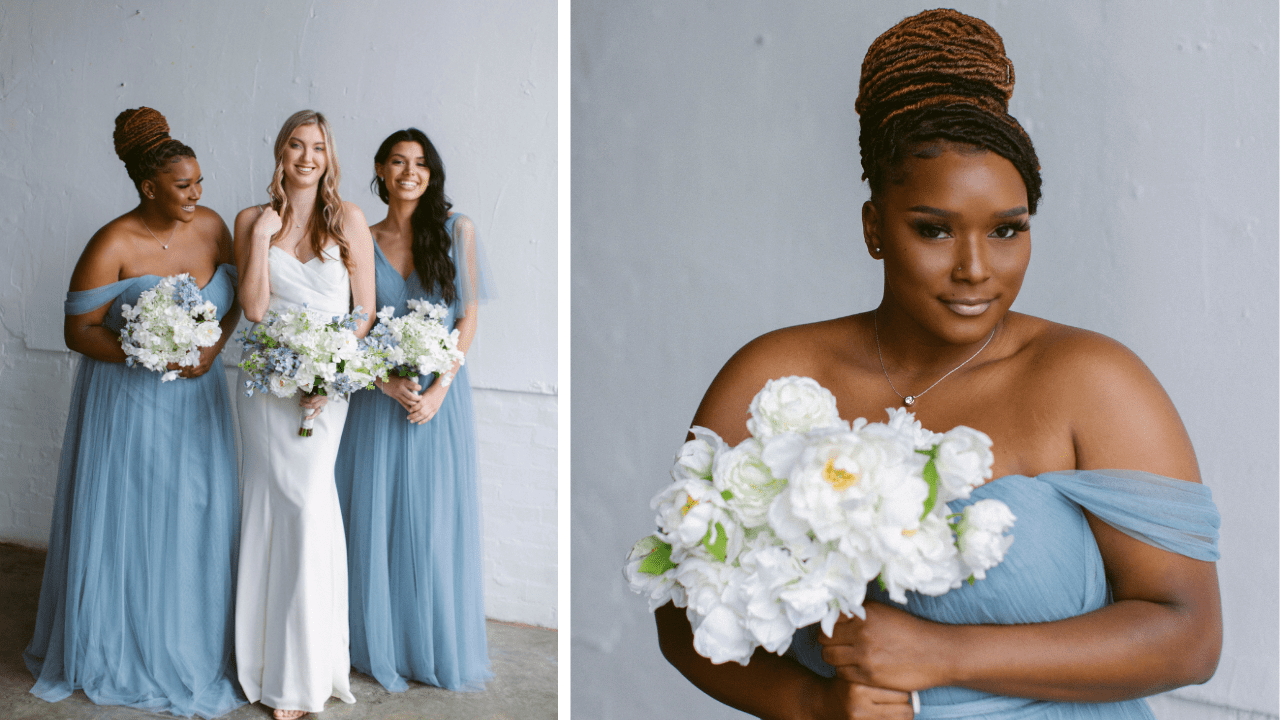 We're getting all the fairytale wedding vibes from this gorgeous pairing! Revelry's French Blue tulle dresses with our garden-inspired Millie Collection is a match made in Heaven, not to mention perfect for any Spring or Summer wedding. Want your Bridal bouquet to be your 'Something Blue'? Have your bridesmaids hold the Audrey bridesmaid bouquets while walking down the aisle for an all-white look. We LOVE when brides mix and match collections to achieve their desired aesthetic.
Shop the Millie Collection here.
Shop the Audrey Collection here.
WARM VELVET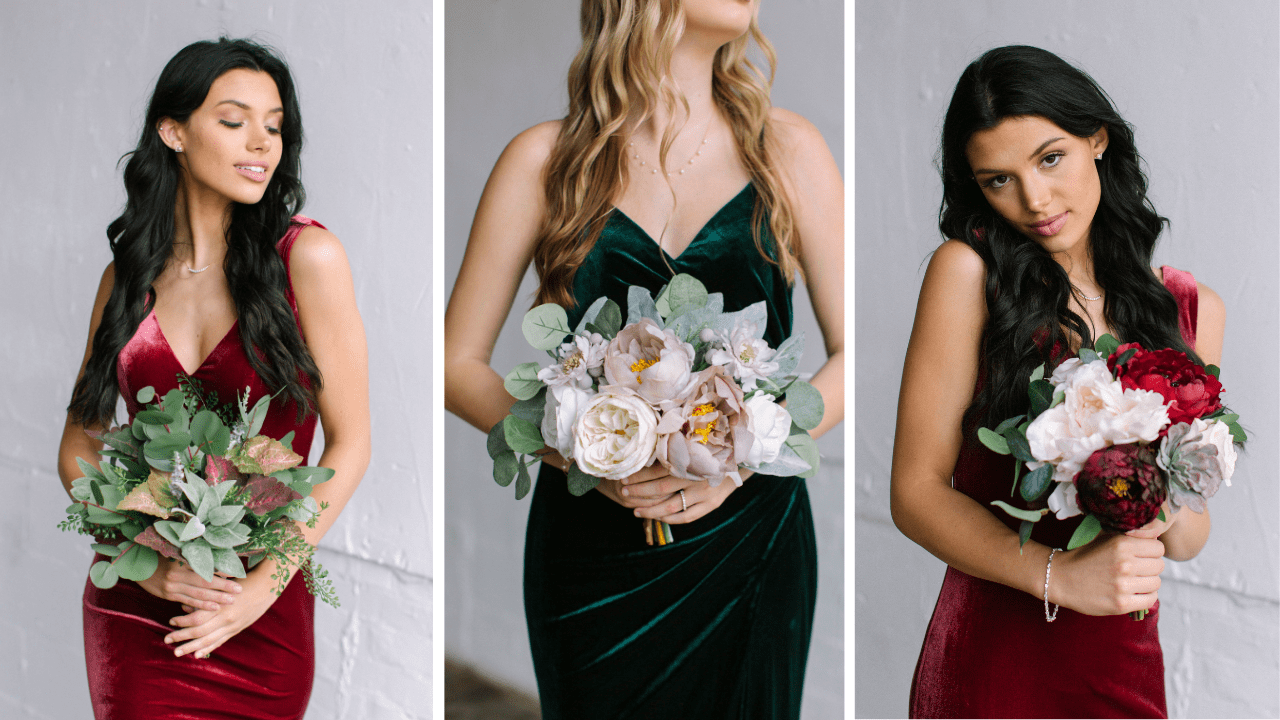 We're obsessing over the rich and velvety bridesmaid dresses Revelry offers, worn best in the colder months of fall and winter. Our all green Laurel Collection is stunning with any of Revelry's velvet dress colors but we're swooning over Romantic Rose and Emerald. If you're looking to pair your velvet gowns with more flowers instead of greenery, the Taylor collection has a muted and modern color palette that's perfect for any season. Looking for deep, moody, and romantic vibes? Look no further than the Stella Collection. Complete with marsala tones lightened up with shades of pale pink and grey to create a sensual, stunning look and an excellent choice for winter!
Shop all of the floral collections here.
Whether you're imagining a traditional formal affair or an intimate backyard wedding, Revelry has on-trend bridesmaid dresses in every color, fabric, and style you can imagine. The best part? There are endless possibilities when it comes to matching them with our premium silk wedding flowers!
Join our SBBlooms Brides Facebook group to get all the insider pro tips and advice from past and present SBBlooms Brides. For more inspiration browse our floral collections, follow us on Instagram, and subscribe to our YouTube channel for DIY tips and collection reviews.