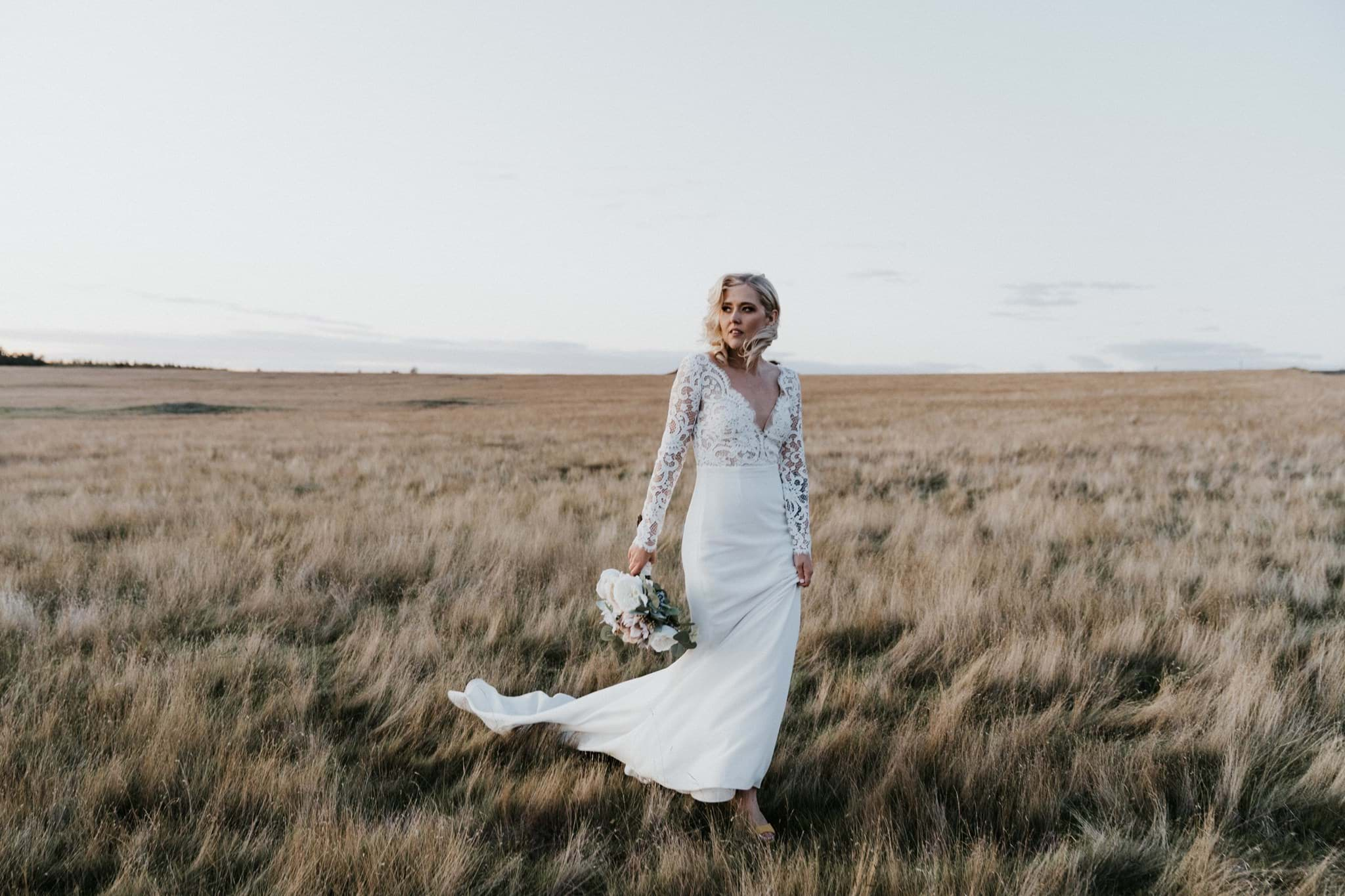 All those picture-perfect weddings on Instagram and Pinterest may have your head-spinning. With so many choices and so many styles, you're probably left wondering, what's right for me?
While it's easy to get wrapped up in the social inspiration, your wedding style should be defined by YOU and represent your unique personality as a couple. For some, that's a trendy shindig and for others, that may mean a simple and elegant ceremony.
So what kind of wedding do you see yourselves having!? Are you leaning towards a more traditional ceremony at a beautiful grand chapel, with a white lace dress and black tie attire? Or are you considering a scaled-back intimate ceremony at the location of your first date? Either way, it's sure to be beautiful and special in every way.
At Something Borrowed Blooms, we know all Brides are different! We work hard to deliver silk flower designs that are versatile and affordable to meet the needs of every Bride-to-Be. Offering fourteen unique floral collections covering all shades of the color spectrum, we continue to expand our line of florals.
With our most recent refresh of The Audrey Collection we took the design a step further, offering TWO styles! The end result, a traditional round nosegay bouquet and a modern hand-tied bouquet --- both equal in beauty but opposite in style. Featuring an all-white color pallet and a versatile design, The Audrey Collection fits the floral needs of SO many Brides.
Take a LOOK at the NEW Audrey Collection...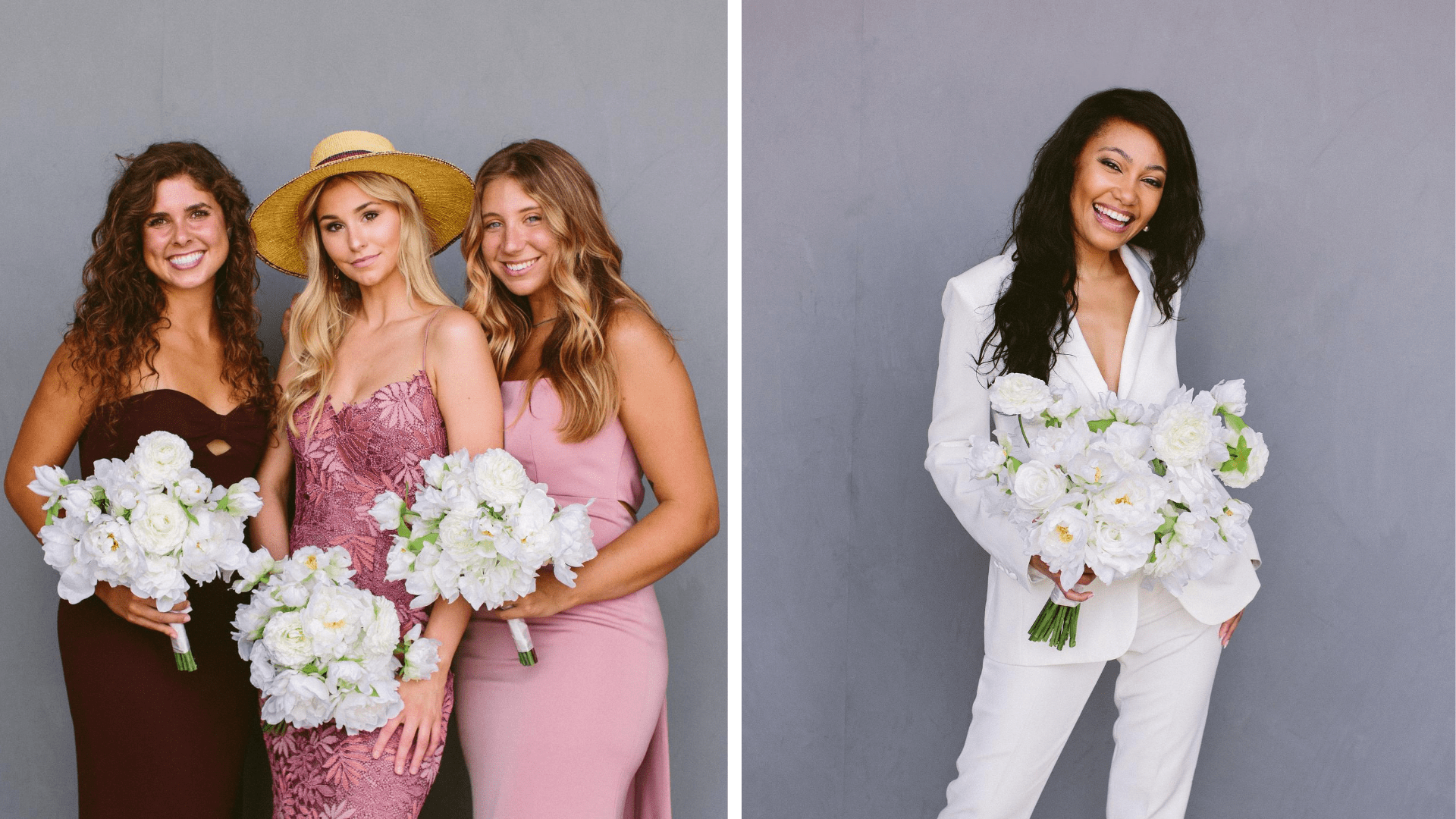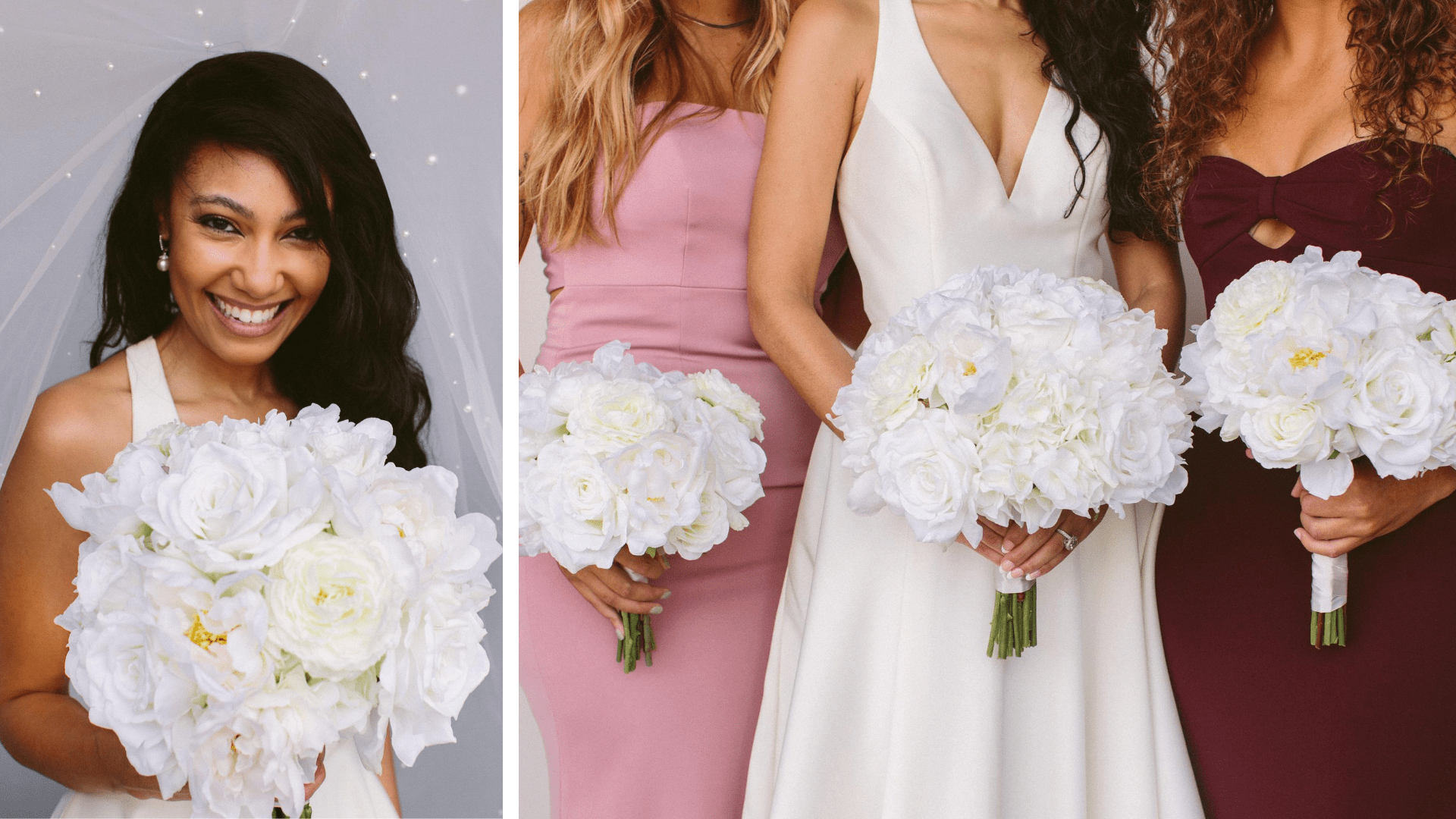 Isn't she PERFECT? We think so too! Looking at the two styles, you should instantly be drawn to one! Our round bridal and bridesmaid bouquet appeals more to the Bride who dreams of wearing her great grandmother's pearls on her special day, with a lace dress and soft color palette. The hand-tied bridal and bridesmaid bouquet style is for the fun and trendy Bride, who isn't afraid to make a statement, even when the colors are as simple as ivory and white.

So are you a traditional or modern bride?
Take a look at some other traditional and modern wedding examples, which may help you define your style.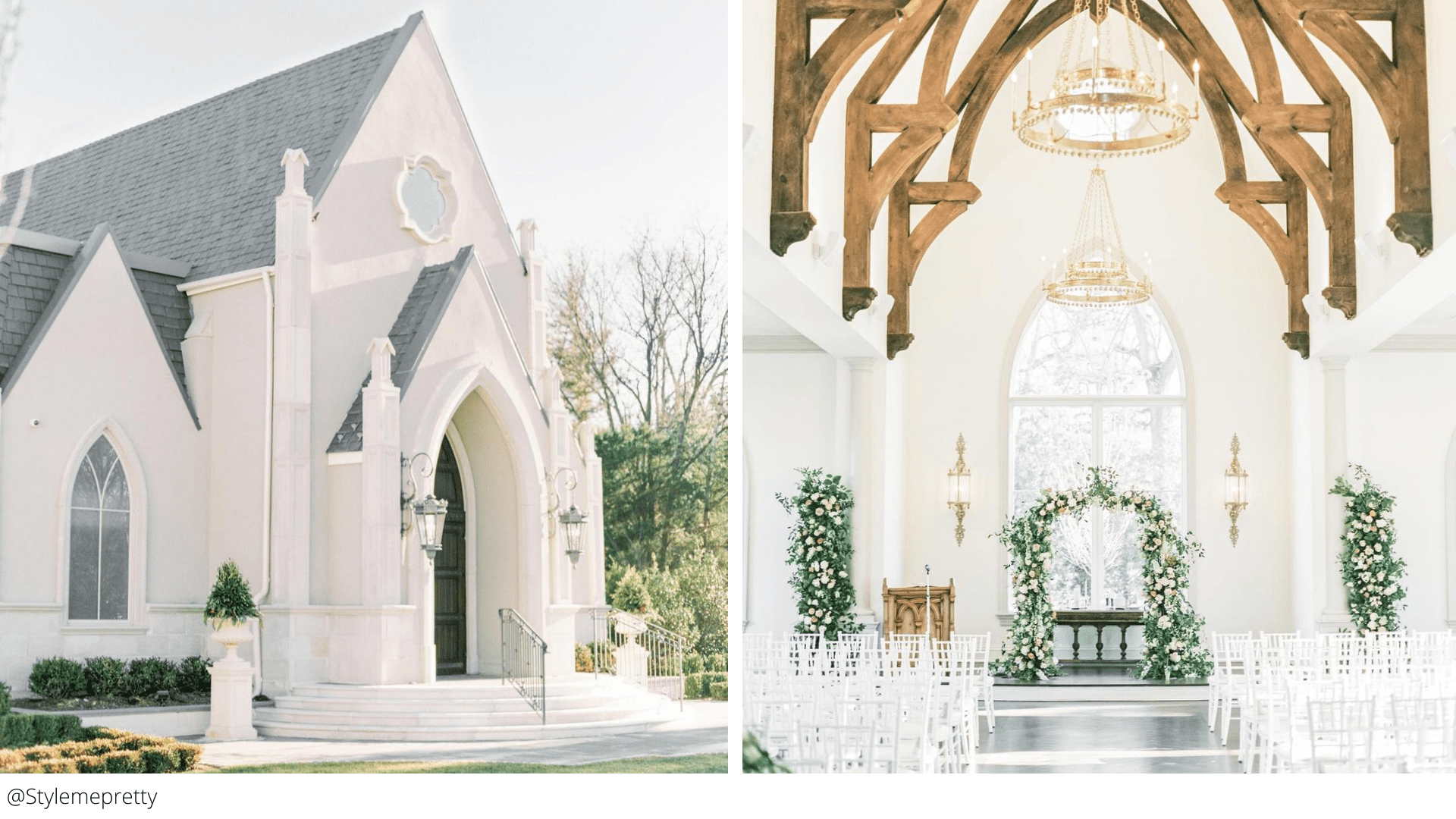 TRADITIONAL WEDDING INSPO
White chapels are what wedding dreams are made of and for good reason! If you're all heart eyes, find a cute little chapel and you don't need much to make it pretty! You can recreate this look with our rent and return florals. Consider using greenery garlands like the Spiral Seeded Eucalyptus and Silver Dollar Eucalyptus to create a timeless and natural look. Or our custom Audrey Garland for lush and full bloom florals. Totally swooned - You're a traditional Bride!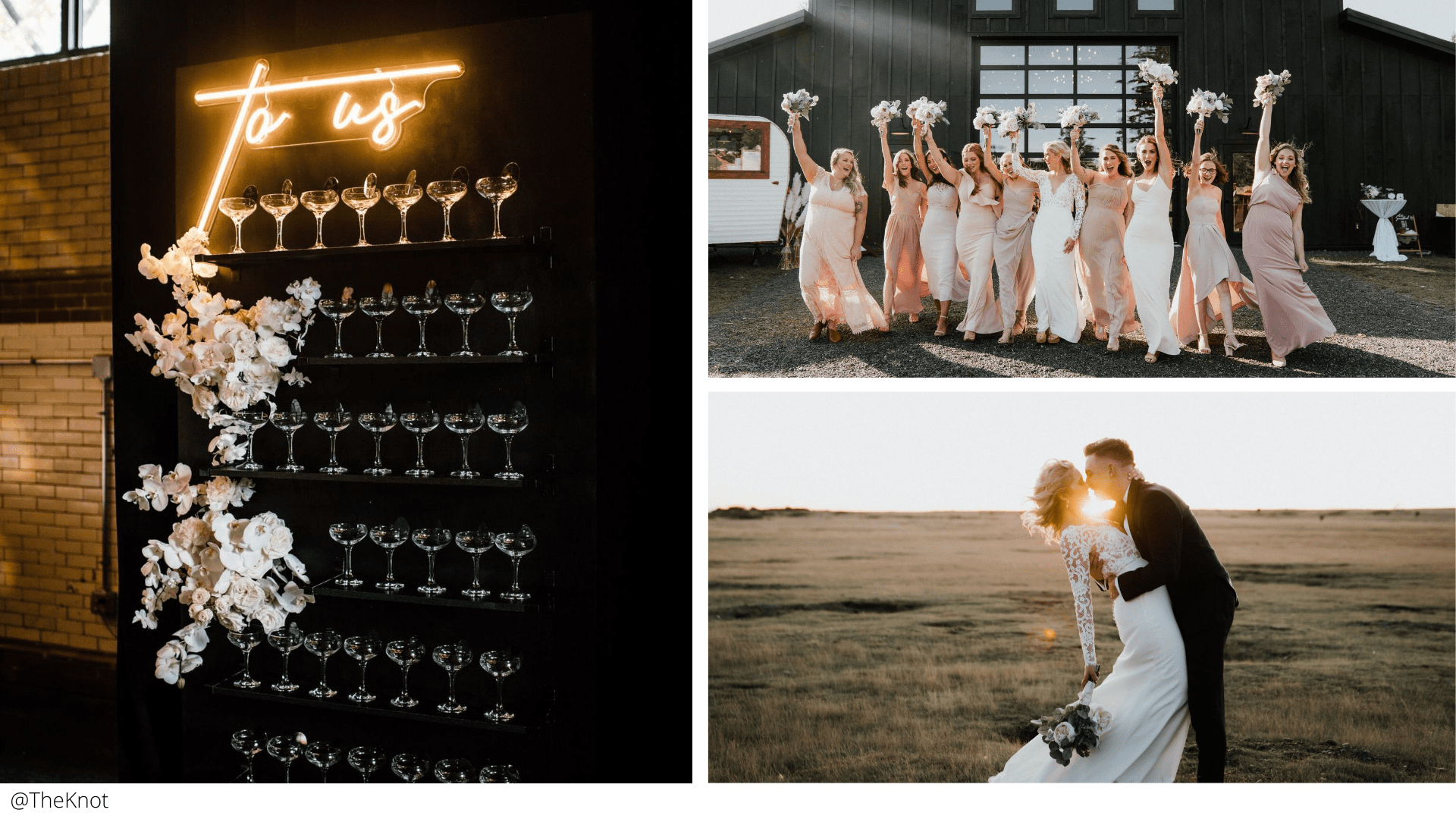 MODERN WEDDING INSPO

Details are everything when it comes to a modern wedding! If a casual venue or this simple champagne wall accented with a neon and matte black wall is singing your tune, then you're far from a traditional Bride. Recreate this champagne wall with our Wren Bridesmaid Bouquets to WOW your guests while staying in budget.
Traditional or modern --- or maybe a mix of both; pick a style and own it. After all, it is YOUR special day! For more inspiration browse our collections, and follow us on Instagram for real wedding inspo!
XOXO,
The SBBlooms Team