Keep the planet and your budget in mind with these sustainable wedding hacks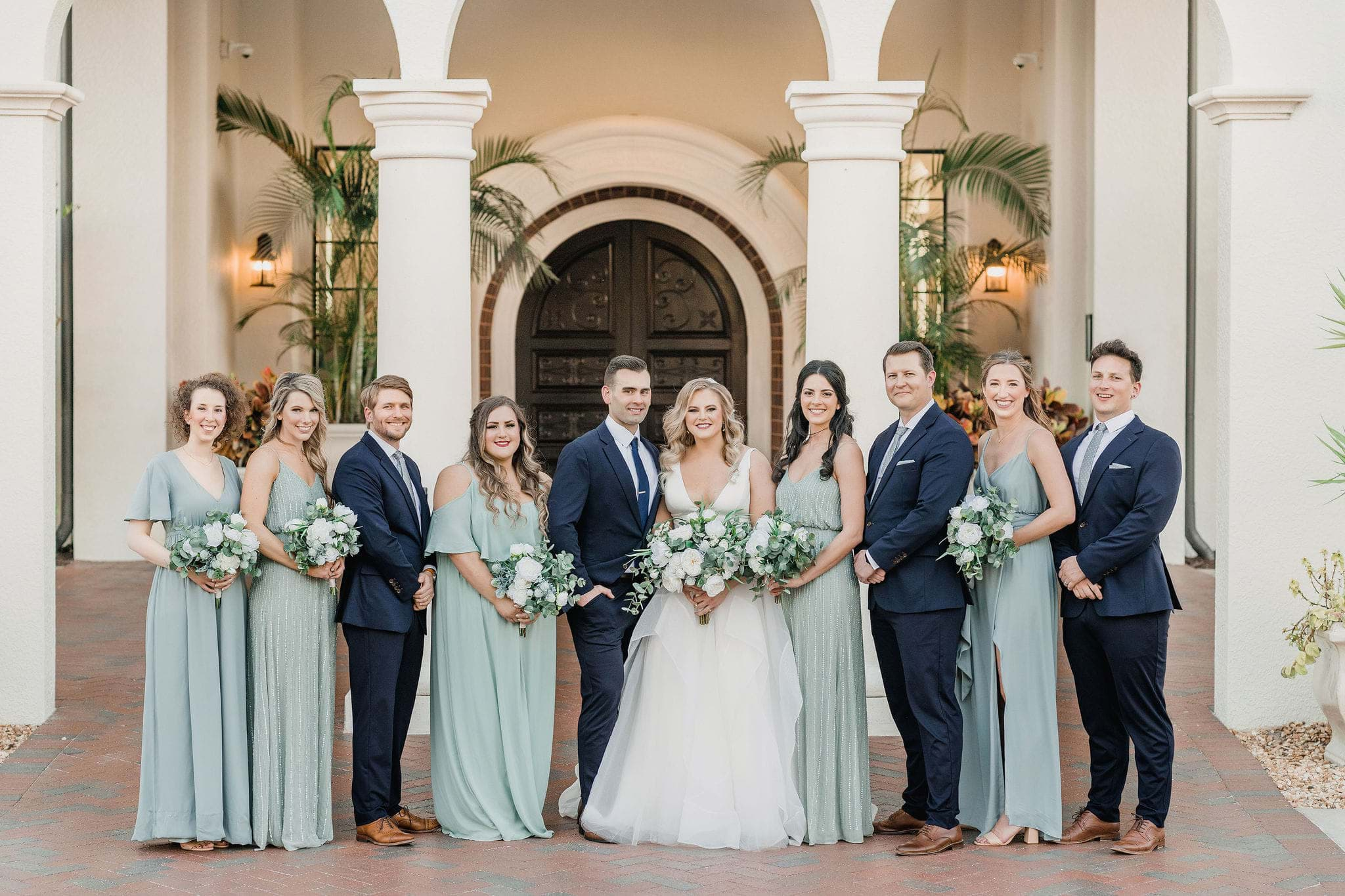 We're celebrating earth day with helpful tips and tricks for an eco-friendly and sustainable wedding! If throwing a waste-free ceremony and reception is a top priority for you as a couple, then these 5 sustainable wedding ideas will make your planning a breeze all while reducing the carbon footprint on our beautiful planet.
From renting to recycling, keep reading to successfully throw a beautiful eco-friendly wedding!
1. Rent your Wedding Flowers
The ultimate sustainable choice on the wedding day - rent your wedding flowers! After all, flowers are arguably the biggest waste day of the wedding. Most flowers are just used for a few minutes for the ceremony or hours for the reception before being thrown out.
At Something Borrowed Blooms, we specialize in premium silk wedding flowers that are both on-trend and on-budget. Our collections of beautiful silk wedding flowers are recycled and refreshed after each use to ensure the highest quality with each rental, with little to no waste. Flowers are passed on from one wedding to the next, providing for one of the most sustainable wedding flower options on the market. And these eco-friendly florals also include many other benefits including full price transparency; our prices are the same all year long, so you don't have to pay a premium during holidays, and unlimited availability; our flowers are always in season no matter where or when you tie the knot!
SBBlooms also sources packaging from SFI-certified suppliers! This means our boxes are corrugated, 100% recyclable, and also reduce greenhouse gas emissions.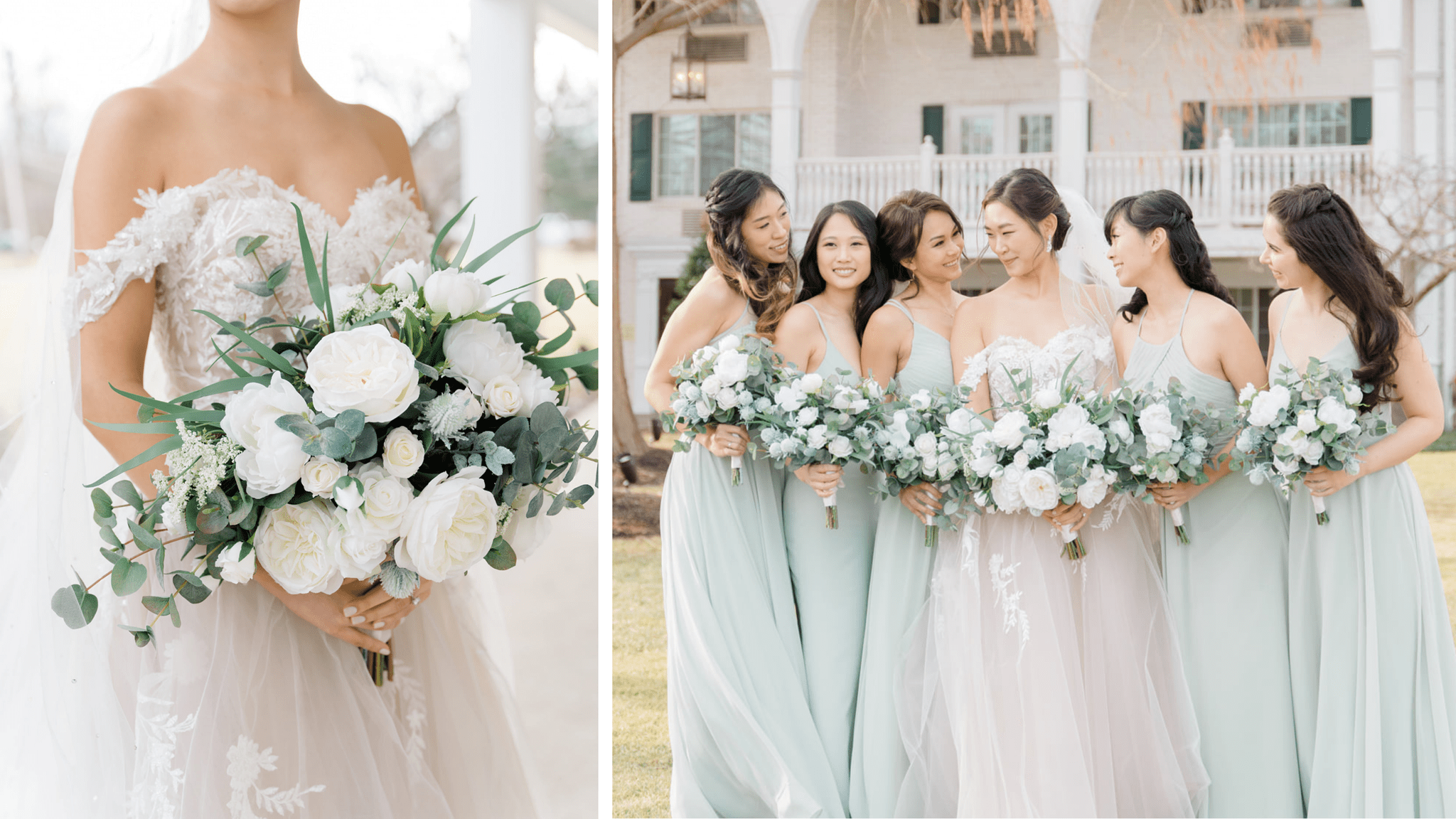 2. Second-hand Wedding Gowns
A one-time wear dress is the opposite of sustainable! If you're looking for an alternative consider Still White, a company that allows brides to sell and buy gently used wedding dresses for a fraction of the cost of designer prices. With sustainability at the forefront of everything they do, Still White's mission is to invest in future-focused solutions, which is why they contribute 1% of their revenue for the good of the planet. Every wedding gown purchased reduces carbon emissions, water, and textile waste. And by re-wearing a fashion item, you give it a longer life and reduce its carbon footprint.
This tip is a win-win! Get your dream wedding dress at a discounted price and help the planet at the same time
3. 'Green' Party Favors
Let's face it, party favors often end up in the trash creating unnecessary waste. But you can change that! Send your guests home with a cute potted plant or jar of honey like the ones below from White Confetti Box on Etsy to commemorate their time at your wedding! Not only is it eco-friendly, but who wouldn't love a succulent or something sweet to add to their favorite treat. The best part? These party favors won't go to waste!
Or, reach out to local bee farms and nurseries for these party favors and support your local businesses!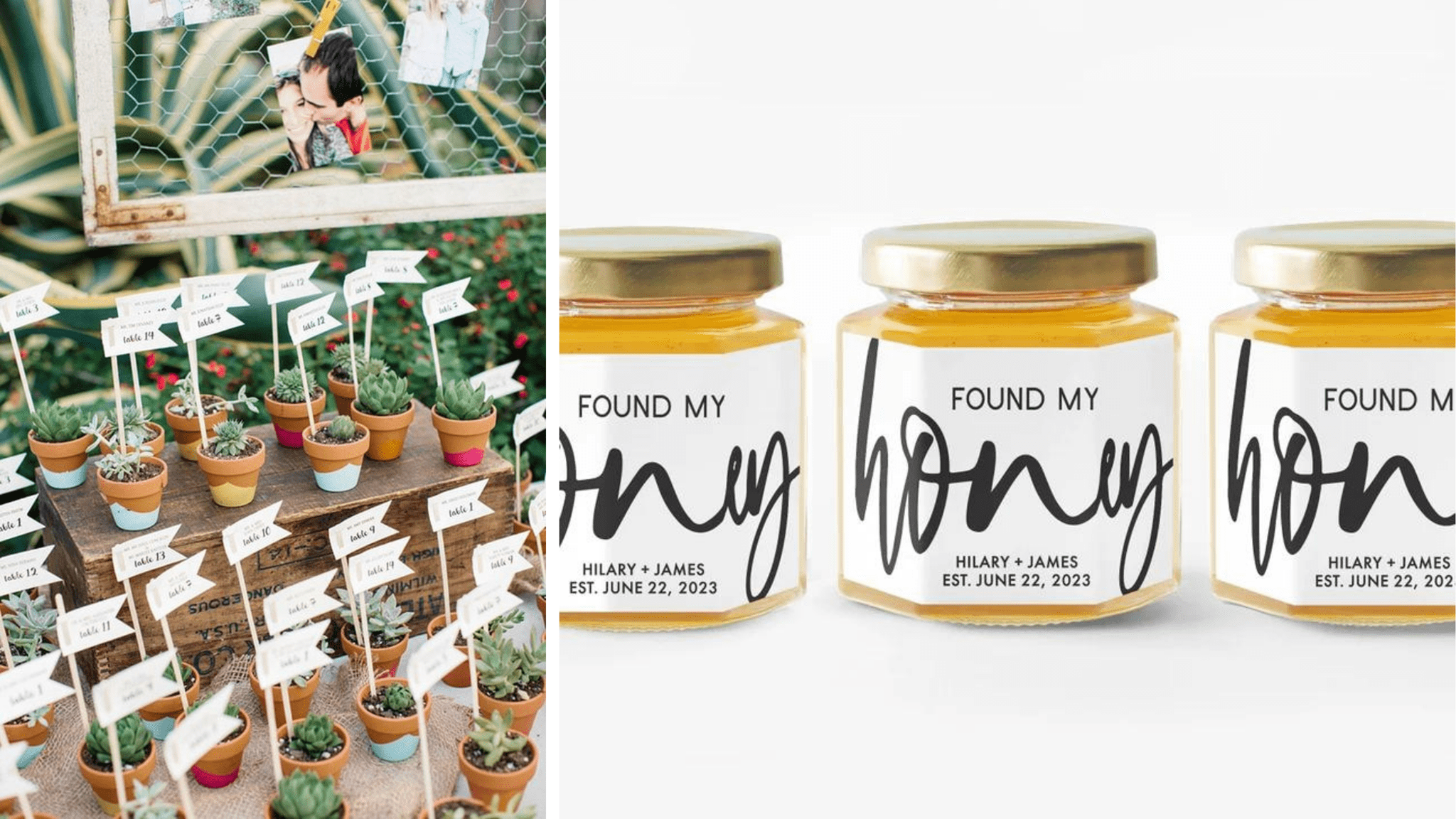 4. Plantable Wildflower Invitations
Leading up to the wedding date, there are so many events that traditionally require paper invites. Think engagement party, bridal shower, couple shower, bachelorette/bachelor party, rehearsal dinner, save the dates, and finally the wedding invite. So much paper, all to end up in the trash!
Consider using plantable wildflower invitations like the ones below from My Eco Designs on Etsy! Instead of your guests tossing the invites in the trash, provide them with an eco-friendly option to plant their invitations and grow wildflowers at the same time by using quality recycled seed paper.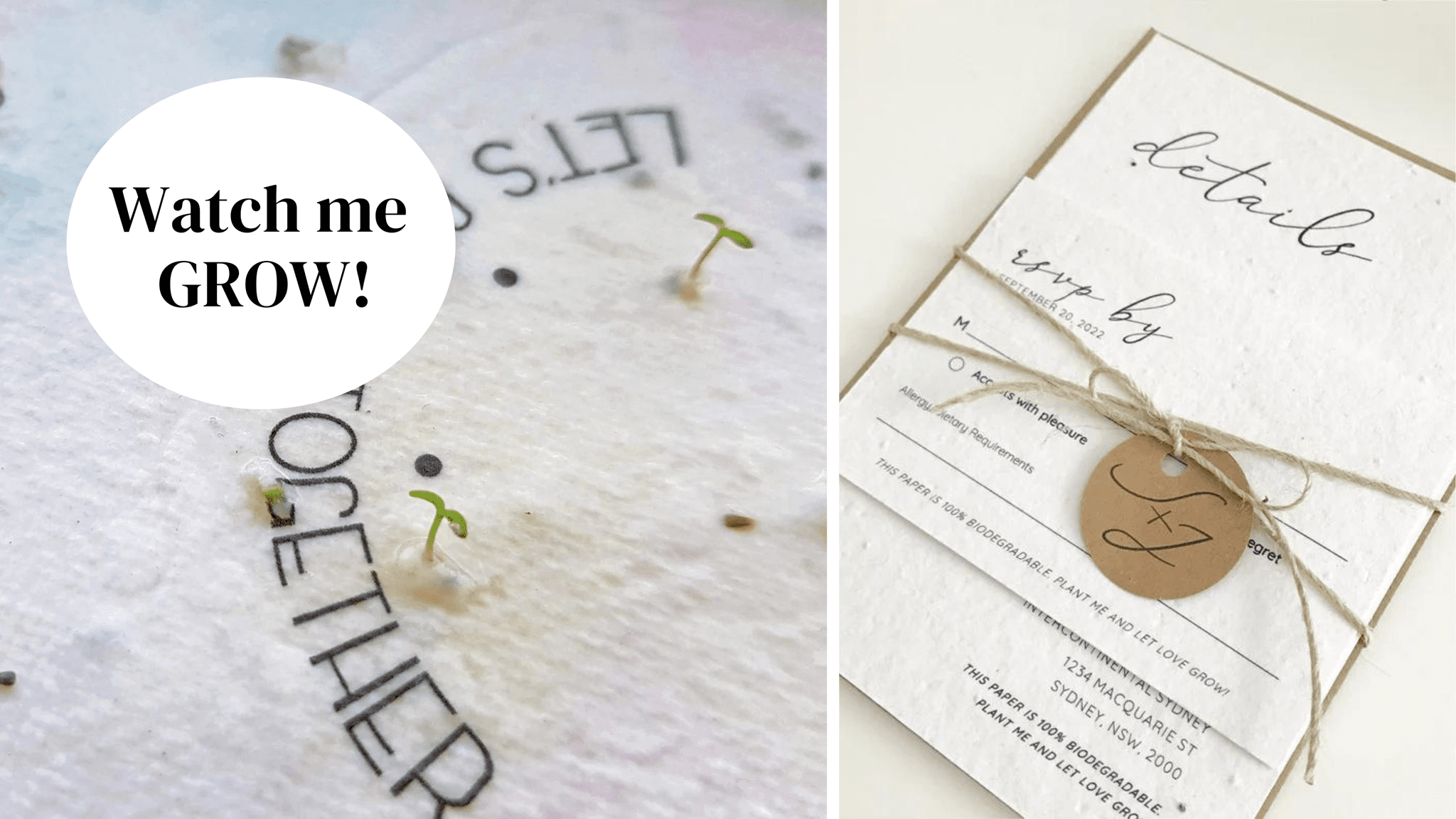 5. Create a Wedding Website
Want to go completely paperless? Wedding websites have been increasingly popular within the past few years. With our lives grounded by technology and our digital devices, it just makes sense for these important events to sync! Zola offers free wedding websites that provide customization and online RSVP
What better way to showcase your entire wedding experience on a personalized website!
There are so many ways to incorporate more sustainable choices for your wedding. Choose a few that best suit your plans for a beautiful wedding day and take pride in conserving mother nature's resources.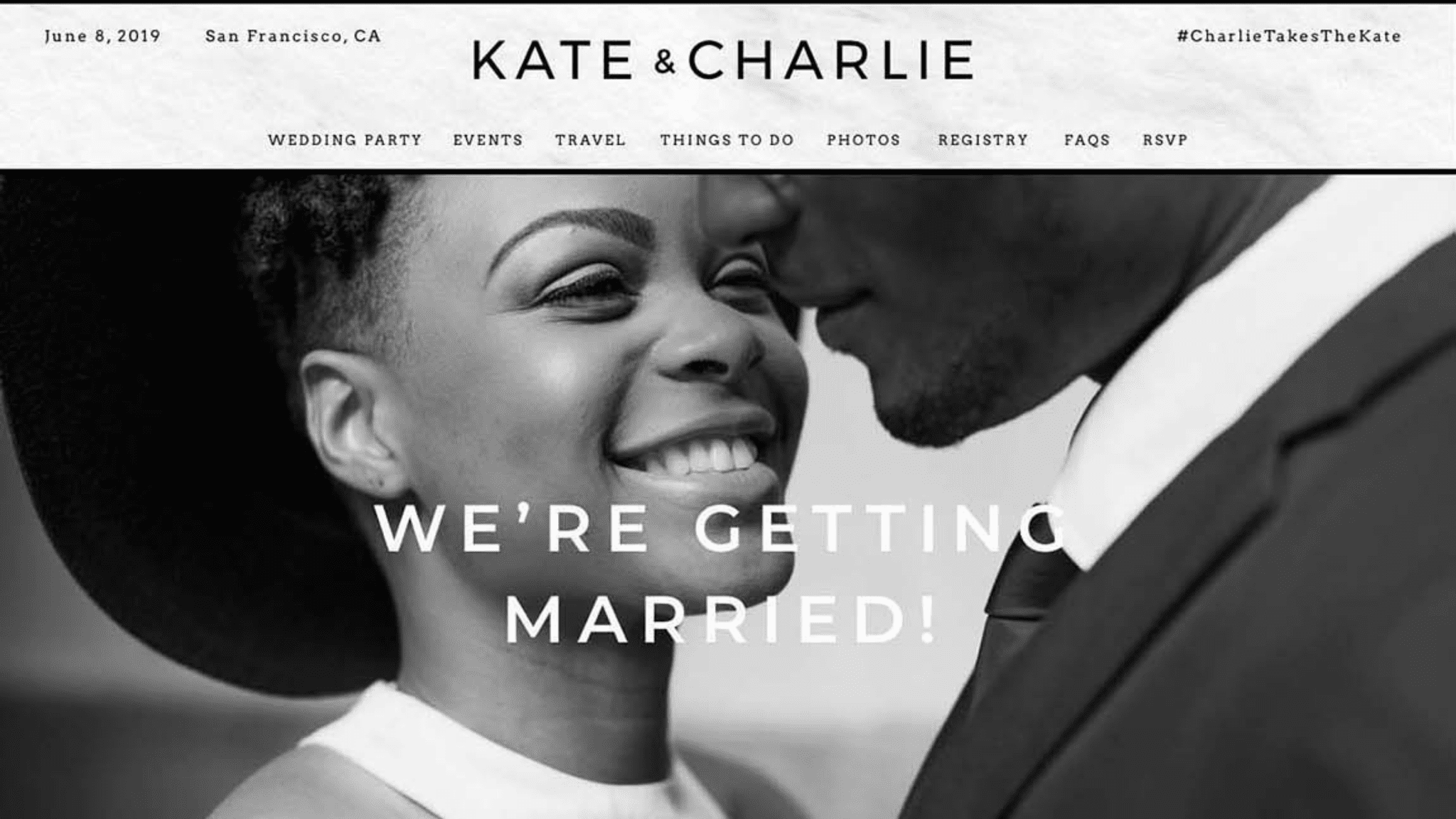 Being eco-conscious is one of our top priorities at Something Borrowed Blooms. We are committed to providing couples with a more sustainable & eco-friendly alternative for wedding flowers. With that being said, we love taking a part in spreading the word on all eco-friendly wedding day options.
Happy Earth Day from all of us here at SBBlooms! Tell us, what are some ways you're keeping sustainability in mind on your wedding day?