Something Borrowed Blooms' Bride stays true to her wedding flower budget with premium silk wedding flowers.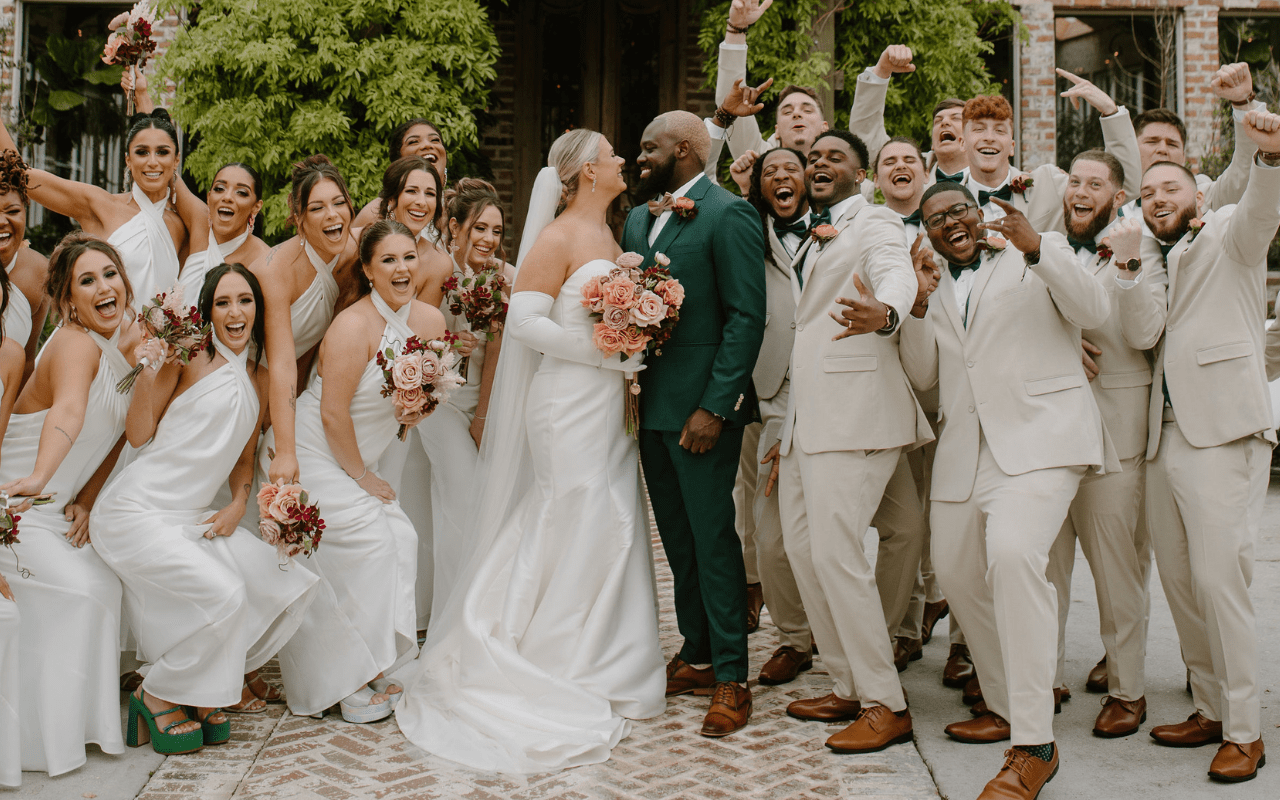 @chelseachiphotography
Meet Mckenzie and Ervin, a couple whose love story began in high school but truly blossomed as they faced the challenges and joys of everyday life, sharing experiences in the service industry. Their journey from friends to life partners culminated in a wedding that defied conventions, showcasing the unique essence of their style, personalities, and priorities.
In this blog post, we'll explore Something Borrowed Blooms' pivotal role in crafting of Mckenzie and Ervin's breathtaking wedding. What makes it even more remarkable is that this was accomplished while adhering to their modest floral budget of under $600!
Continue reading to discover how this SBBlooms Bride orchestrated a stunning wedding on a budget that is both achievable and beautiful.
The Planning
After the proposal, McKenzie took it upon herself to plan the entire wedding. A task that might seem overwhelming to some but armed with a clear vision and trusted recommendations from friends, she found the process surprisingly manageable.
When it came to choosing wedding flowers, McKenzie had her heart set on premium silk arrangements. Her only criteria were that they looked beautiful and authentic while keeping the planning process stress-free. Fortunately, her fantastic photographer introduced her to the concept of rent and return wedding flowers from Something Borrowed Blooms.
"My photographer raved about how beautiful the florals looked in person and how beautiful they photographed. That's what really sold me! I also loved the convenience of SBBlooms and that you had the option to do local pick up or have them shipped to you the week of the wedding!"
Because the venue was already breathtaking, minimal decor and florals were needed. Therefore, the order only consisted of wedding flowers for the bridal party!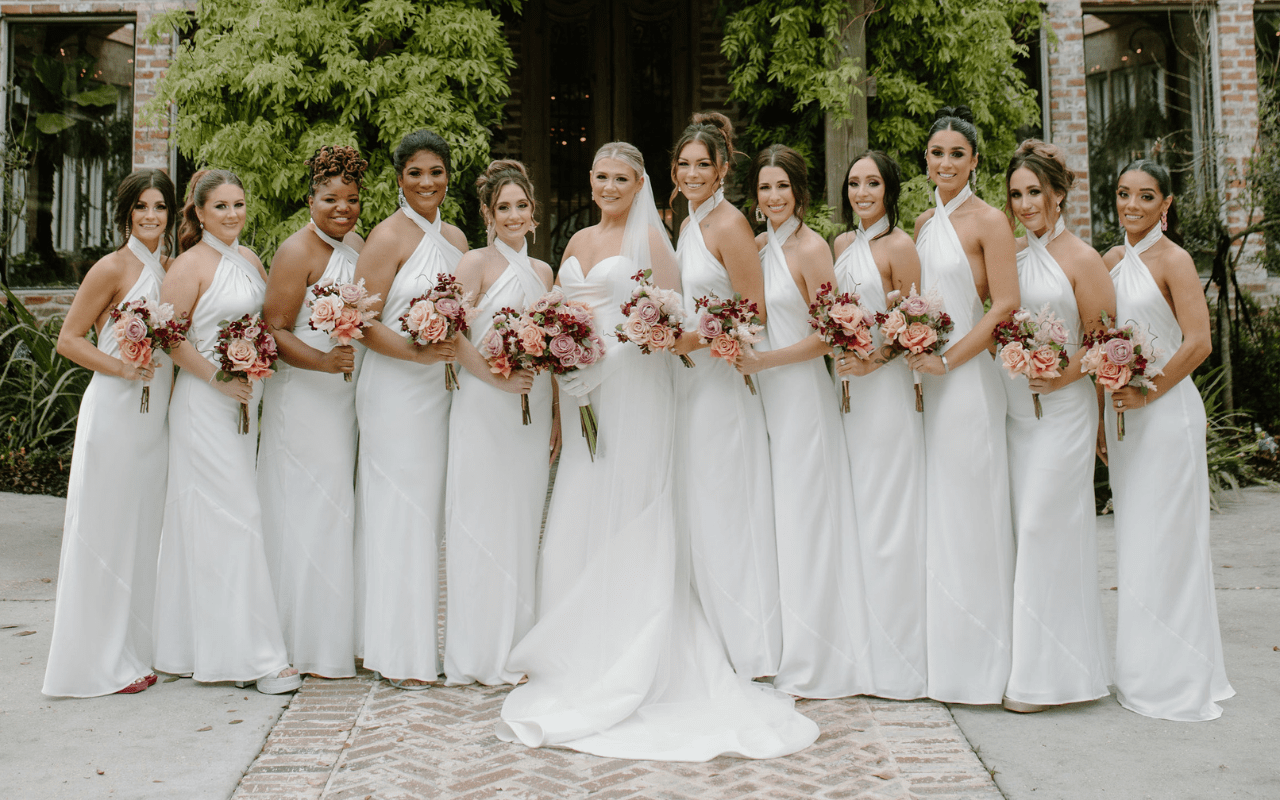 The Blooms
From the second McKenzie started exploring the wedding flower collections; she fell in love with the Nina Collection. This premium silk flower collection embodies the essence of a romantic Western sunset with its warm and dreamy color palette. It features a variety of terracotta and light pink open dutchess roses, dusty lavender, rust ranunculus, and dark plum apple blossom sprays arranged together beautifully. Textured with pampas grass and curly willow, this bohemian desert-inspired collection works well for any season.
"The Nina collection is BEAUTIFUL! I knew I wanted colorful flowers because me and my bridesmaids were all wearing white. I wanted our florals to really stand out and the Nina collection had the perfect colors and tones to compliment my spring wedding!"
McKenzie styled her Bridal party in ivory luxe satin halter dresses from Show Me Your Mumu, accented with the Nina Bridesmaid Bouquets. This all-white look allowed the florals to really POP! We hope to see this trend continue through the 2024 wedding year. Ervin sported the Nina Boutonniere (ranunculus) that perfectly complimented his emerald green suit. The groomsmen played it neutral in tan suits accented with the Nina Boutonniere (pampas) for some variation.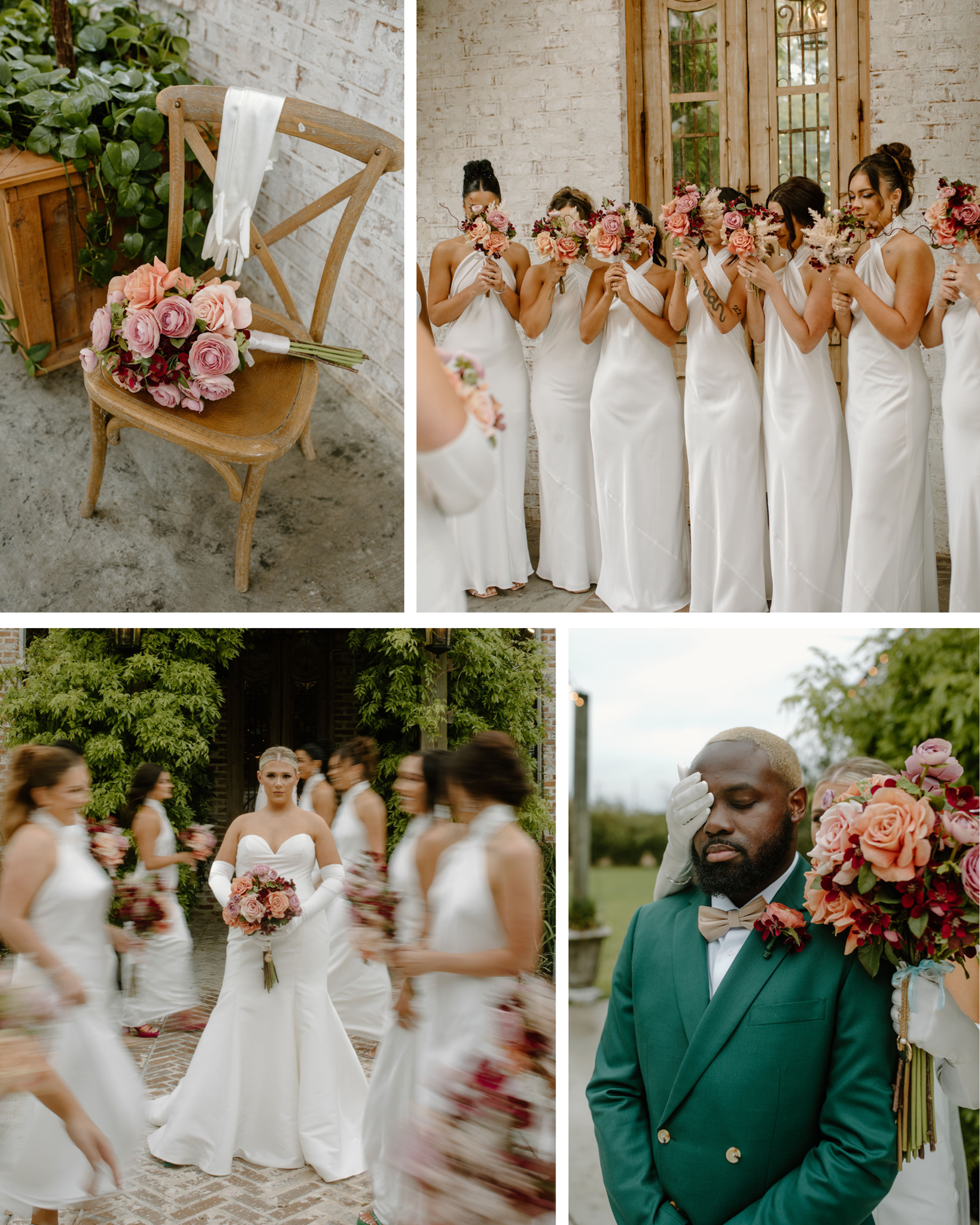 The Review
"Wedding planning can be stressful! As a bride, you want everything to be beautiful and perfect & it's very consuming. SBBlooms was a lifesaver in my wedding planning process because I knew it would be beautiful, and I didn't have to stress about it. The customer service was phenomenal, and the flowers were absolutely beautiful! I would recommend SBBlooms to everyone!"
Mackenzie and Ervin's wedding, adorned with the stunning blooms from Something Borrowed Blooms, is a testament to the idea that a beautiful wedding doesn't have to break the bank! With careful planning, a touch of creativity, and the right floral partner, couples can achieve a dream wedding without compromising on style or budget.
Congratulations to the happy couple, and thank you so much for choosing Something Borrowed Blooms to be a part of your special day!