Wedding Flower Stylist, Kelly, shares her dream wedding along with all the floral details from Something Borrowed Blooms
Hello there, Kelly here! I wear many hats throughout the workday at Something Borrowed Blooms, but 1x1 floral styling is one of my favorite parts. If you've signed up for a Live Styling Session chances are we've met. I married the man of my dreams back in May at the cutest chapel in Louisiana, with our baby boy by our side. Day in and day out, I help couples with their wedding flower visions, but today I'm super excited to share mine with you.

Keep reading to learn how we pulled off the fairytale wedding of our dreams!

Hunter and I got engaged in December of 2020 and I placed my order for my wedding flowers with Something Borrowed Blooms the very next day! I secured the items I knew I absolutely needed (Bridal bouquet, bridesmaid bouquets, boutonnieres, and a couple of garlands). And I knew how easy it was to edit my order after placing it, so I didn't hesitate to start my order immediately.
In the midst of planning our big elaborate wedding, we were pleasantly surprised to find out we were expecting. At this time all wedding plans were put on hold until our bundle of joy arrived. Luckily the floral terms were very flexible, so I was able to push our event date out to a year until we made our final decision on a date. After deciding on May 14th, 2022 I requested for my event date to be changed in the system and added additional items for our new plans all through my customer portal. It was that easy!

Yes, Something Borrowed Blooms was an obvious no-brainer for me! Every day, I see firsthand how cost-effective, stress-free, and convenient it is to rent your wedding flowers, so how could I go any other way!? If you're on the fence about renting your wedding flowers. Do a little research and you'll quickly see why this is the most cost-effective and beautiful wedding flower choice on the market.
I chose to mix two collections together to create the flowers of my dreams - The Bianca and The Wren Collections. The Bianca Garden Cut Bridal Bouquet was the perfect choice for my personal flowers, but I loved everything in The Wren Collection for everything else. I also loved the idea of mixing collections because it felt unique to me.
The Ceremony
For our ceremony, we welcomed our guests with a sign accented with two Wren aisle markers outside of the chapel. We stacked multiple Wren garlands on the altar for an overflowing orchid install. We used two Wren grand centerpieces on tall stands and two on short stands to create a stunning focal point for the exchange of our vows. We scattered black iron candlesticks on the altar behind us for a touch of ambiance, which was just dreamy! These paired perfectly with the ornate gold candlesticks provided by the venue. I often hear brides going back and forth on mixing metals, but I say go for it! It creates dimension and looks intentional when done right.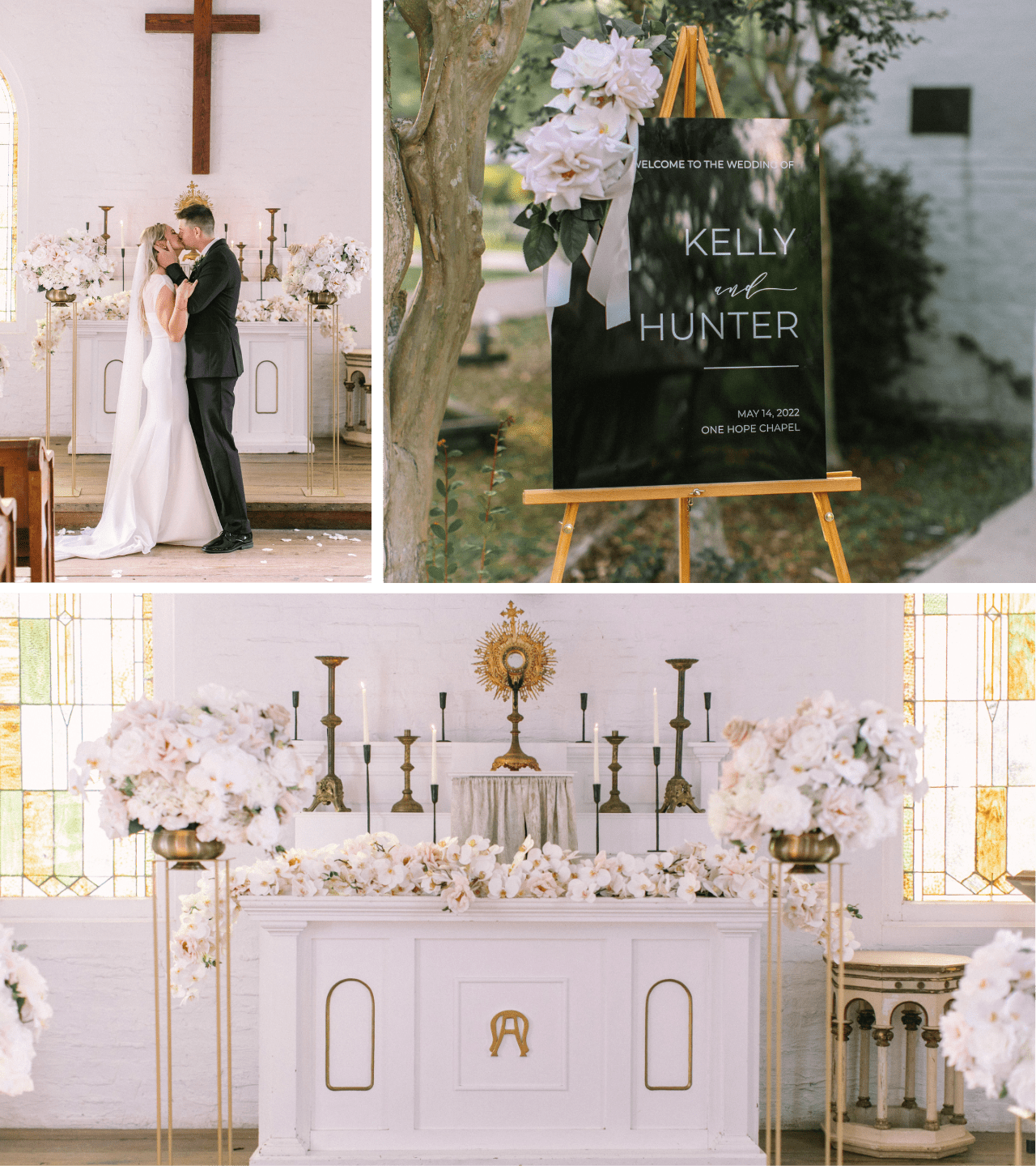 The Reception

We moved the grand centerpieces over to the reception area after the ceremony. I love how the flowers can serve double duty - again helping to keep the overall cost down! The grand centerpieces were placed on both sides of our greenery wall with a 'Cheers' neon sign, right in front of the dance floor. Our family-style dining tables were decorated with centerpieces from the Wren and Bianca Collection. Mix-matched china from Pure Vintage Rentals gave that chic-vintage look I was going for. We moved the black iron candlesticks from the altar to the table and scattered them throughout with the sunburst votives. We also moved the Wren garlands from the ceremony around the cake table and the sweetheart table, where Hunter and I shared our first meal together as husband and wife.
SBBlooms Tip: If you don't have a wedding coordinator, task an eager-to-help friend or family member to move decor from the ceremony space to the reception.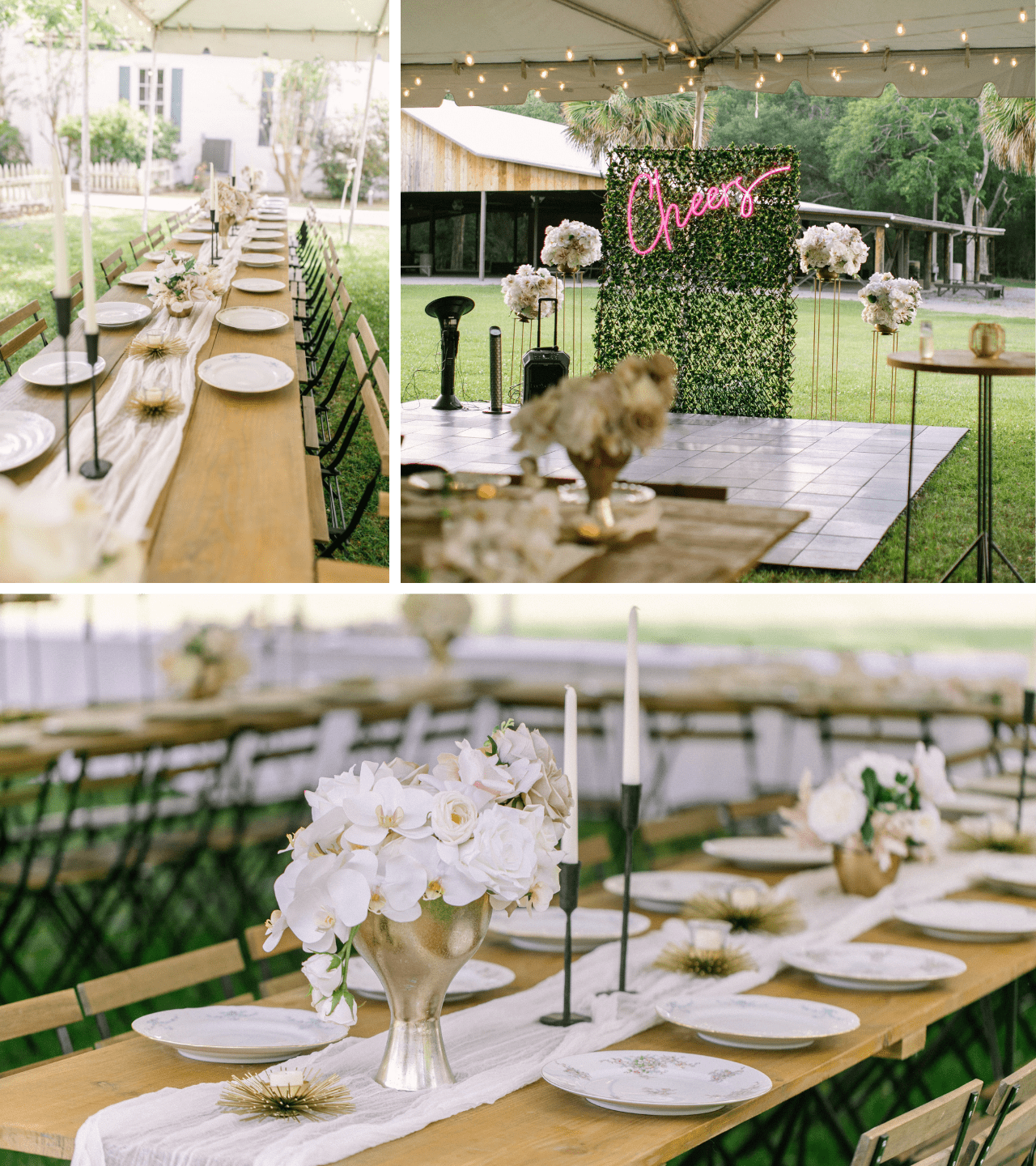 I wanted a budget-friendly dress that I felt beautiful and comfortable in, especially since having our baby back in October. After endless scrolling, I found the dress of my dreams on Showpo.com! The 'Put a Ring on it' dress fit me like a glove and only a couple hundred dollars. I paired it with pearl drop earrings and a studded veil from Etsy for an elegant and classic look. The Bianca Bridal bouquet (garden-cut) was the perfect touch to complete my bridal look.
Using the Wren cake cluster and Honeysilk ribbon helped create those Pinterest-worthy detail shots! The welcome sign was moved to the entrance of the tent where our audio guest book from Ring-a-Ding was stationed. Using this fun alternative to a traditional guest book will forever be something we cherish! All of our friends and family got to leave us voicemails and they were so fun to listen to.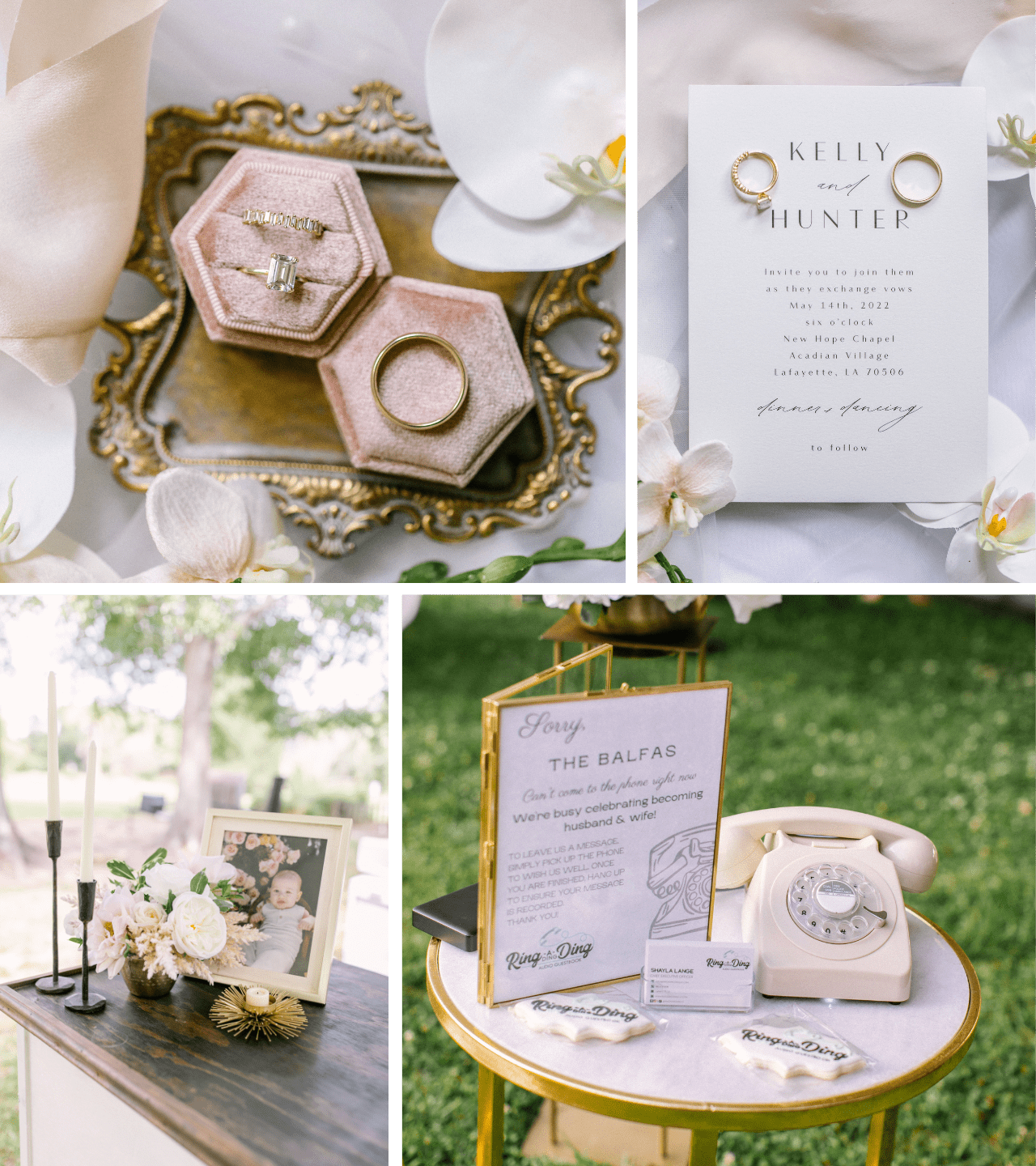 At the end of the night, the provided return checklist was used to ensure everything was accounted for and packed back up. It was simple and beautiful in every way. And now I can personally attest to the savings, convenience, and sustainability that Something Borrowed Blooms offers.
I hope you all enjoyed my wedding details as much as I love seeing your wedding dreams come to life. If we've met in a styling session or via customer service, drop a note below to say Hi!