Let the newest wedding flower collection from Something Borrowed Blooms inspire your wedding planning.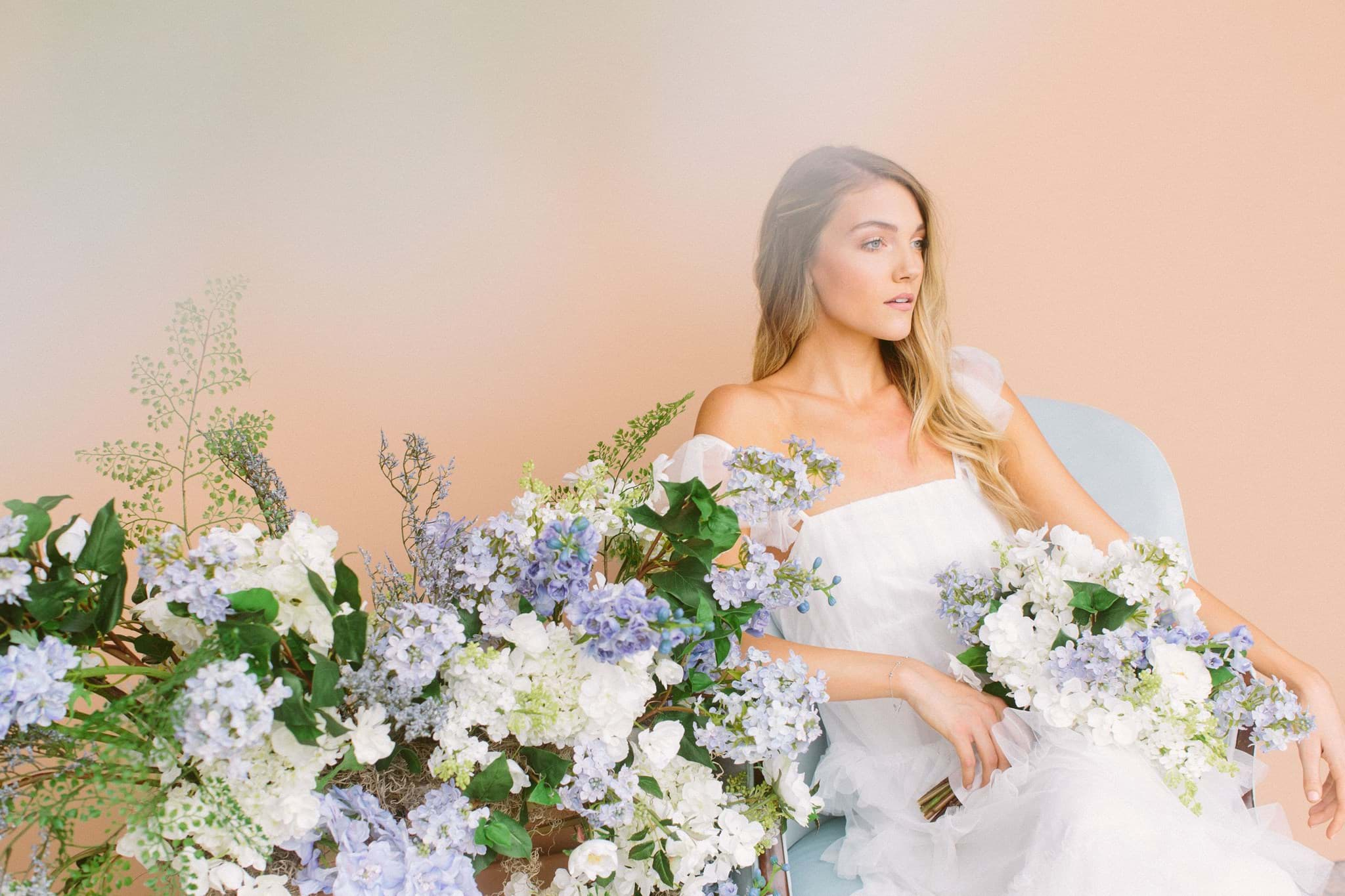 The newest collection from Something Borrowed Blooms is finally here! Meet Millie, a collection of garden-inspired florals, perfect for small intimate gatherings and backyard weddings. With a delicate color palette of soft blue, periwinkle, and creamy white, our design team had so much fun pulling together a dreamy photoshoot to launch the new collection. The final photos are definitely "pin-worthy." And so, we're sharing all the little details with you to inspire your wedding planning (and pinning). Follow along to shop the look!
THE BLOOMS
Of course, our inspiration started with the blooms - The Millie Collection! Straight from your secret garden dreams, the featured silk wedding flower collection includes all of spring's most beautiful florals. Complete with creamy white English roses, soft blue lilac, periwinkle delphinium, and the effervescent butterfly hydrangeas that move so effortlessly with even the slightest breeze.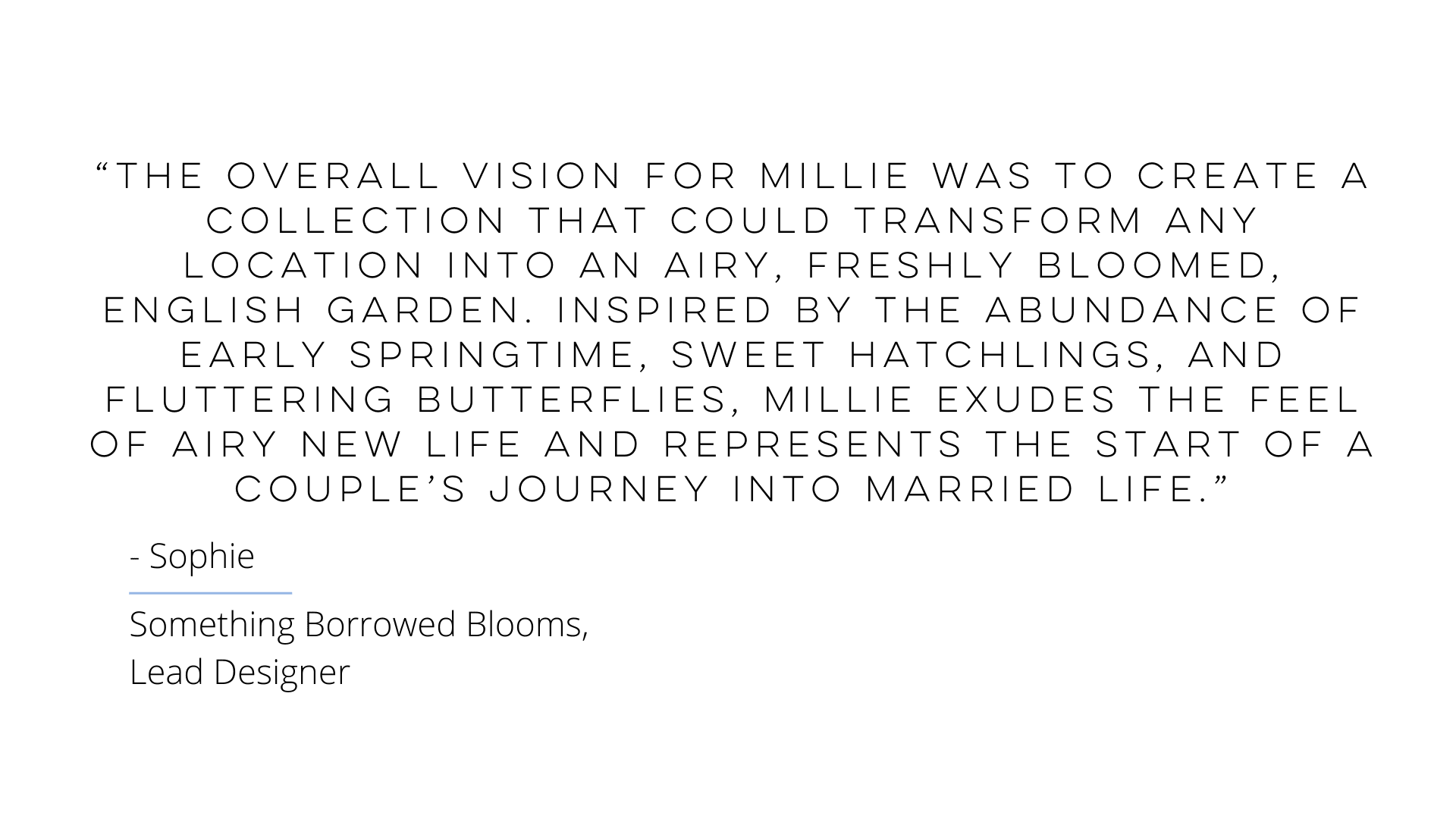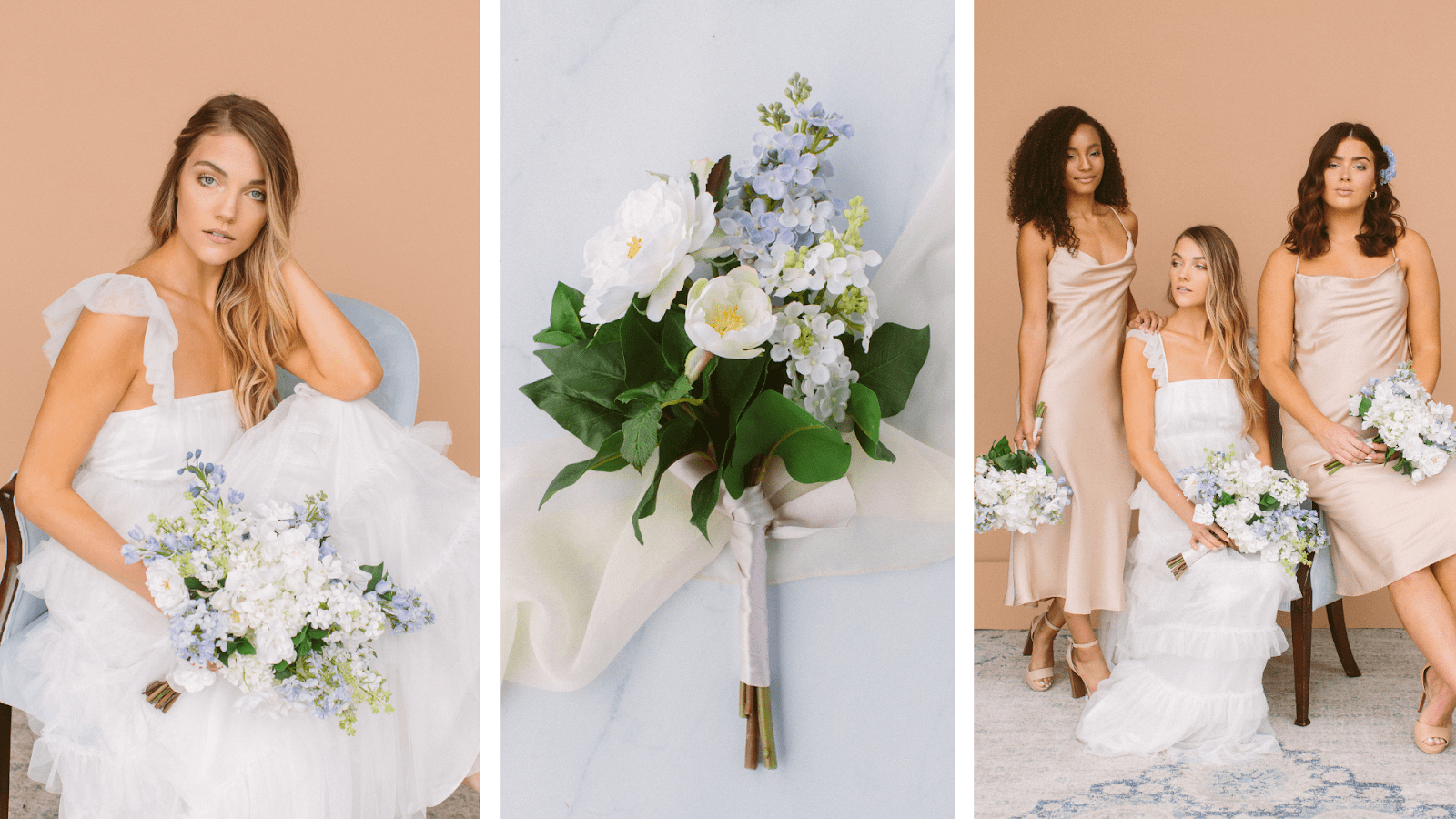 The full collection includes a bridal bouquet, bridesmaid bouquets, boutonnieres, corsages, posies, a pomander ball, garland, hair accessories, and coordinating florals for fur family. Each piece is delicately designed with fresh florist techniques to create the most life-like arrangements for rent.

The Bridal Bouquet is a true statement piece in itself with an organic shape, loosely hand-tied, and right on trend this season. Coordinating bridesmaid bouquets are a scaled-down version of the bridal bouquet featuring more white florals, allowing the Bride to standout with her "something blue". The posy is a delicately sized arrangement, most often used by the Mother of the bride or groom, or even the junior bridesmaid in your wedding party. We especially love options available in the boutonnieres designs, allowing you to choose a design that best suits your aesthetics. Shop the full Millie Collection here.

THE LOOK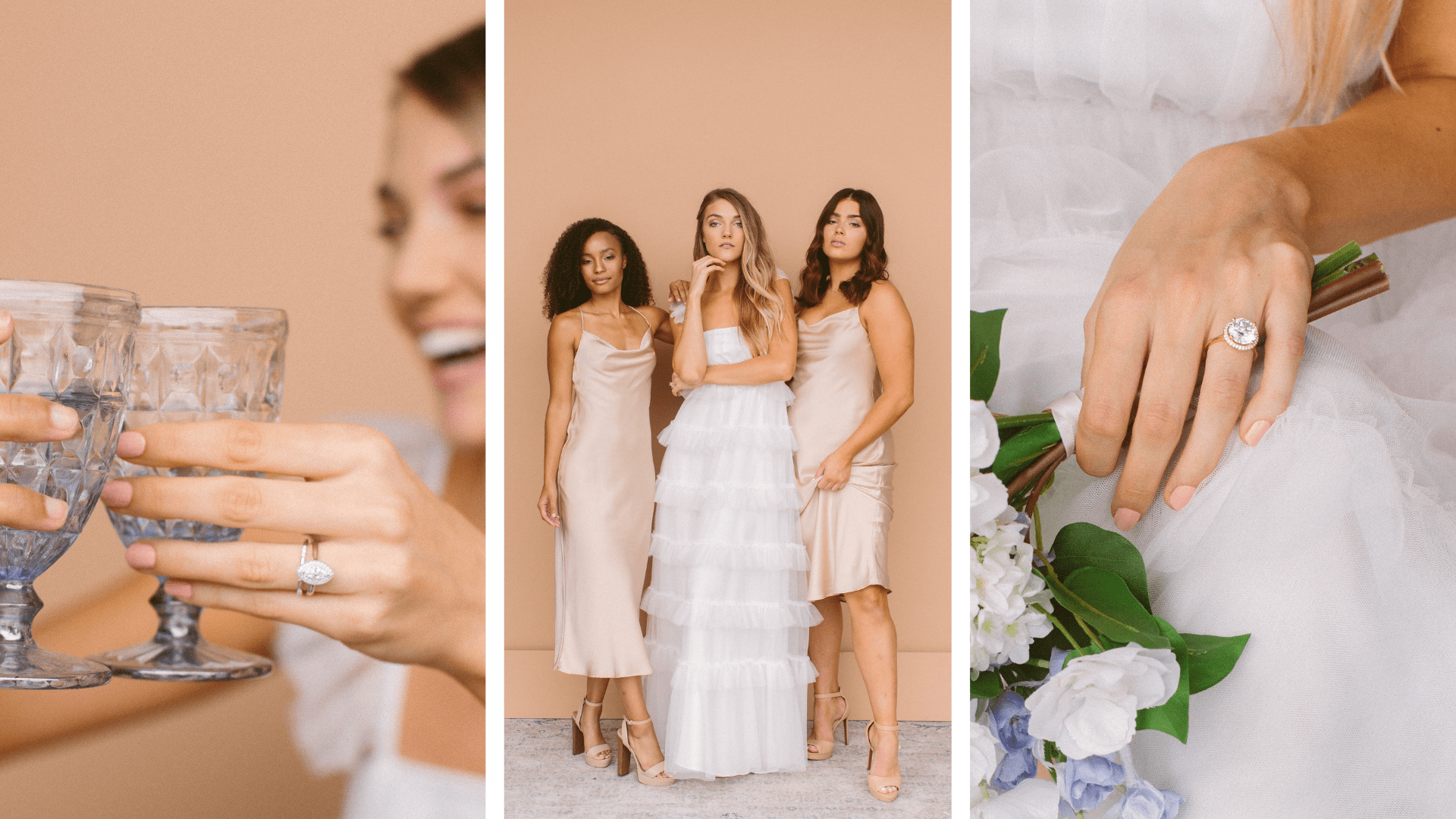 For this photoshoot, we knew it was important to find simple, on-trend dresses, to avoid overpowering the color scheme brought in through the wedding flowers. For the bridesmaid's, we chose Show Me Your Mumu's Verona Cowl dress in champagne luxe satin. A feminine slip dress that hugs every curve in the best way with a neutral color that's to-die-for when paired with the soft blue and periwinkle color palette.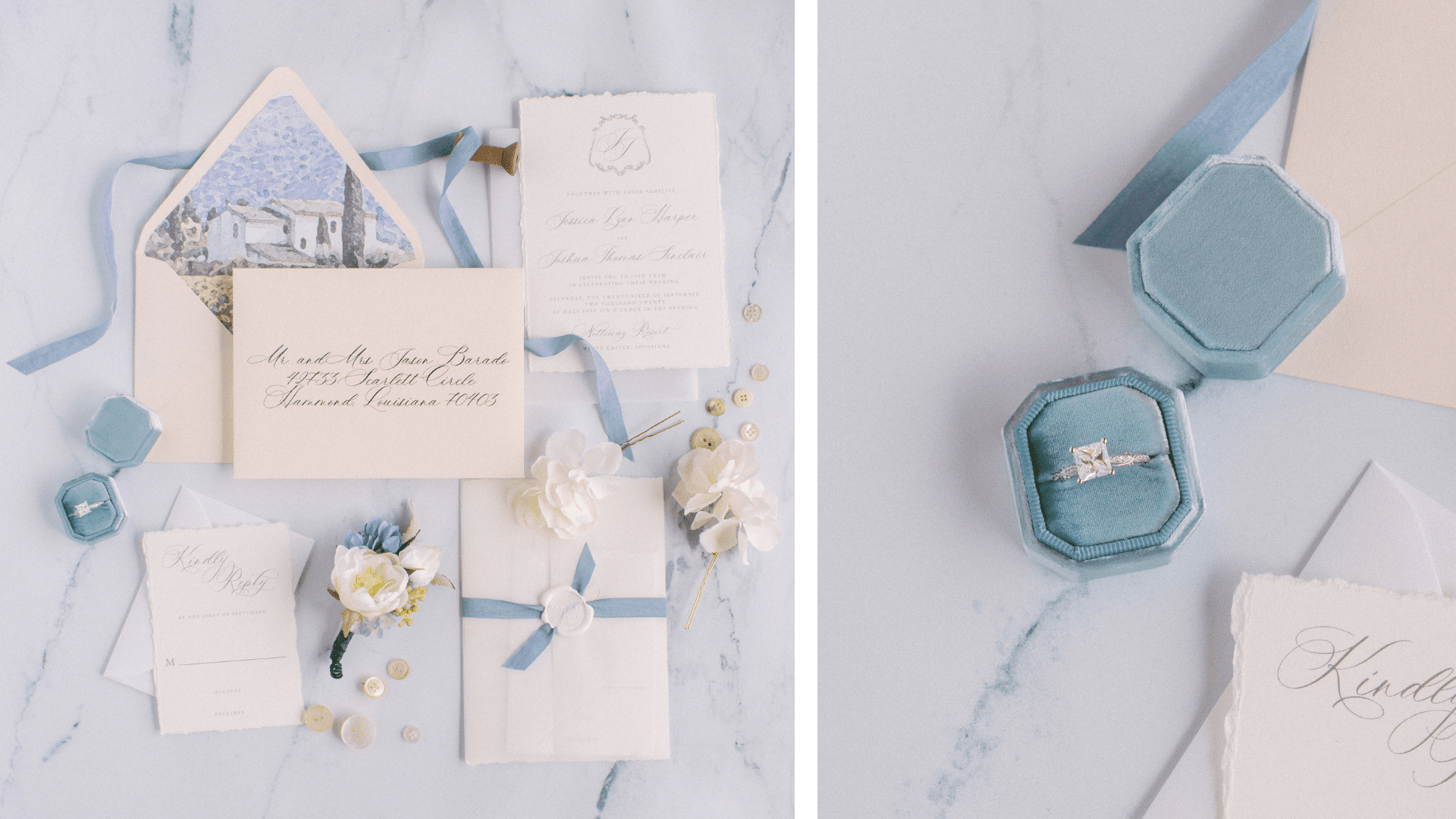 One word, Flatlays! We know your Pinterest is full of them, so here's how to create one. Find the perfect stationery suite, drop your wedding ring in a cute little box like this one from The Mrs. Box, add your groom's boutonniere, and snap away! You can also add some textured elements like buttons, pearl beads, an heirloom perfume bottle, or your own veil to add a little extra touch of creativity and captivate the viewer.
If you are looking for designer invitation sets for your wedding, look no further than our friends at InvitoBella. This heirloom wedding stationery set was custom designed to replicate the breathtaking essence of our Millie Collection.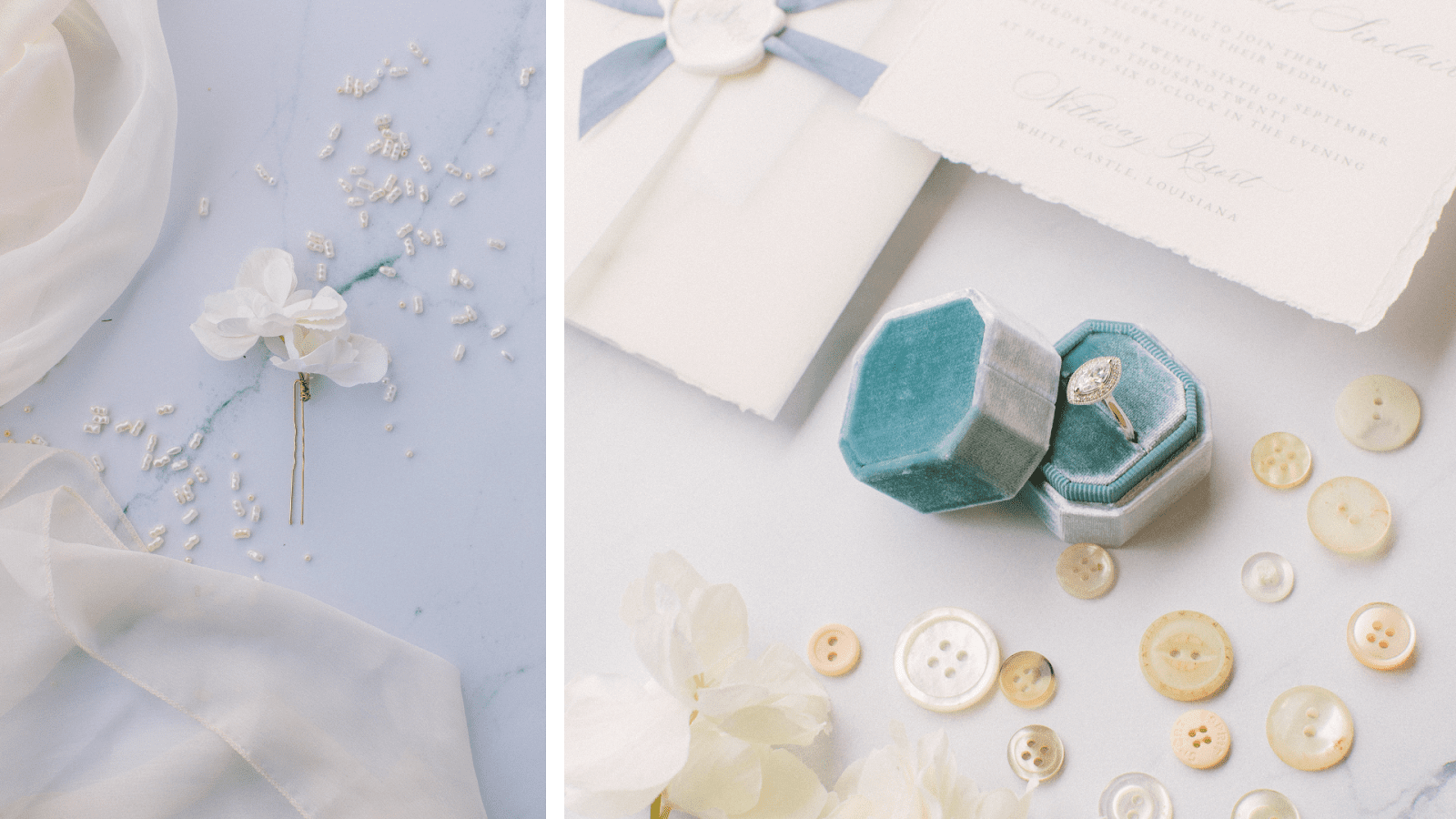 THE SETTING

Our setting for the photoshoot was in-studio, however, any backyard backdrop would be the perfect setting to recreate this dreamy look. And creating a charming and inviting ceremony location has never been easier with our custom garlands. Our garlands can be used as arch decor and later transform into a beautiful tablescape for the reception, saving you time and money. If you read our last blog post, you know how simple it is to create a stunning ceremony backdrop!
Here we used our copper pipe arch and attached the Millie garland with zip ties. From there, we hung a few of our new Gold Mesh Lanterns with clear fishing wire to create a floating effect. When you're done saying your 'I do's', simply have someone move the garland to your sweetheart table, lay it straight across, and let the excess hang off the edge for a beautiful drape of florals.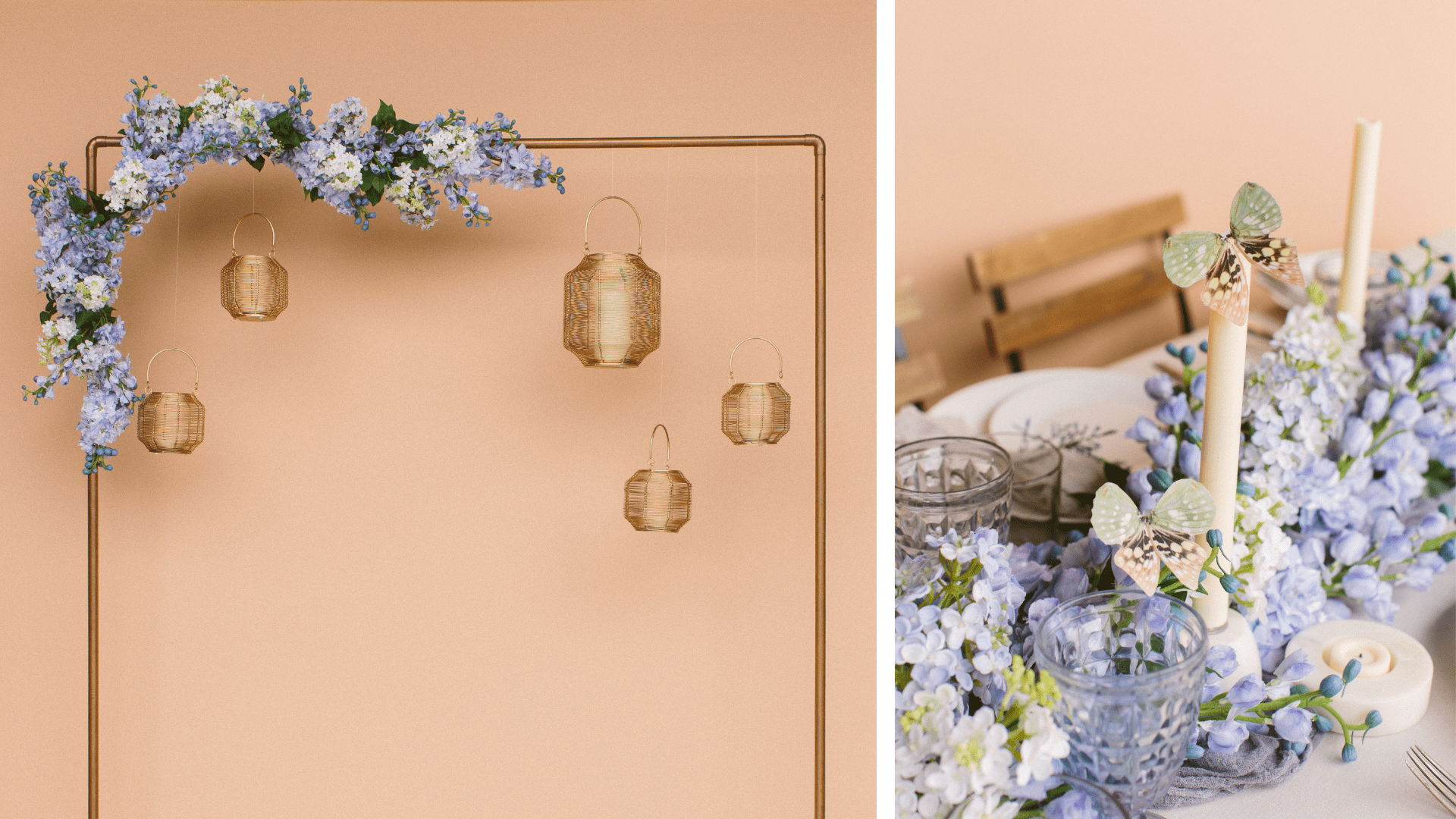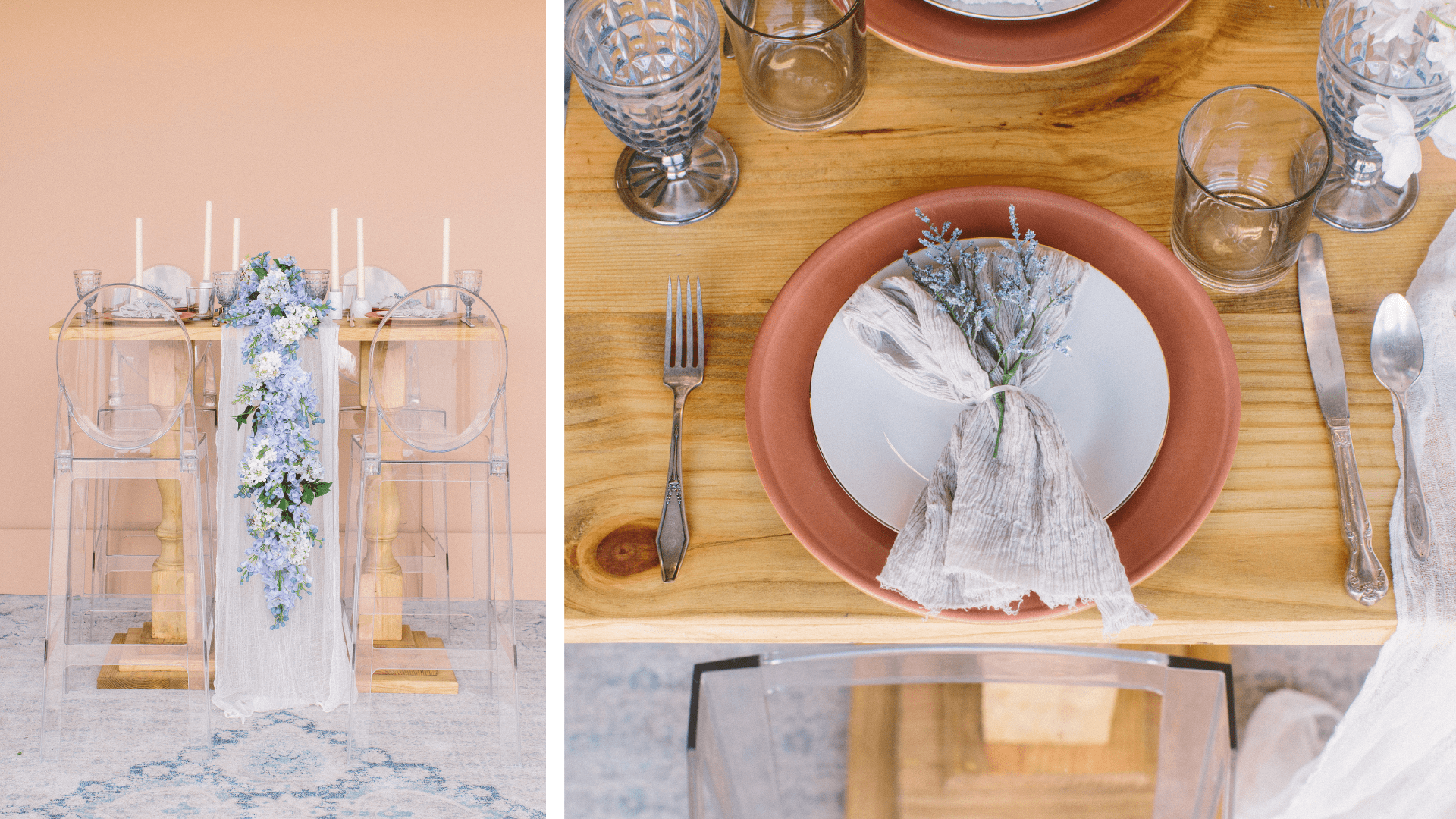 These two Bennet high boy tables from Pure Vintage Rentals were pushed together to create a longer high boy table look. We incorporated our marble taper holders and marble bullet taper holders to add texture and height, along with Target's Melamine dinner plates in Bamboo to add contrast. We also pulled in blue-tinted glassware to compliment the glass-look of the chairs and accented the tablescape with butterflies to really bring in the English garden feel.
We hope our newest collection has inspired your wedding planning. For a more in-depth guide on everything we used for this shoot, check out our Millie Pinterest board. Visit our Youtube Channel for a Millie Collection review as well! And for more inspiration, browse all of our floral collections, and follow us on Instagram for real wedding inspiration!