Save hundreds by repurposing ceremony decorations for your reception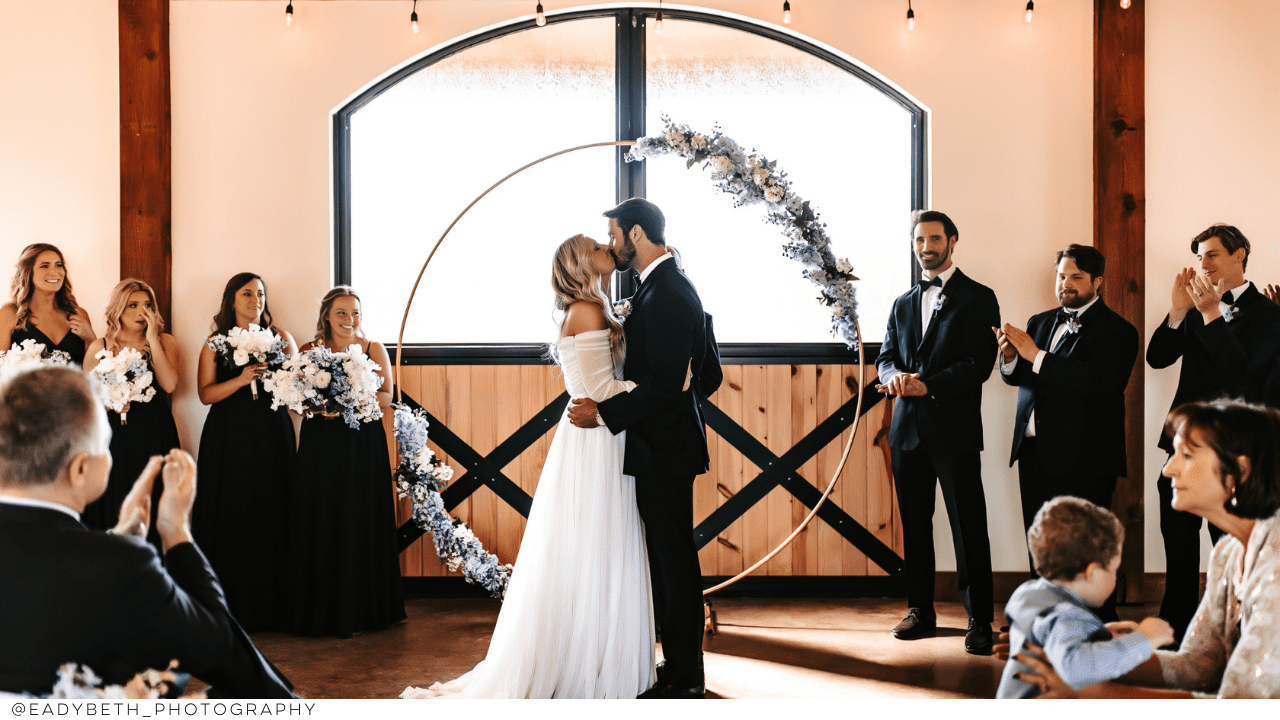 You've planned out the decor and flower arrangements for your wedding ceremony to a tee when you've suddenly realized you have a whole other event to decorate for; your reception! The price of decor quickly starts to rise as you finalize your table count and other areas like your welcome sign, cake table, and sign-in table. But decorating for your reception doesn't have to overextend your budget. Keep reading to find out how you can transform your reception by repurposing your ceremony decorations.
GRAND CENTERPIECES
We recently released grand centerpieces, which are just as grand as the name. These extra-large centerpieces make a BIG statement at the ceremony and reception. We're full of excitement over these new centerpieces, so we're overflowing with inspiration on how to elevate your ceremony and reception space, saving major dollars when compared to fresh floral centerpieces of the same size.
These large centerpieces can be paired with our centerpiece stands for added height and impact. Stands are rented in two colors, gold and pewter, and two heights, 45" and 29.5". Pair a stand and grand centerpiece together for the focal point or alter at your ceremony space and later move the display over to your buffet table at the reception. Not having a buffet-style reception? No problem. Repurposing your grand centerpieces at the head table or family of the bride and groom can be another way to pull double duty on these lovely flowers. Depending on the style and theme of your wedding, you may also choose to forgo a traditional stand and place these voluptuous centerpieces on top of wine barrels, as suggested by our SBBlooms Brides.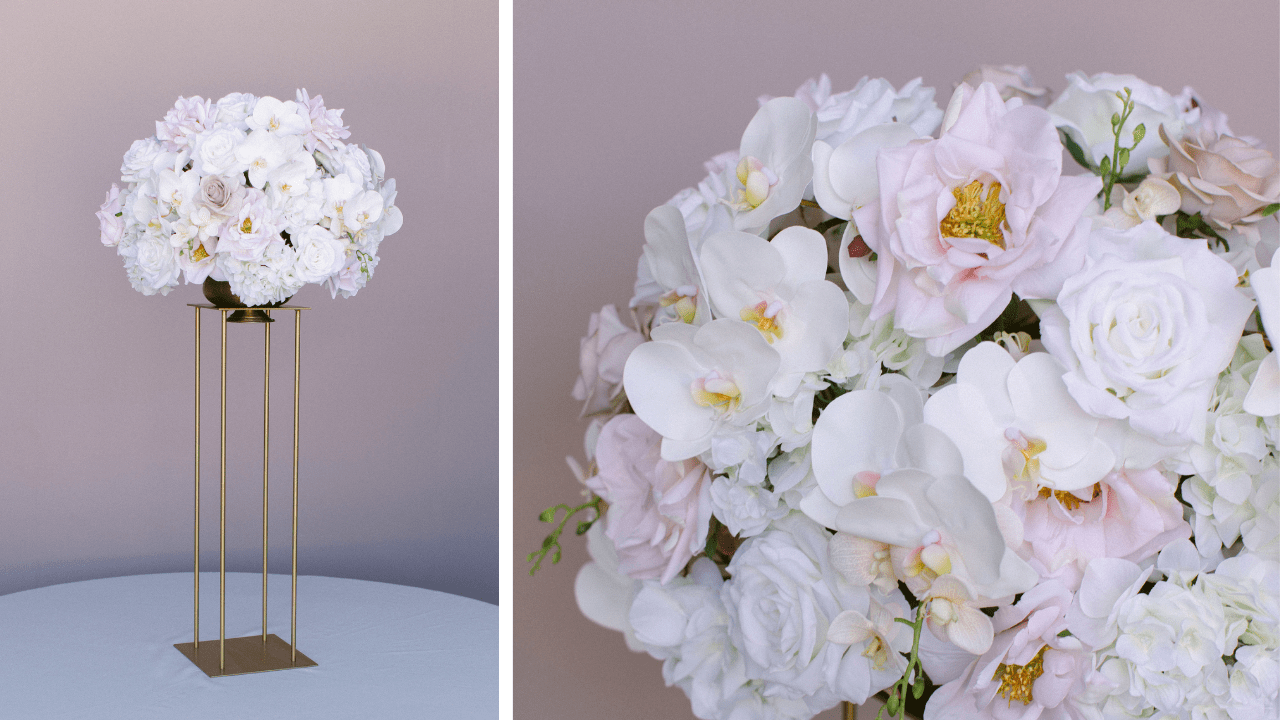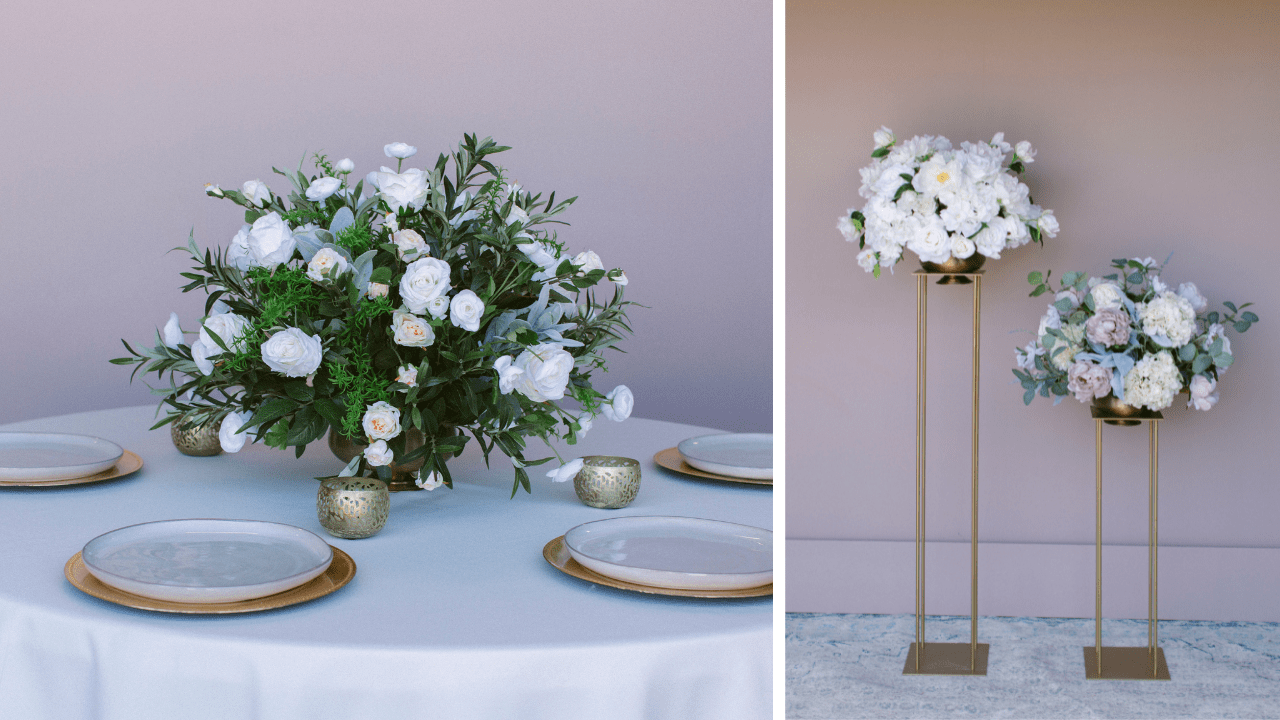 BRIDESMAID BOUQUETS
We LOVE when our brides repurpose bridesmaid bouquets for the reception. Save money on centerpieces by using the bouquets for your tables. Purchasing some budget-friendly vases and placing them on tables or areas where you need extra blooms, is a great way to save money, and reduce the number of products you use during your wedding. Pictured below, an SBBlooms Bride got creative and lined her Taylor bridesmaid bouquets in front of the wedding party table. Another bride showcased her gorgeous Audrey Hand-tied Bridal bouquet as a focal point for her seating placement cards.
Placing your bridesmaid bouquets around your cake table is also a great way to maximize your floral budget! Right after the ceremony, have your bridesmaids drop their bridesmaid bouquets off at the cake table. Arrange the bouquets in a semi-circle around the cake to create a lush floral arch. Read more on how to enhance your cake table decor here.
SBBlooms Tip: For collections with flat-backs, add a couple of posies to make the back look fuller.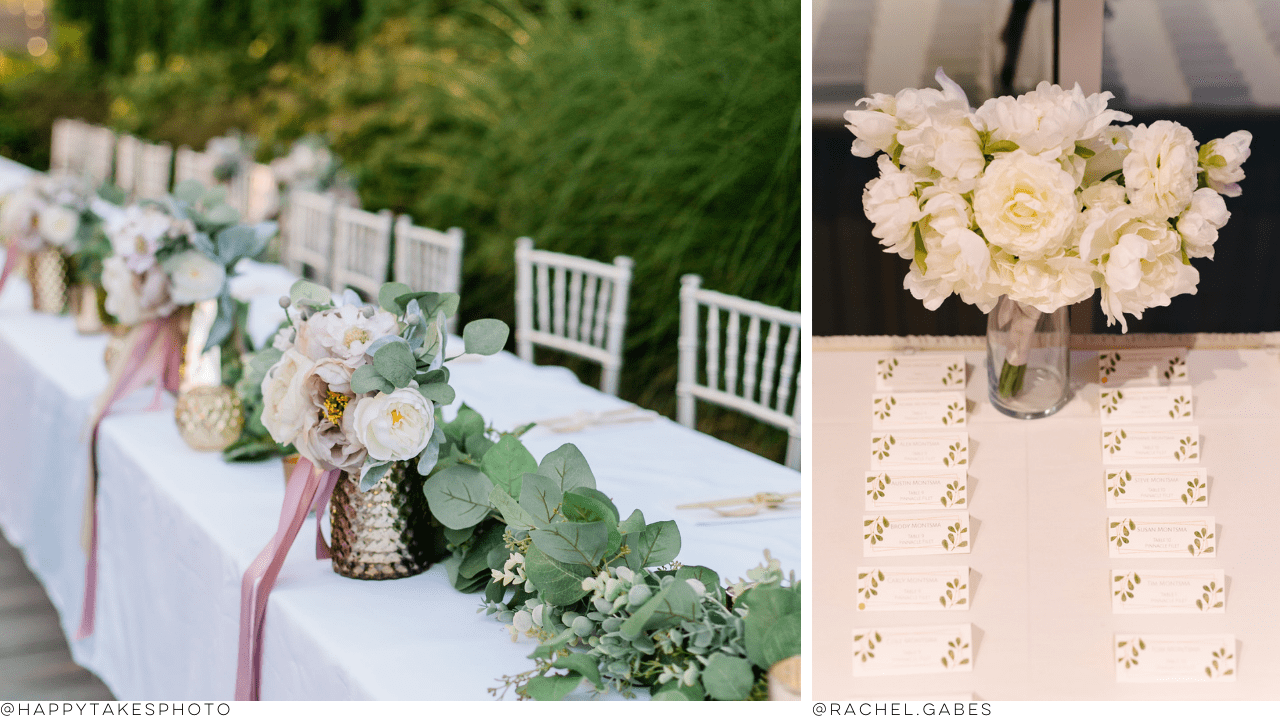 AISLE MARKERS
Aisle markers are one of our favorite products to decorate with because the possibilities are endless! These beautiful arrangements are so versatile and we have so many tips and tricks up our sleeves when it comes to decorating with them. Use the aisle markers to drape on the edge of your ceremony chairs or pews to line the aisle. You can also add to your arch by combining two or three together to create a swag element on one side. Move this arrangement to your welcome sign walking into the reception area.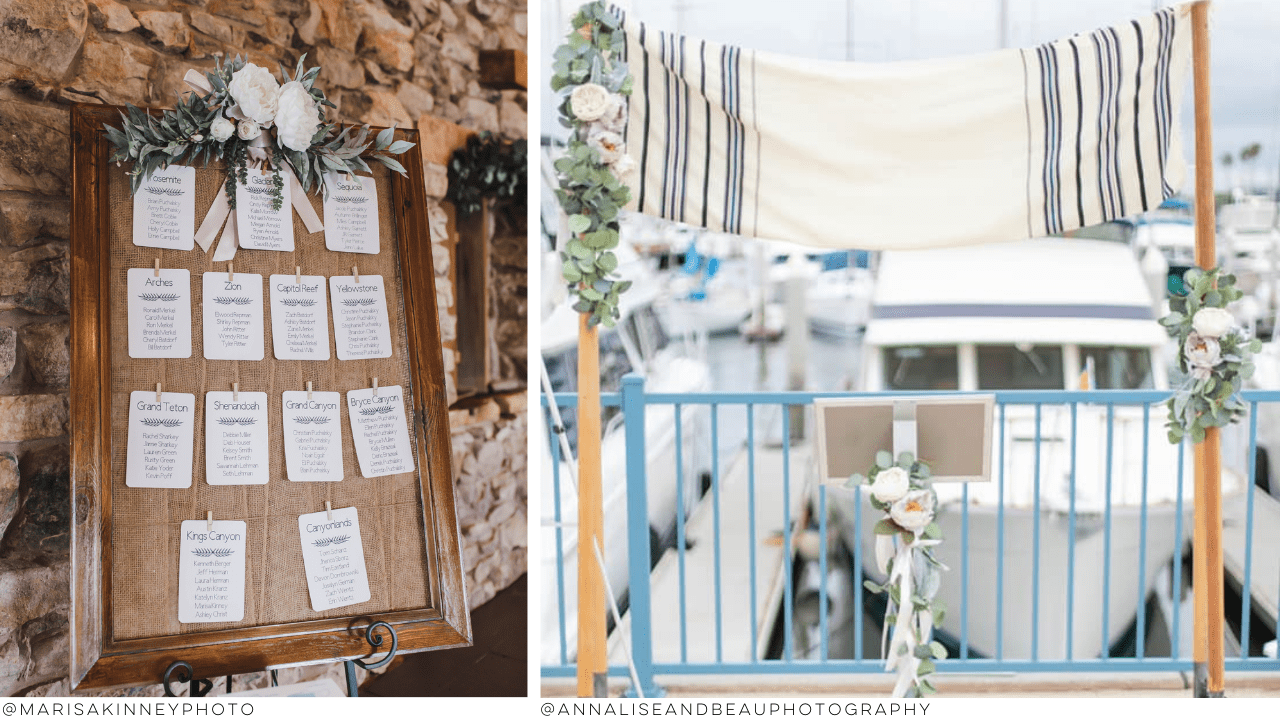 Don't be afraid to use our products in more ways than one! We love when our couples get creative and find ways to utilize our products other than their original purpose. Also to mention by doing this, you can save hundreds and you'll have less cleanup to worry about at the end of the night. We hope we've inspired you to get crafty and think outside the box when it comes to your wedding decorations.
Join our SBBlooms Brides Facebook group to get all the insider pro tips and advice from past and present SBBlooms Brides. For more inspiration, browse our floral collections, follow us on Instagram, and subscribe to our YouTube channel for DIY tips, collection reviews, and behind the scenes.