TikTok wedding influencer rents premium silk flowers from Something Borrowed Blooms for wedding day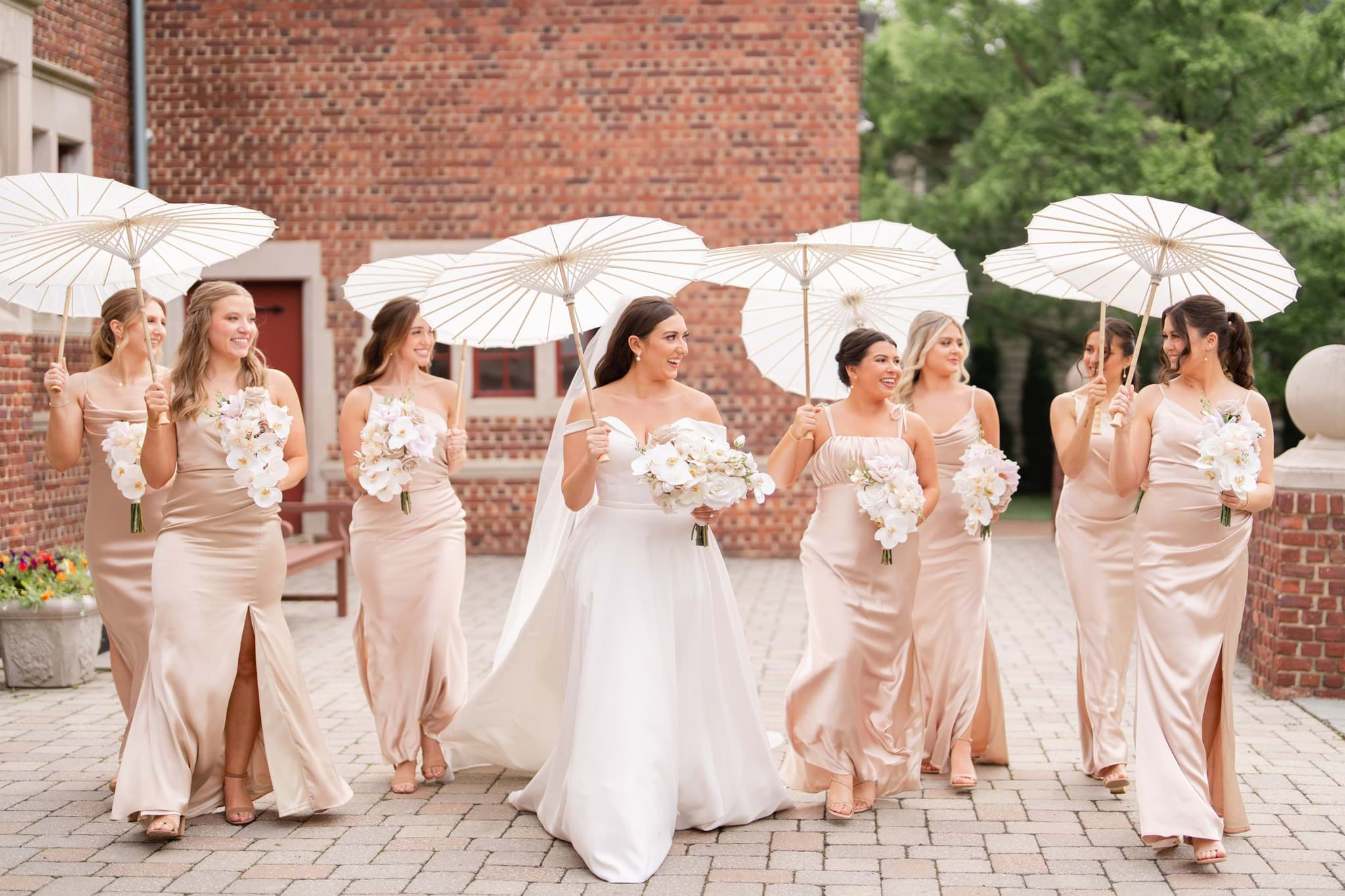 @LindsayEileenPhotography

Sharing real Something Borrowed Blooms' Couples on our Blog is one of our favorite topics. It's a chance to give our followers insight into the entire wedding planning process, from the perspective of a fellow bride. From the early stages of planning to pulling all the wedding details together to fit their vision, each couple's story is unique. We're thrilled to add Dri Buonocore and her now-husband, Matt's, wedding day to the blog. Dri had a beautiful vision, and we're so honored to have been part of her special day.

Keep reading to learn all the details about Dri and Matt's wedding day, from the initial planning to the Something Borrowed Blooms review.
The Planning:
In December 2020, Matt surprised Dri with a proposal at Renault Winery. From there, the wedding planning journey officially began! And true to post-COVID times, the engagement period was an extended one. Through the planning process, Dri started her own TikTok page, documenting and sharing her planning process and experiences with other brides. And of course, fellow brides fell in love with her! From her down-to-earth personality to her fashion advice and money-saving tips, Dri's content was relatable and she quickly grew a following. For Dri, ordering a preview pack was her first experience with Something Borrowed Blooms, and it was a MUST-have for deciding which floral collection to go with.
"One of my favorite parts of wedding planning was getting SBBlooms preview packs. I was always pretty dead set on Wren, but of course, I had to confirm the decision. I saw Audrey, Millie, Eloise and Gemma. I loved them all and even assigned them to my future life events beyond the wedding. I had a long engagement and placed my order in advance – which, of course, led to me changing what I needed one million times. It was so easy to adjust my order online to accommodate my needs through my customer portal."
Order a Preview Pack here to get started!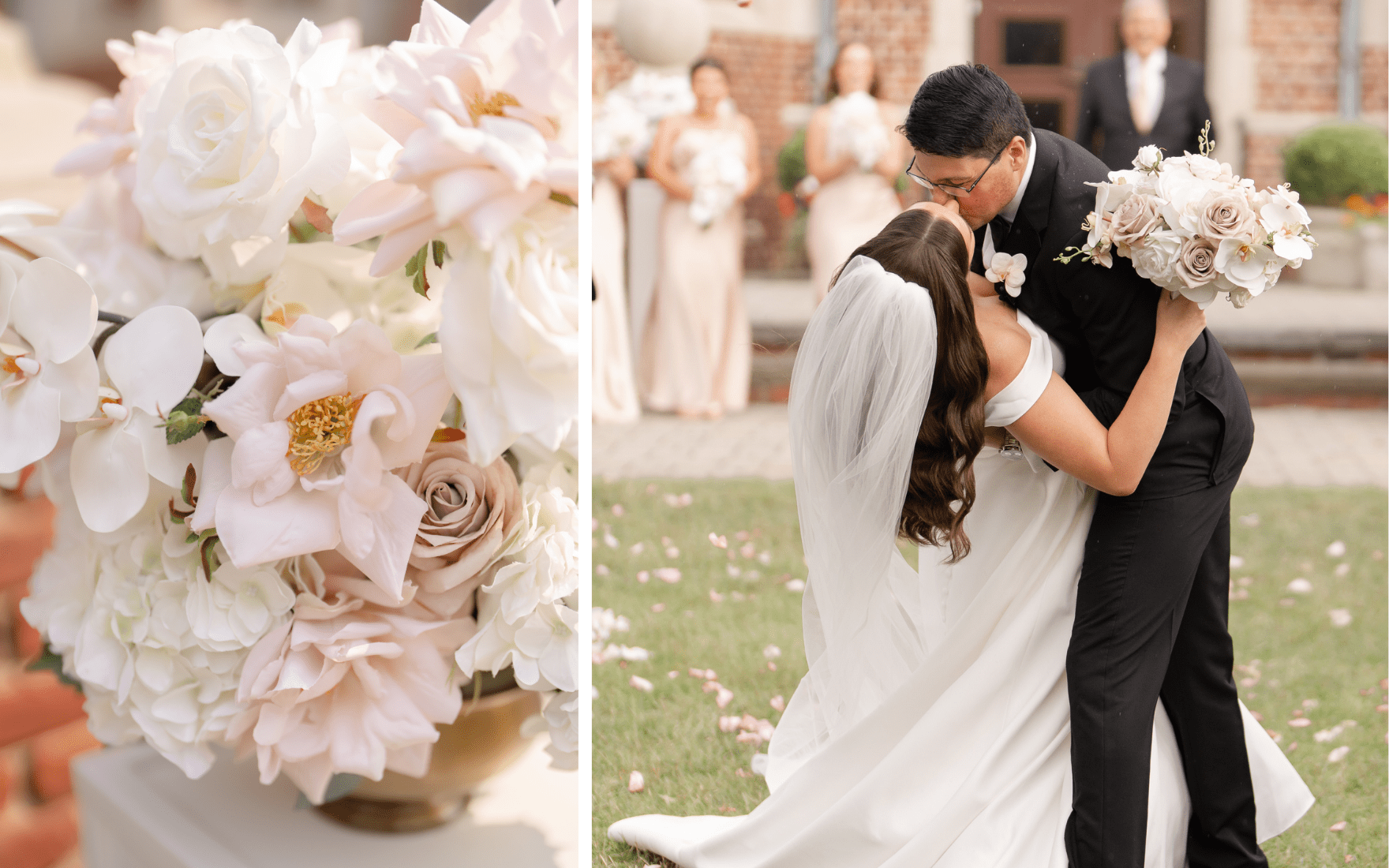 The Blooms:
Flowers are a crucial element of any wedding, but for Dri, managing her budget was equally important. She wanted to create a vision filled with beautiful florals but without breaking the bank. After considering various options, she decided to go with Something Borrowed Blooms, and here's why.
Quality: SBBlooms provided exceptional premium silk floral arrangements that exceeded Dri's expectations.
Peace of Mind: Dri knew exactly what her wedding flowers would look like, ensuring no day of surprises!
Eco-Friendly: Knowing how much waste is produced on the average wedding day, Dri felt relieved knowing she would help eliminate that factor for her special day.
Cost Savings: The total cost of their wedding order was a fraction of what she would have spent if she went with traditional fresh wedding flowers.
"For my guest count and desired amount of florals, I was looking at quotes ranging from 10k-25k. In typical florist fashion, it also had the caveat of "if I can source these flowers at the time." I quickly ruled our traditional florals because I truly could not wrap my head around spending 10k+ on florals that would be tossed after a few hours and the amount of waste it would produce."
For Dri, the Wren Collection was love at first sight. The collection perfectly matched her vision of traditional wedding florals with a chic modern twist. The soft whites, pinks, and the inclusion of orchids added a lively touch that set her wedding apart from the typical "all white" bridal florals.
The Bridal party carried the Wren Bridesmaid Bouquets, while dressed in light champagne satin dresses in various styles from Revelry. The Groomsmen wore traditional black tuxes while Matt, the groom, wore the Wren Boutonniere (Single Orchid).
The Reception was filled with various products from the Wren Collection. By renting her wedding flowers from SBBlooms, Dri was able to bring all of her ideas to life and then some, all while staying within her budget. She lined Wren Garlands across the mantle behind the sweetheart table for a picture-perfect backdrop. As a finishing touch, Dri lined the edge of the table with the bridal party's Wren Bridesmaid Bouquets, which she was able to repurpose from ceremony to reception. Dri also decided to mix Wren Large Centerpieces and Wren Grand Centerpieces on Short Gold Stands on her tables.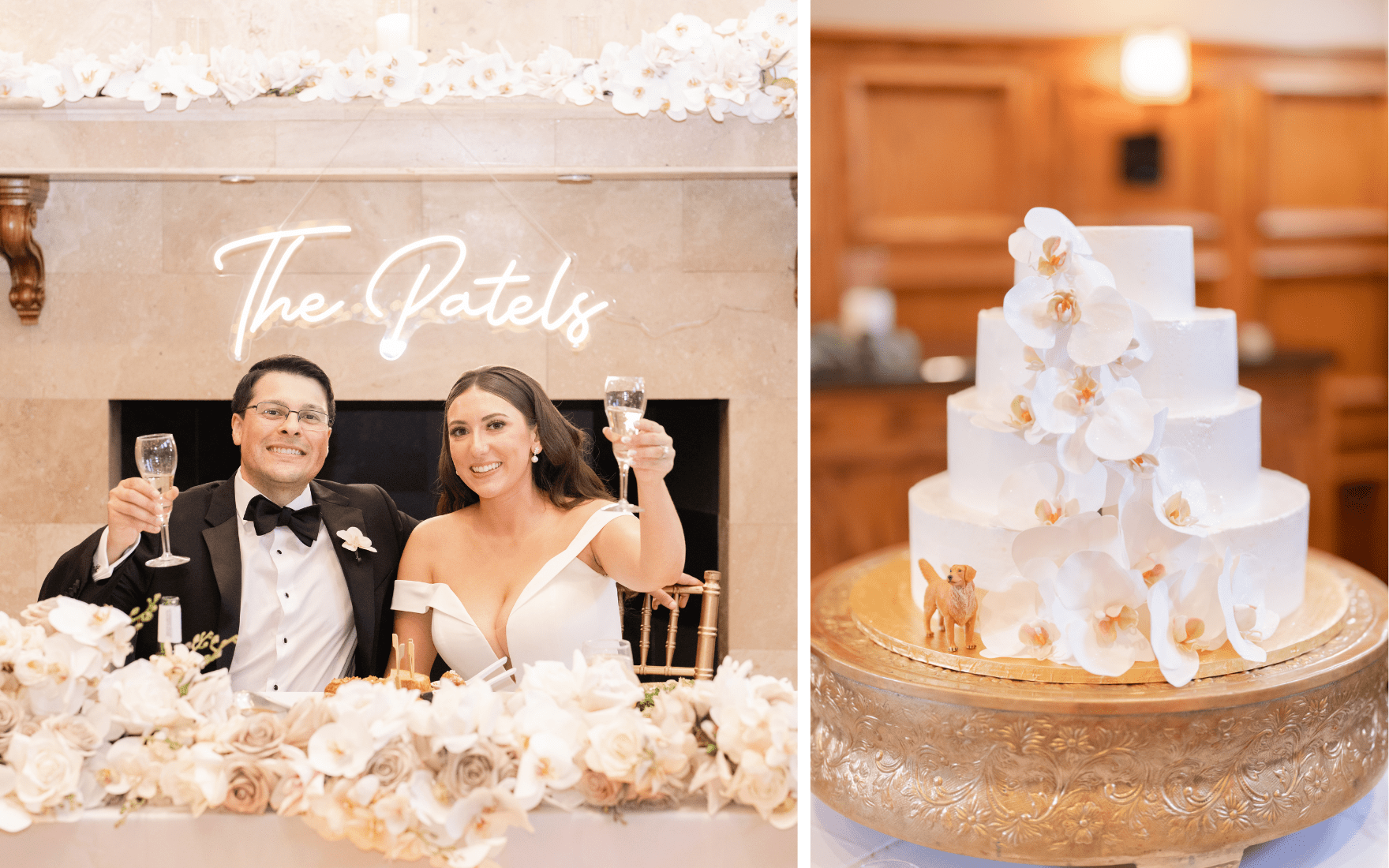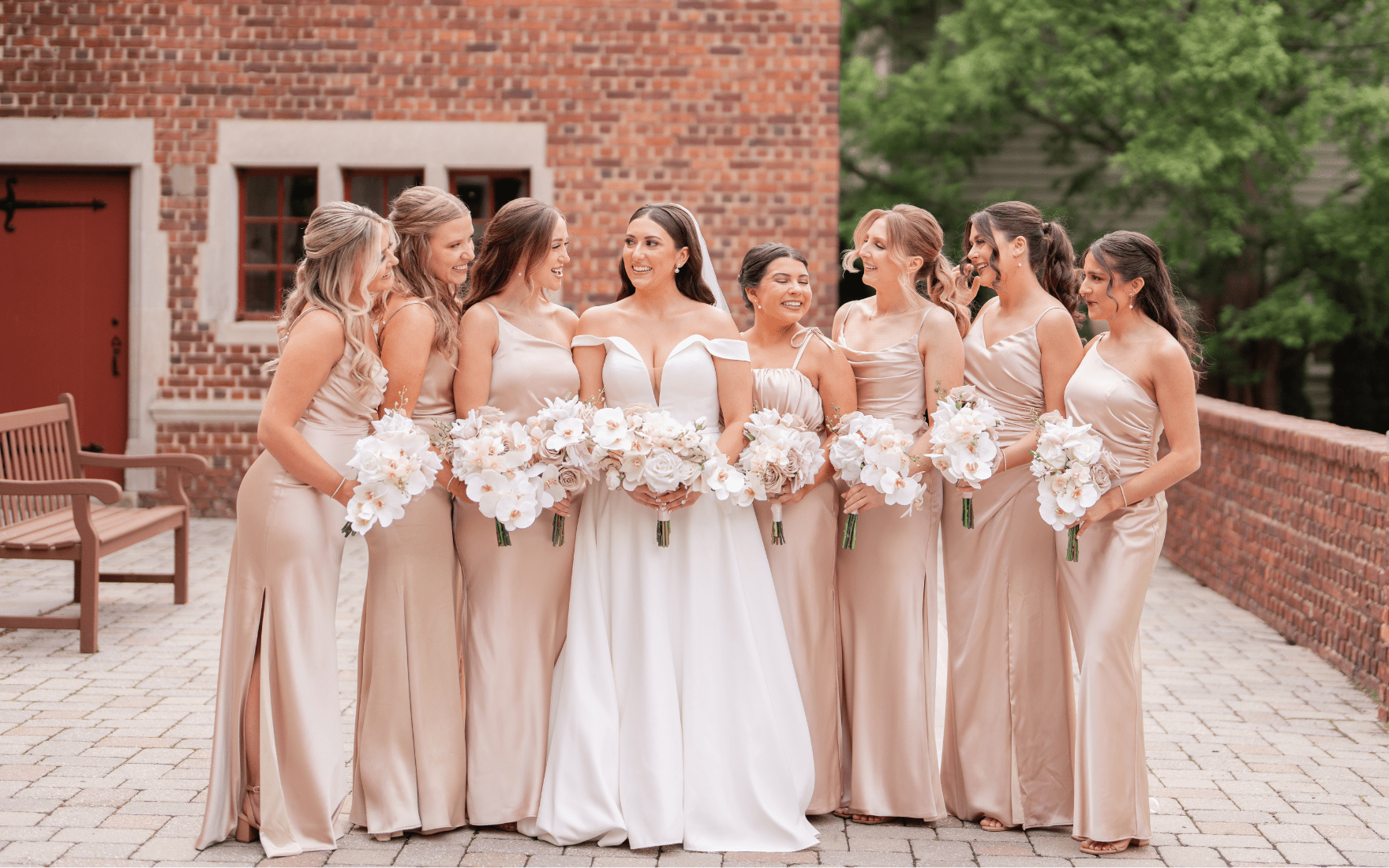 The Review:
Dri wholeheartedly recommends SBBlooms to every nearly-wed couple she knows, and her wedding guests couldn't stop complimenting the beautiful florals that added an extra layer of magic to her special day.
"A true bright spot of Something Borrowed Blooms is the team. Customer service was always quick to answer any questions I had via email, and ensured everything in my LARGE order got to me in perfect condition and on time."
Ultimately, it's not just about the flowers or the decorations. It's about the love, the journey, and the memories created. Dri and Matt's wedding celebrated their unique story, filled with love, laughter, and beautiful florals. Congratulations from all of us here at Something Borrowed Blooms!