Magnolias are making a comeback with the help of SBBlooms refreshed Shelbie Collection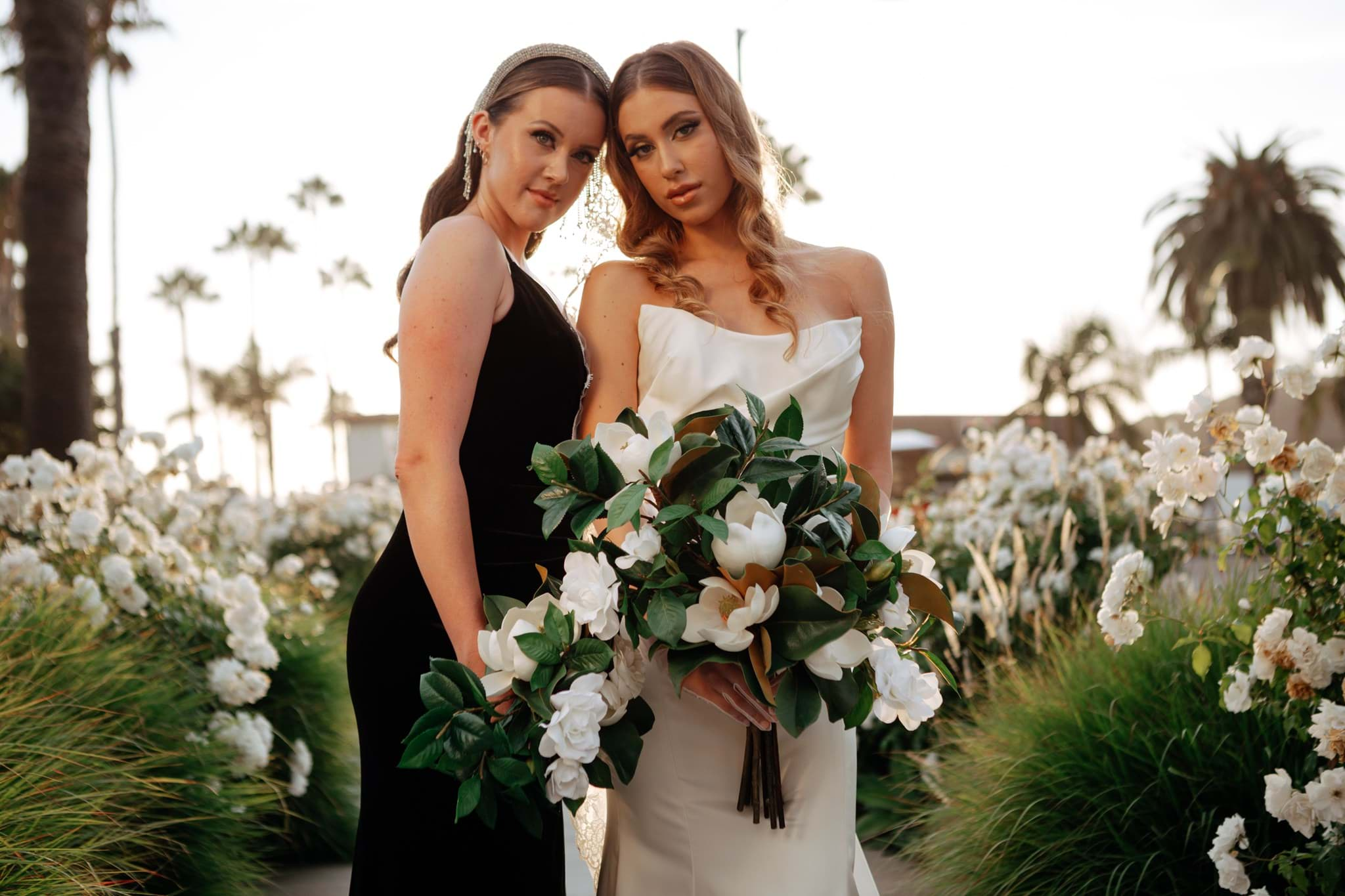 It seems like Magnolias bring back vivid memories for so many. Maybe that's because it's an unmistakable flower or perhaps because they're just so widespread and abundant in many areas. If Magnolias are something you want to incorporate into your wedding day for whatever reason, we're here to share some inspiration to fuel your wedding planning!
Introducing The Shelbie Collection. Our sweet southern tradition gets a modern refresh with this fun retake on a classic floral selection. Styled with pops of orange to complement the natural golden hues and unexpected disco balls. We've reimagined the persona of this classic collection. She's fun, bold and adventurous! Here's how you can incorporate magnolias in your wedding day flowers and decor.
The Bridal Bouquet
Choose a chic and classic wedding bouquet composed of magnolias and complementary floral varieties, including beautiful open and closed magnolias, paired perfectly with white camellias and gardenias. Lush magnolia leaves with emerald and golden hues mixed with deep evergreen camellia leaves create the perfect greenery backdrop for this sophisticated white and green floral look.
Choose a look that best suits your style. A traditional round gathering or a statement garden-cut bouquet with an asymmetric shape and organic feel. Either bouquet highlights the natural beauty of the magnolia perfectly.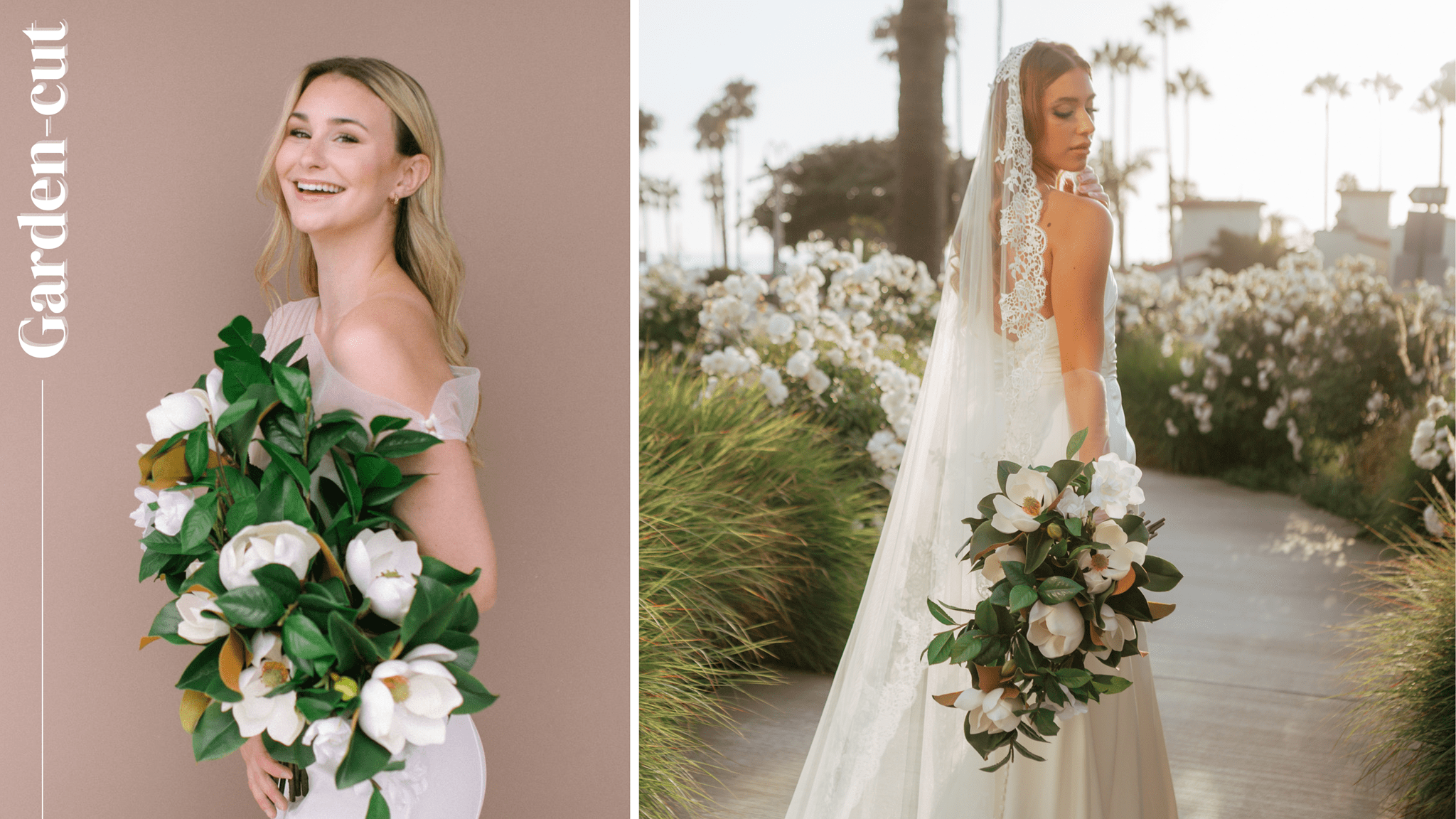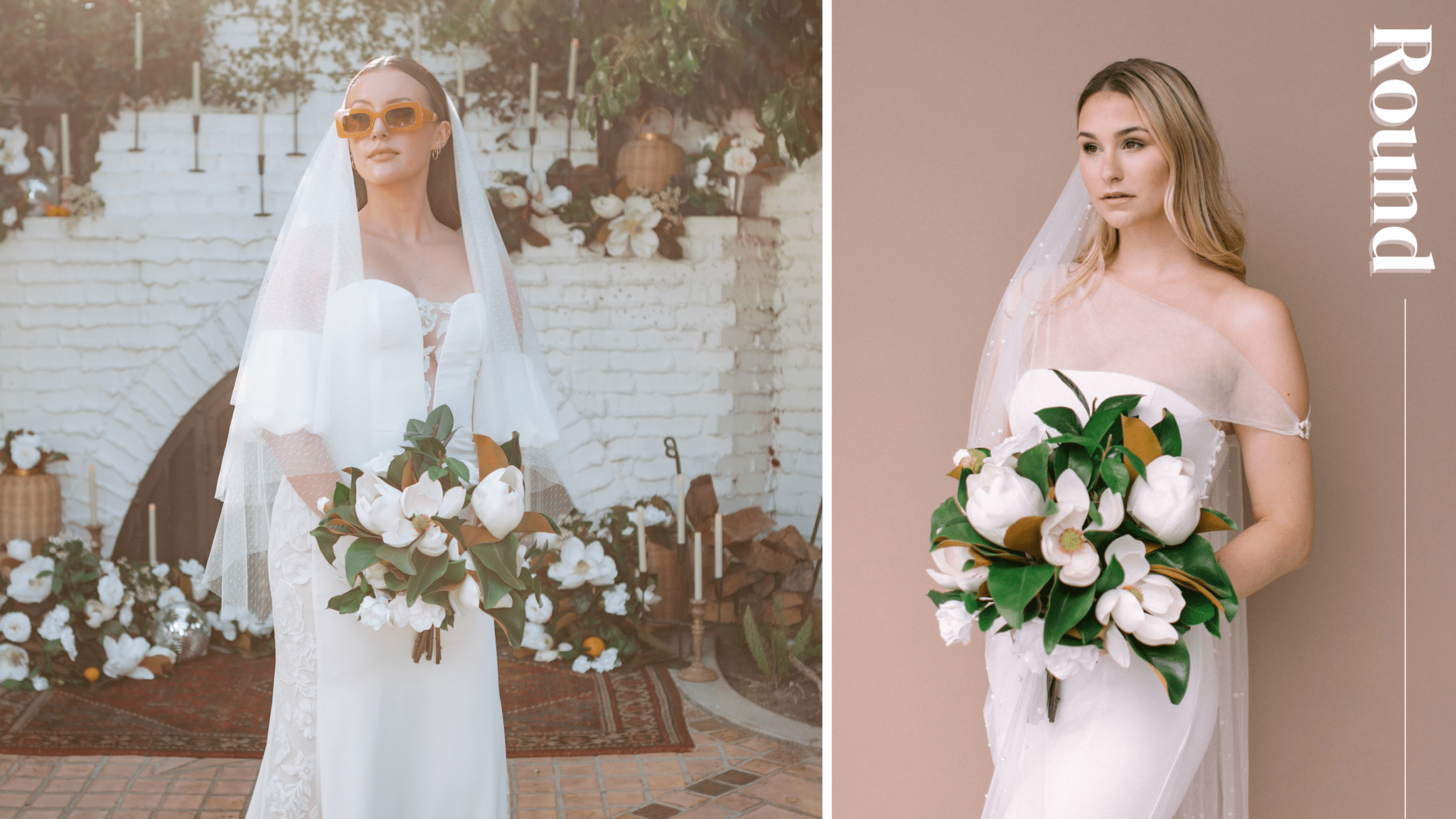 Bridesmaid Bouquets
Pair your maids with a scaled-down bouquet. Magnolias are known for being very delicate and browning easily, but not to worry with these premium silk flowers. They'll look real and be picture-perfect all day and night long! In fact, silk is the only way to go when choosing to use Magnolia flowers for the wedding day.
We paired the Shelbie Bridesmaid bouquet and Shelbie posy with beautiful copper satin dresses from our friends at Revelry, to enhance the undertoned warmth of the lush magnolia leaves.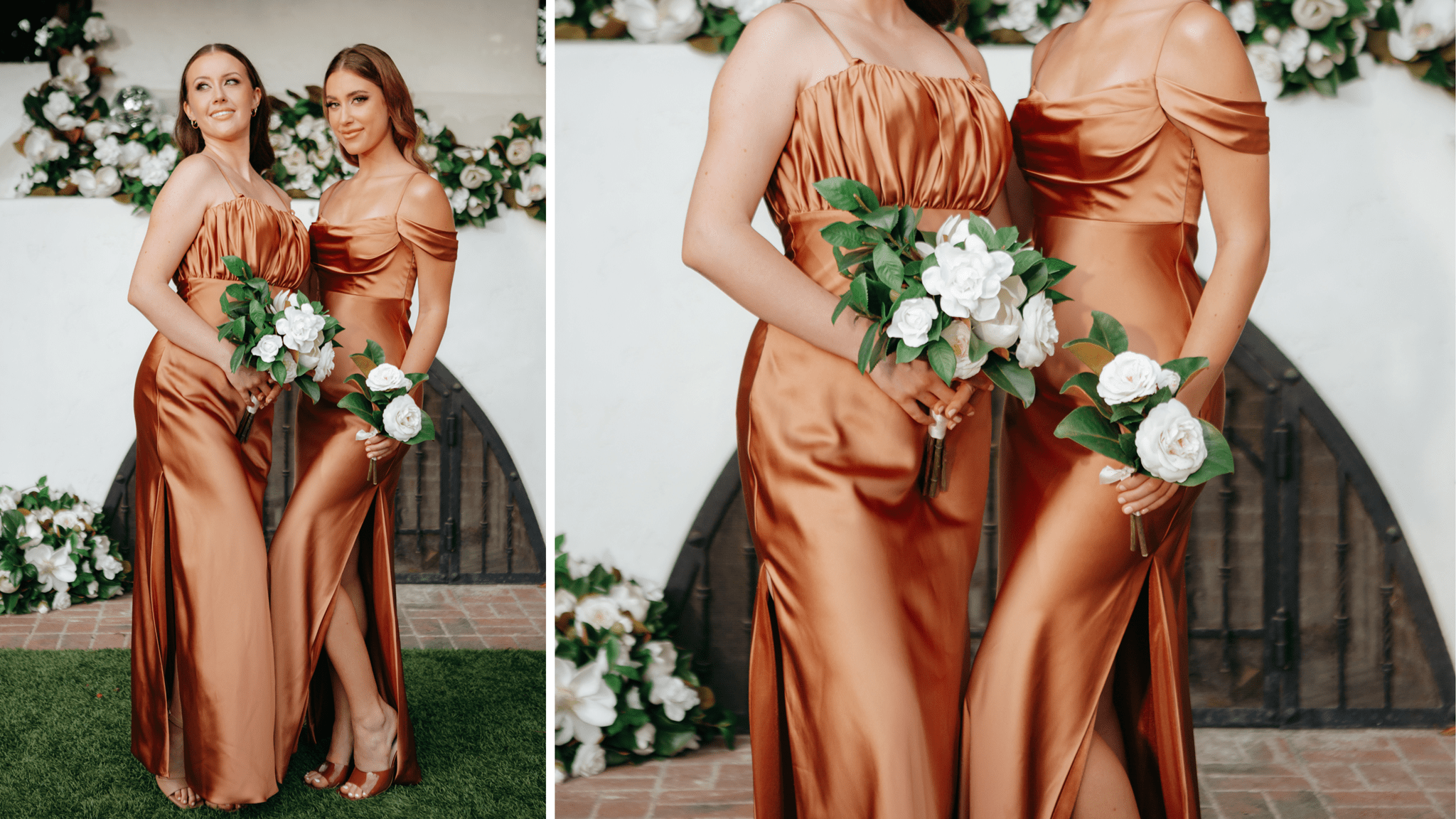 Centerpieces
Creating gorgeous table arrangements for your wedding has never been easier with SBBlooms' pre-arranged centerpieces and decor. What you see on our website is exactly what you can expect to receive upon your delivery! So, with each Shelbie centerpiece, your table will be full of gorgeous open magnolias, camellias, and gardenias. Opt for our scented paper at checkout and your guests will get a trace of the delicious gardenias!
We styled the various sizes of Shelbie centerpieces with wooden and iron candlesticks, real oranges, and disco balls for a bold flourish! Napkins, plates, and charges remained neutral in black and cream with jute textures, to allow the florals to take center stage.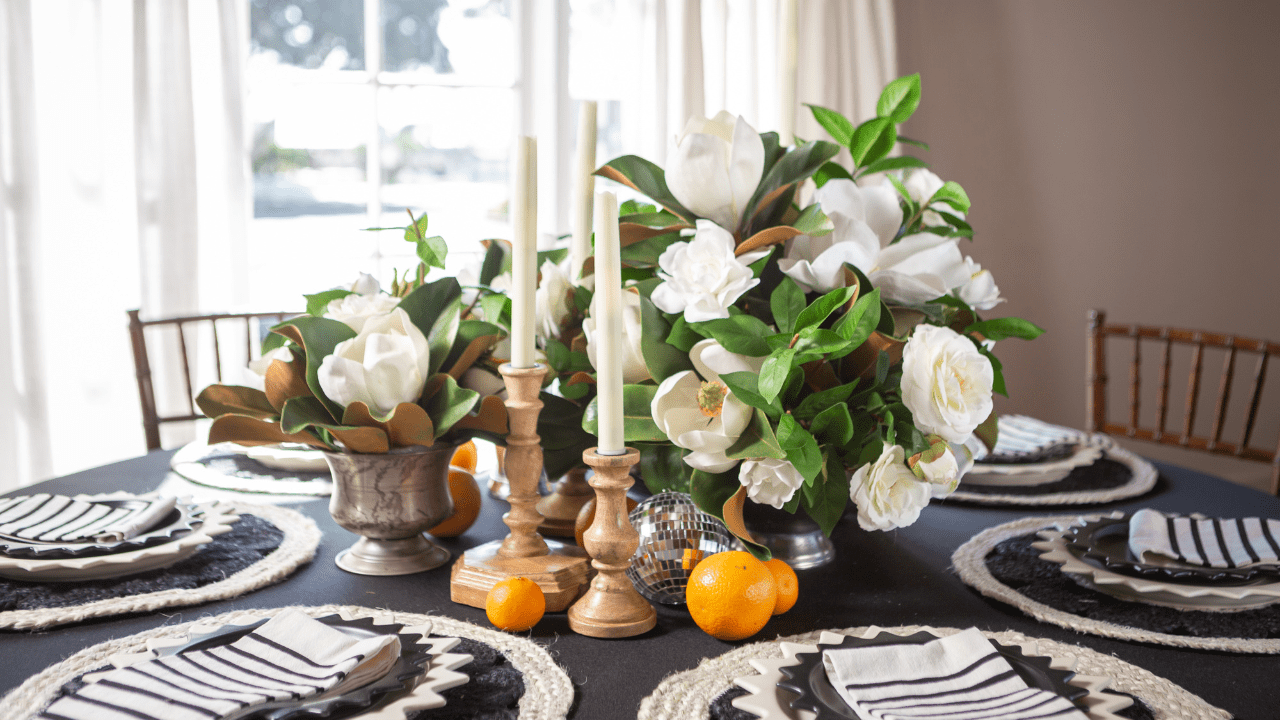 Ceremony Install
Everybody loves a dramatic wedding ceremony set-up. Fresh floral installs need to be completed hours in advance, and with delicate blooms such as magnolias and camellias, they'll be past their prime once the nuptials start. With SBBlooms' premium silk blooms, the ceremony space can be evolved in no time with our Shelbie garland, grand centerpieces, and aisle markers with the added benefit of remaining unbothered throughout the event. The best part? Everything can be re-used at the reception!
Want to recreate this stunning Magnolia install? Start by placing a Shelbie grand centerpiece on the ground and wrap the base of the centerpiece with a Shelbie garland. Next, place two more grand centerpieces in the middle of the mantle and start weaving four Shelbie garlands through the arrangements. Use a command hook to attach one side of the garland at a high point, while leaving the opposite side to hang freely off the side for an organic look. Add in Shelbie aisle markers and our magnolia garland to fill in spaces and finish the look by lining your aisles with our Shelbie aisle markers.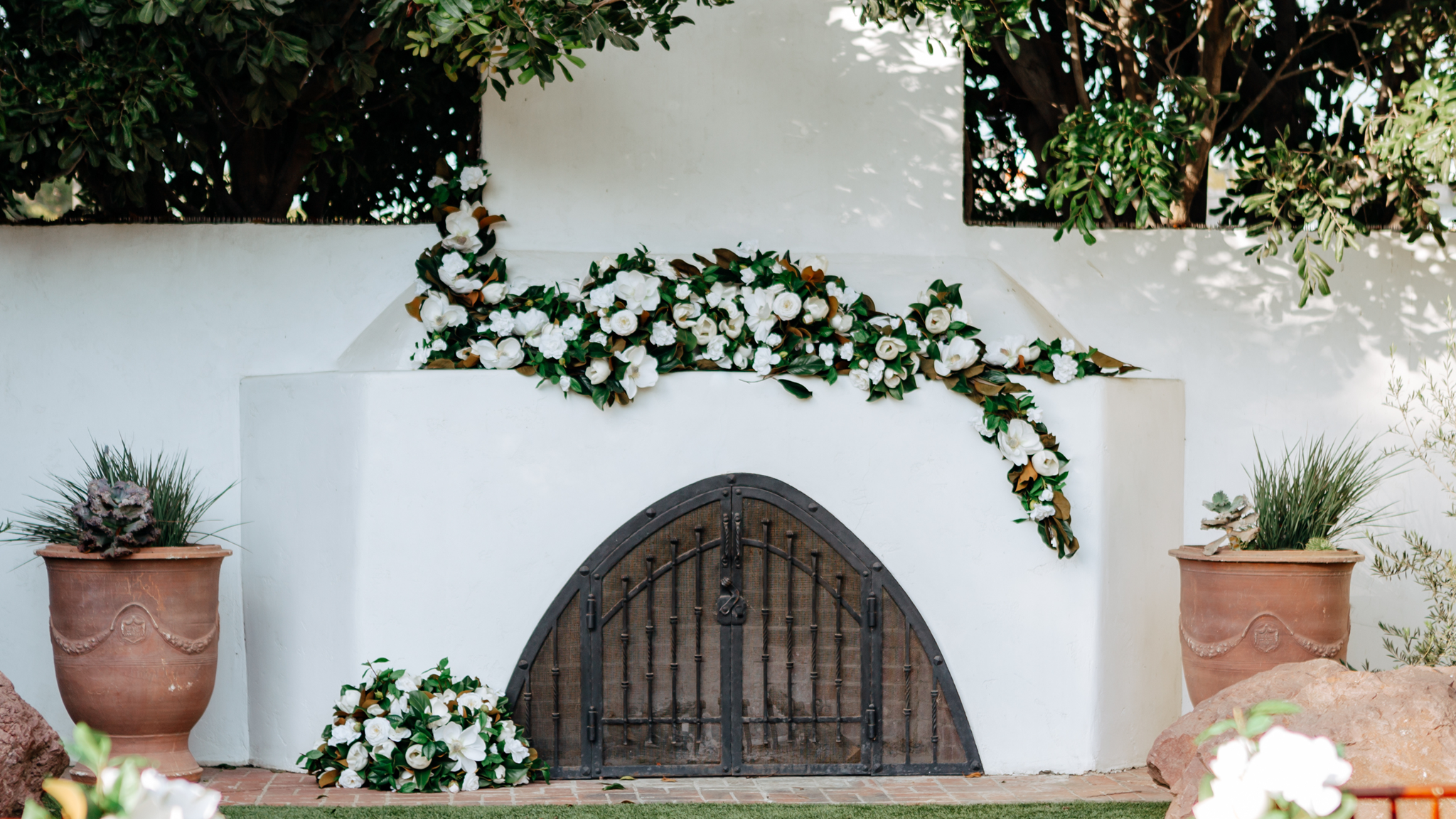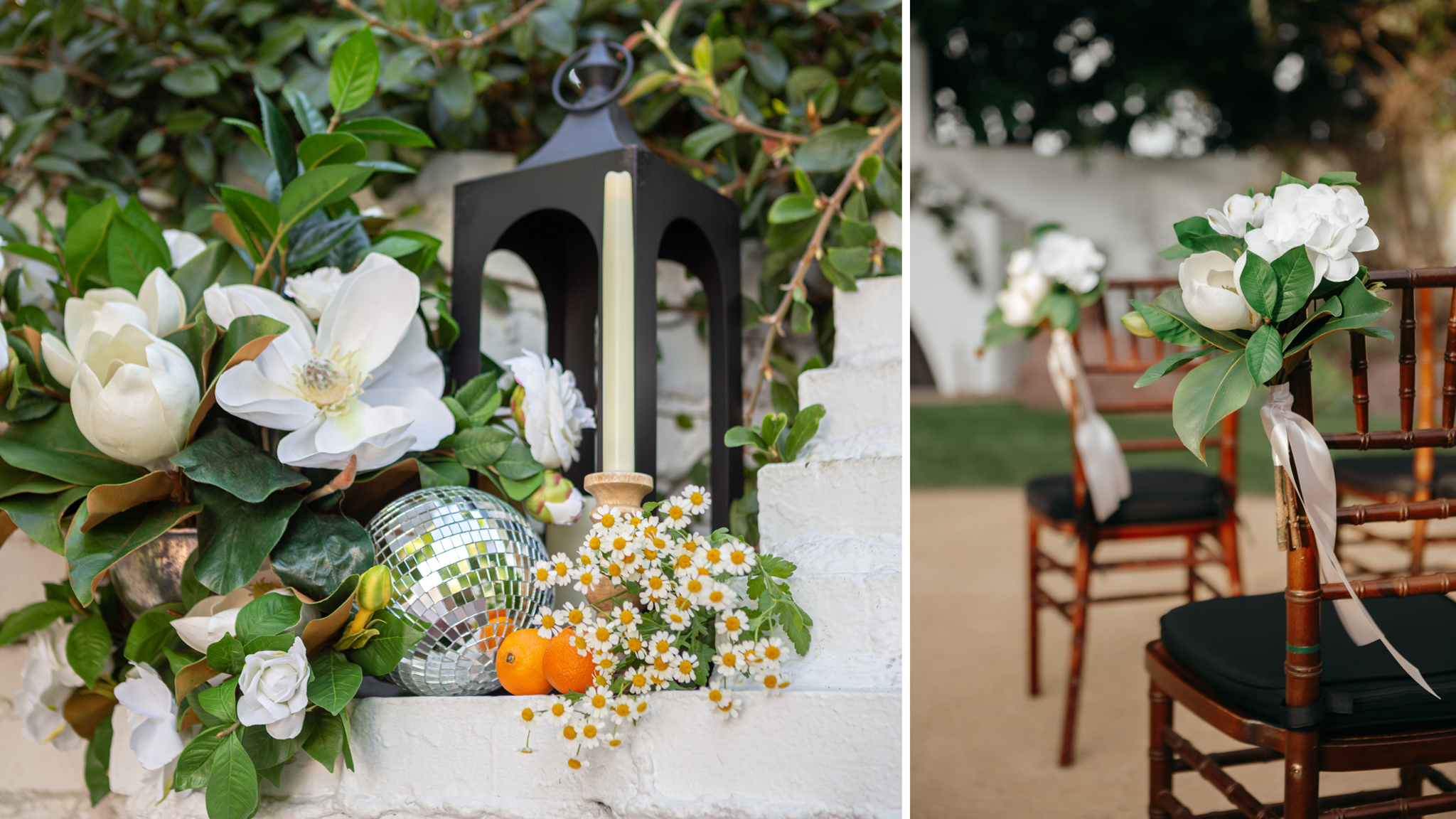 Cake Decor
As a finishing touch, enhance your cake decor with gorgeous open magnolias and camellias for a cohesive look throughout the event. Before putting the stems in your cake, have your photographer capture beautiful flat-lay photos with your invitations and sentimental items to remember the day's details. When the night is over, keep the stems for years to come and hold memories close to your heart!
Tell us in the comments, are you loving Shelbies NEW look?