Take note of these 4 wedding flower trends you'll see in 2023

Each year we look forward to sharing the top trends to anticipate for the upcoming year. Our wedding flower and decor trend forecast is a combination of observations from key industry events and influencers, paired with queues from the fashion and design world. After months of research and consultations, we're excited to share with you our predictions for 2023 including color, styles and details for the wedding day.
If you're planning a wedding or special event in 2023, you'll want to take note of these four major trends.
Bold and Bright

The bold and bright color trend continues from last year, with hues of pink and red being at the top of the trend list. Earlier this fall, we saw bubble gum pink highlighted from Paris fashion week, followed by the recent color of the year announcement from Pantone, Viva Magenta. If you've already embraced the color wave, you're spot on the trend. If you're still holding on to neutrals, it's time to step outside of the box and enjoy these hues in all their glory!
The Gemma and Charlotte Collections are at the top of our colorful floral picks this year. We're obsessed with the bougainvillea stem in the Gemma Garland and Gemma Bougainvillea Bridal Bouquet.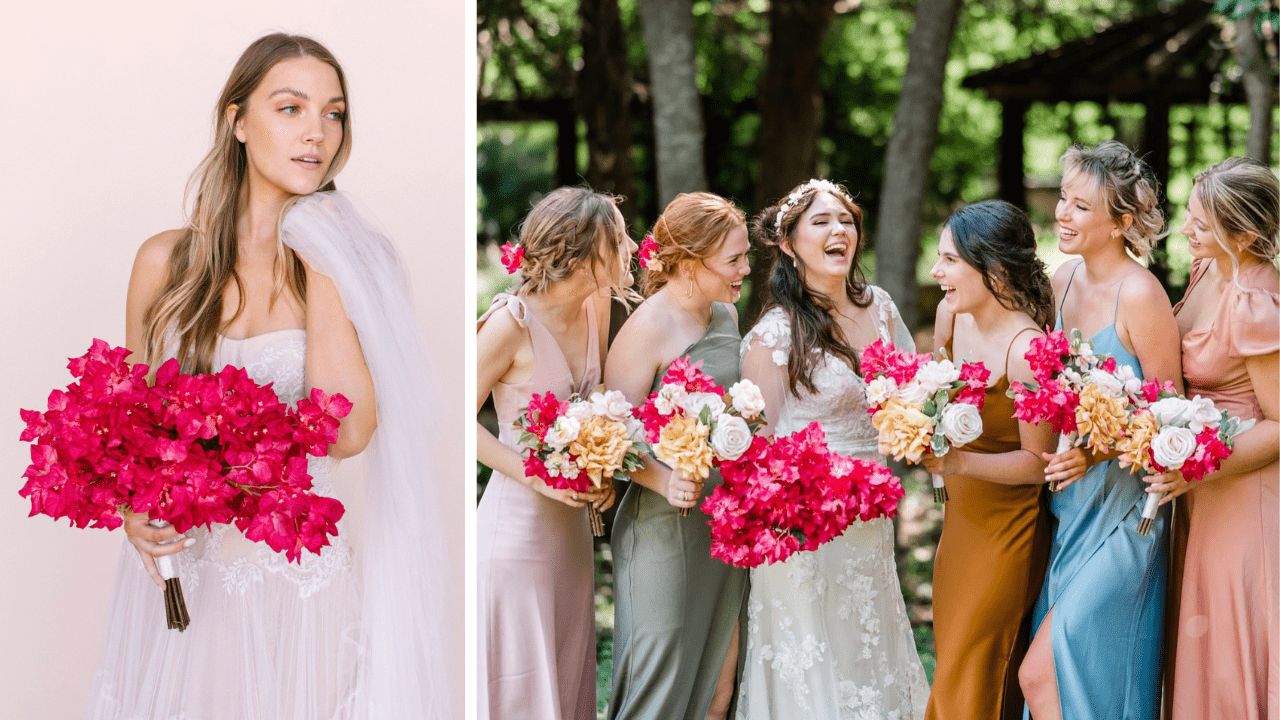 The Grounded Arch
We're getting accustomed to the larger-than-life floral installs for ceremonies and photo opportunities. But there's a new trend to take note of - The Grounded Floral Arch. Think of the full and lush blooms you're accustomed to seeing suspended from an arch or arbor, but instead anchored to the ground. These horseshoe-shaped grounded floral arches are gaining popularity, especially for outdoor ceremonies with natural backgrounds. With no frame or structure required for assembly, this floral installation can essentially be created anywhere!
We created a grounded arch earlier this year to launch our Bianca Collection. And most recently, our talented creative director used the Millie Collection to create a stunning ceremony space in a Redwood Forest.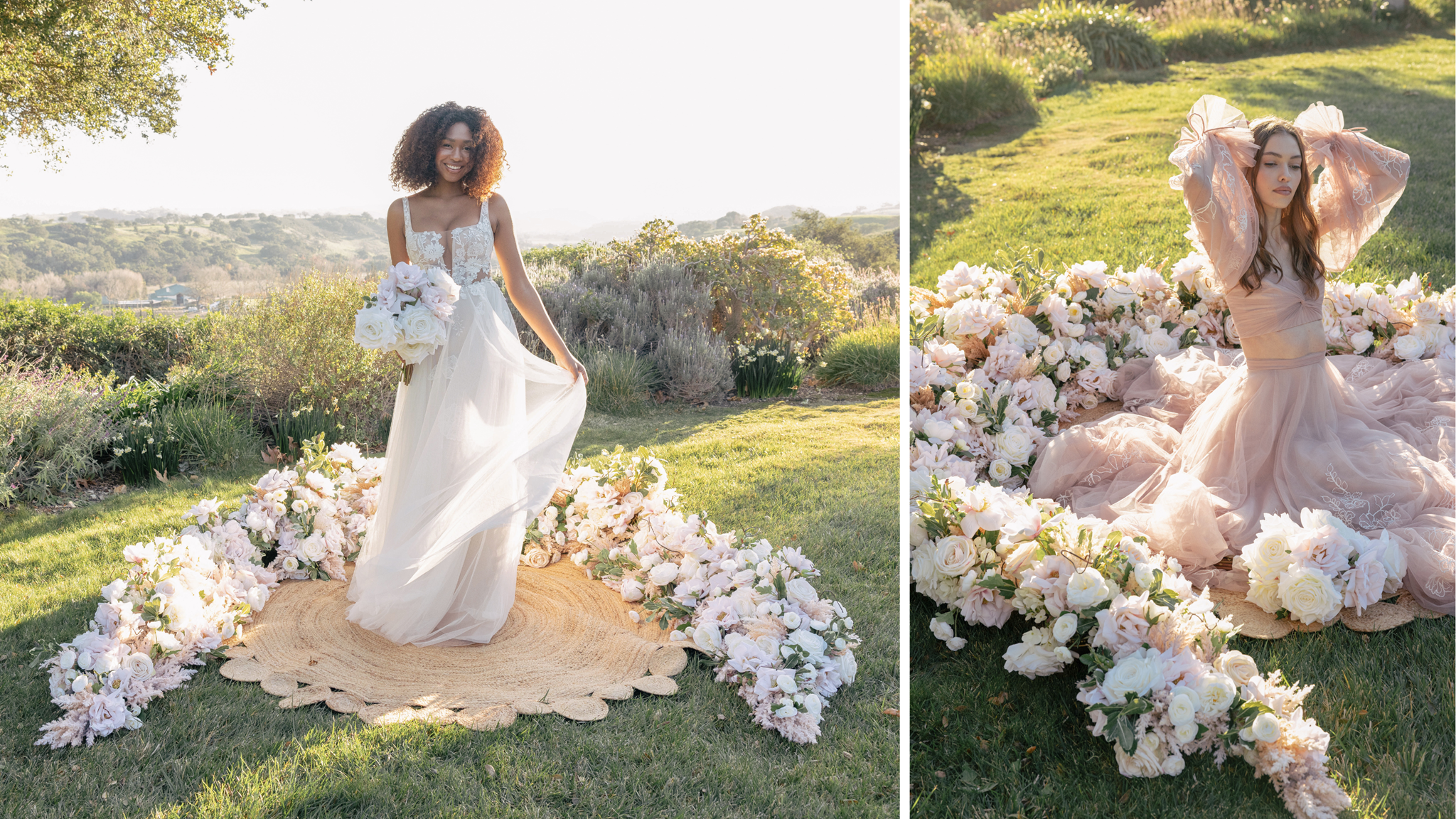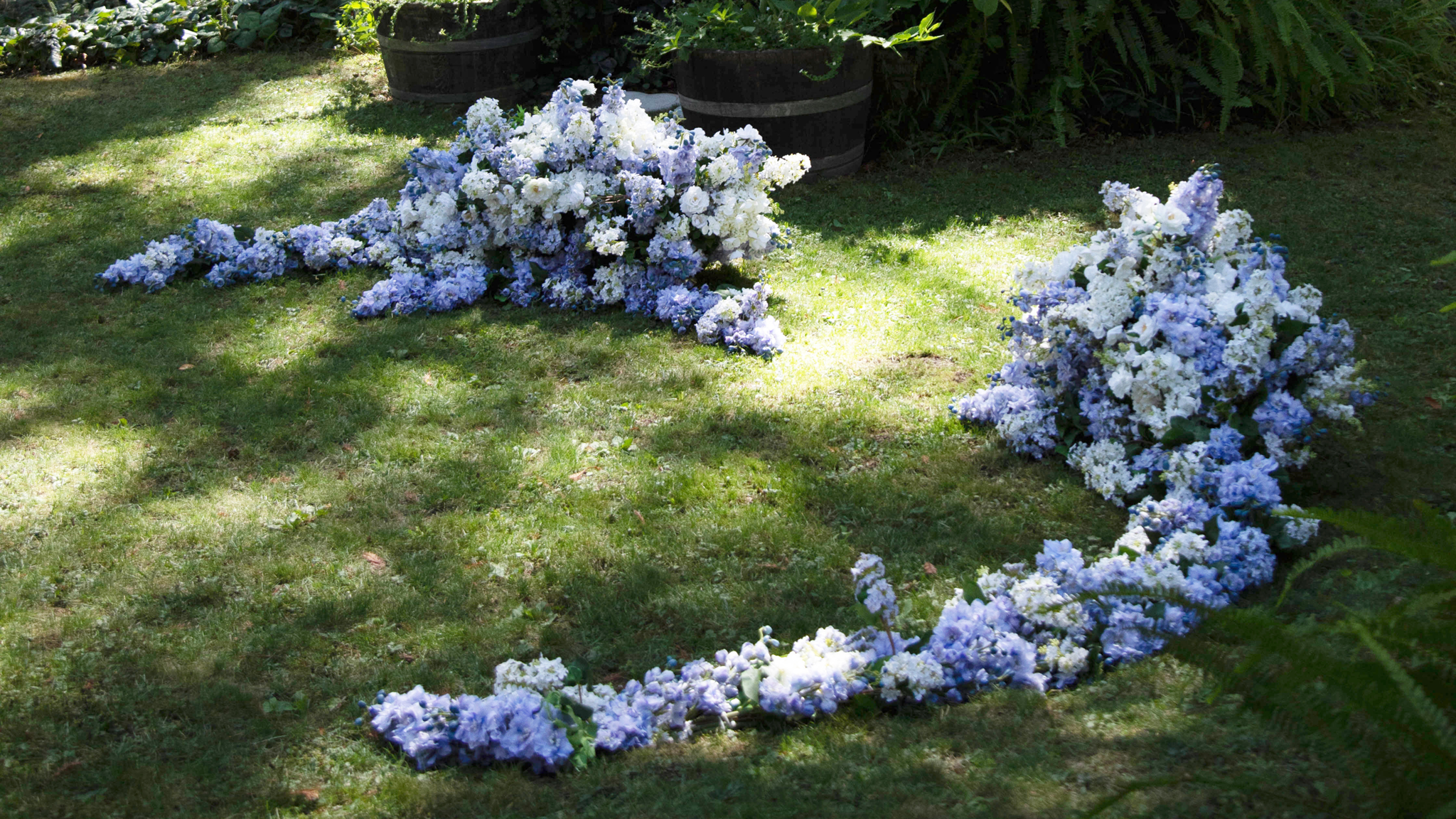 Create your own grounded arch with a few strands of garland and a variety of centerpieces in all sizes.
Garden-cut Bridal Bouquets
You may have noticed a new variety of bridal bouquets being introduced this year, The Garden Cut Bridal Bouquet. It's most commonly used on the runway but started to trickle mainstream this year. And we're loving this trend! The garden-cut style bouquets are longer in stem length and more abundant in floral stems. With little to no texturized elements and limited floral variation, this style bouquet is very modern and what we consider to be a true statement bouquet. You'll notice this bouquet style taking over your feed this year. And if looking for a bouquet that looks like it was cut straight from a field of just bloomed florals, look no further than a garden-cut style bouquet.
Shop garden-cut bouquets in the Wren, Stella, Millie, Shelbie, Bianca, and Cameron Collections.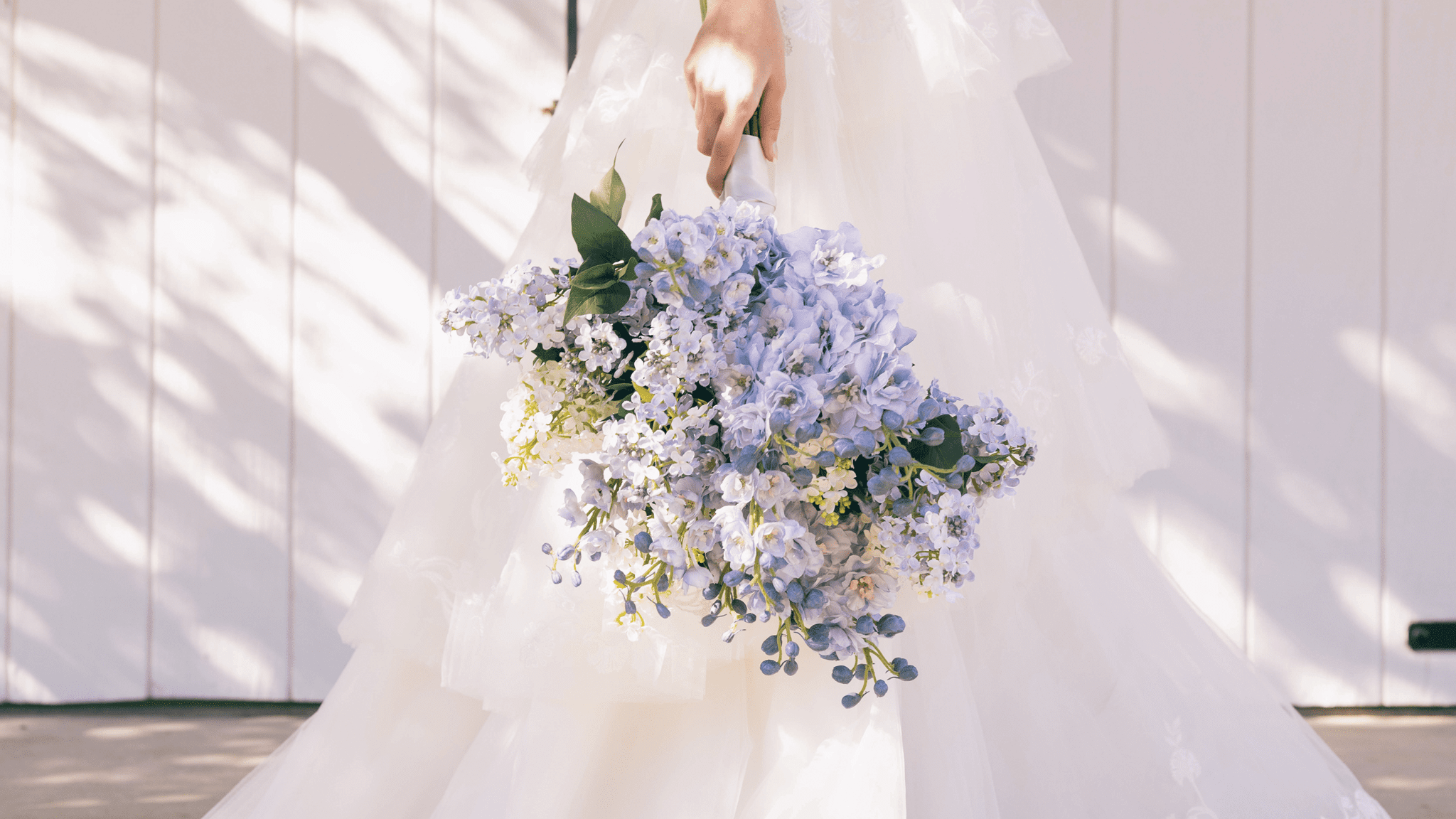 Mirrored Accents
Disco balls and all things shiny are gaining popularity in the wedding space. We're seeing fun and eclectic uses of shiny and mirrored accessories on the wedding day and events leading up to the big day. In a recent photo shoot for our Shelbie Collection, we styled the space with disco balls and citrus accents to create a unique and playful setting. Expect to see more non-traditional wedding decor this upcoming season.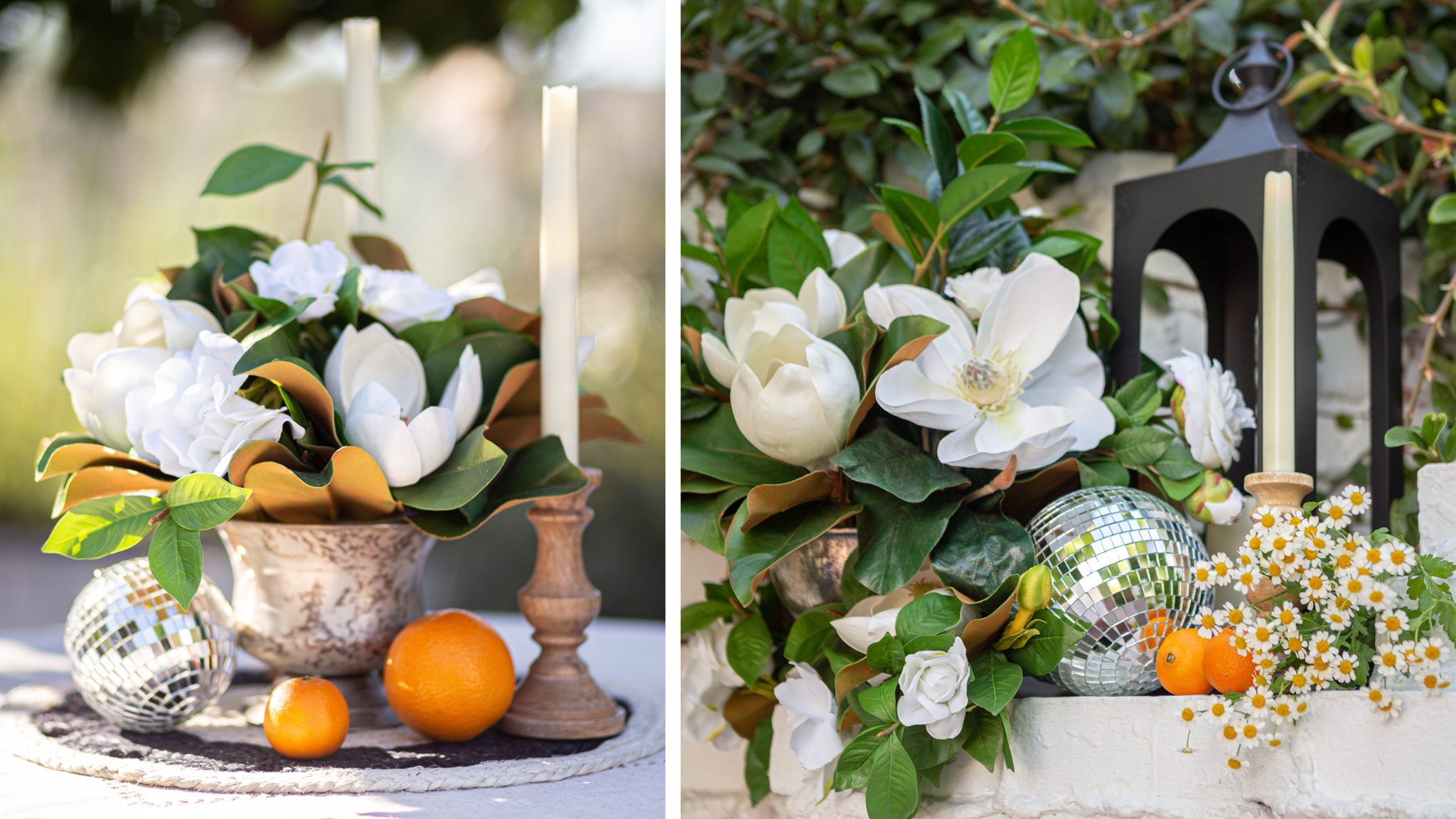 Tell us in the comments, which wedding trend are you most excited to see this year?
XOXO,
The SBBlooms Team