A guide to all Wedding Flower Bridal Bouquet styles and varieties.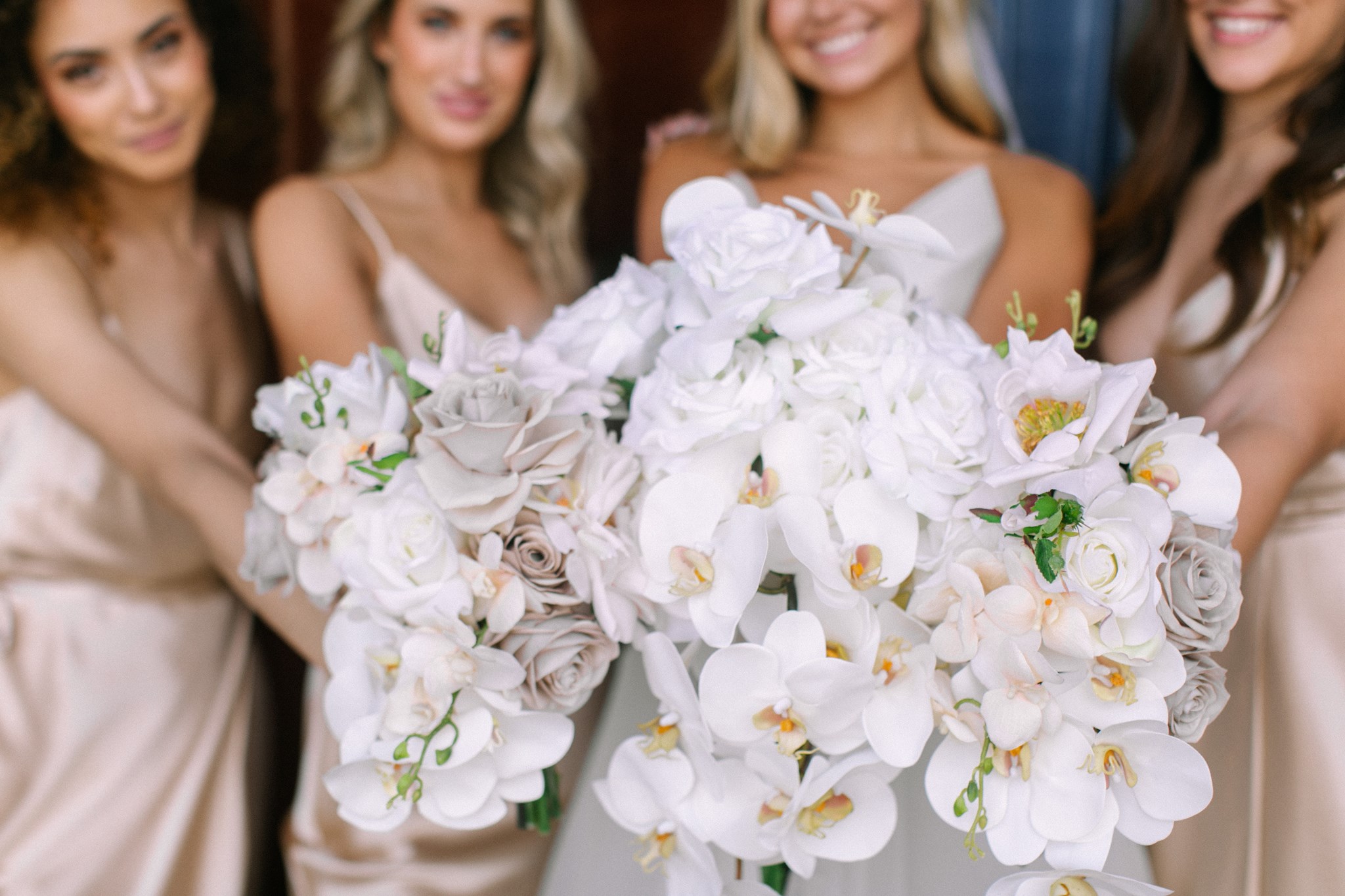 Once you've learned all the amazing benefits of renting your wedding flowers with Something Borrowed Blooms, you're ready to start your wedding flower planning! But, after looking through all of our premium silk floral collections, you might ask yourself these questions — what do all the different bridal bouquet styles mean, and which one is right for me?
Keep reading to learn more about all the Bridal bouquet styles SBBlooms has to offer and check out the YouTube video below to see our CEO Lauren explain each style.
Round Bridal Bouquet
The most traditional bridal bouquet style of them all! A round bridal bouquet is a tight round-nose-gay bouquet perfect for the classic and elegant bride. Think Paris Hilton wedding chic! If you're looking for a bridal bouquet that will stand the test of time, a Round Bridal bouquet is for you!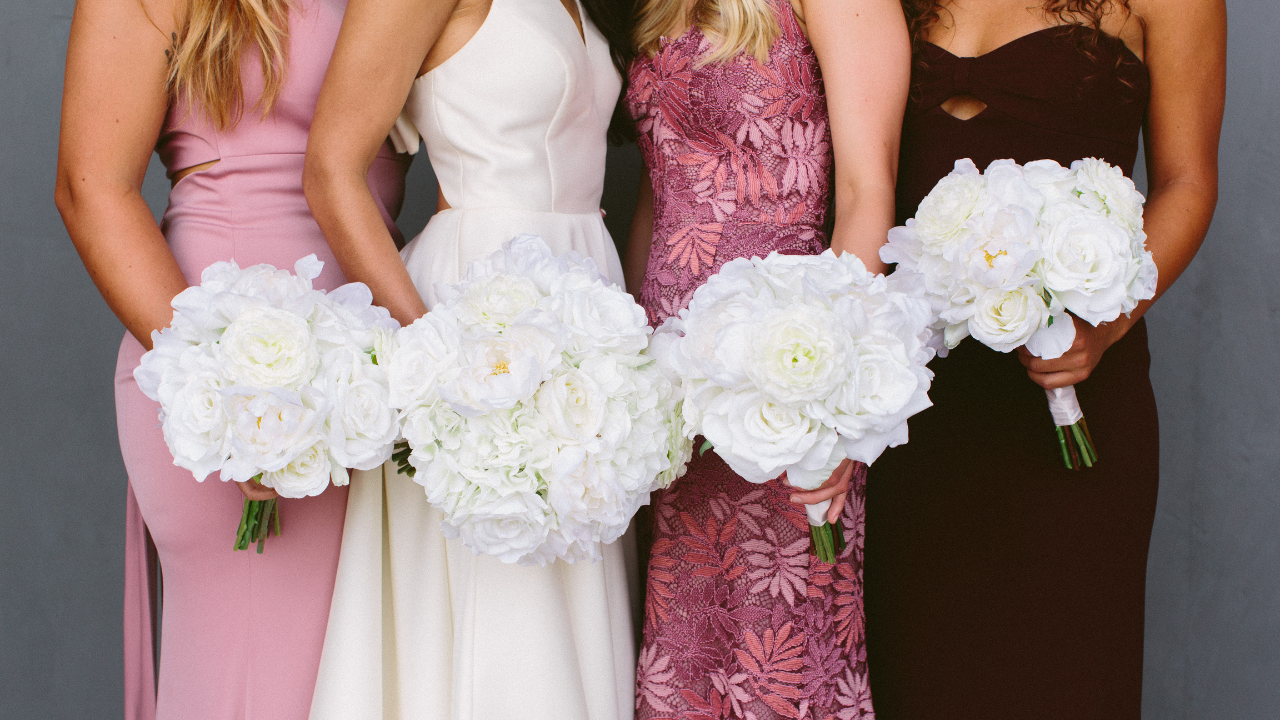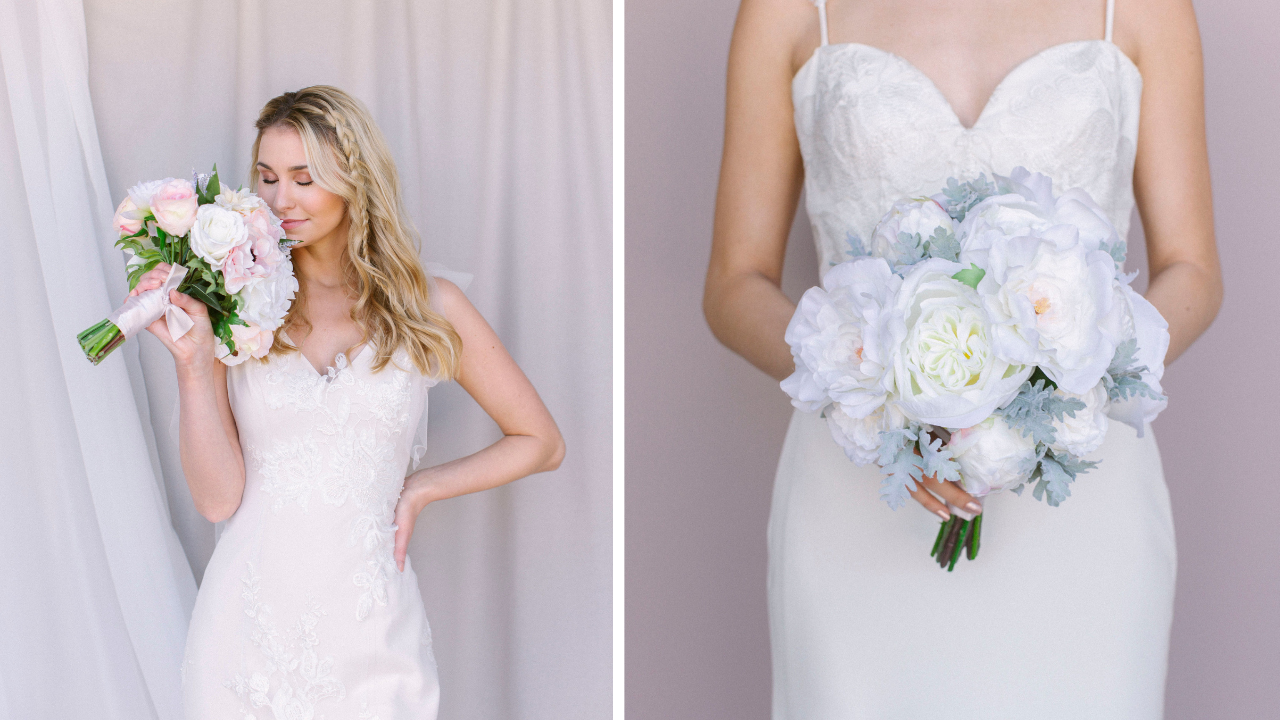 Shop more round bridal bouquets with the Kimpton, Audrey, Charlotte, and Sophia Collections.

Hand-tied Bridal Bouquet
Our most popular style bridal bouquet is the Hand-tied bridal bouquet. Our hand-tied bridal bouquets are organically shaped floral arrangements with lots of movement and made to look 'hand-tied'. Most commonly designed with defined front and back and fanned-out shape. The hand-tied bridal bouquet is our signature design at Something Borrowed Blooms, so most of our collections include a hand-tied Bridal bouquet. And, if a collection only has one bridal bouquet, it's most likely a hand-tied style!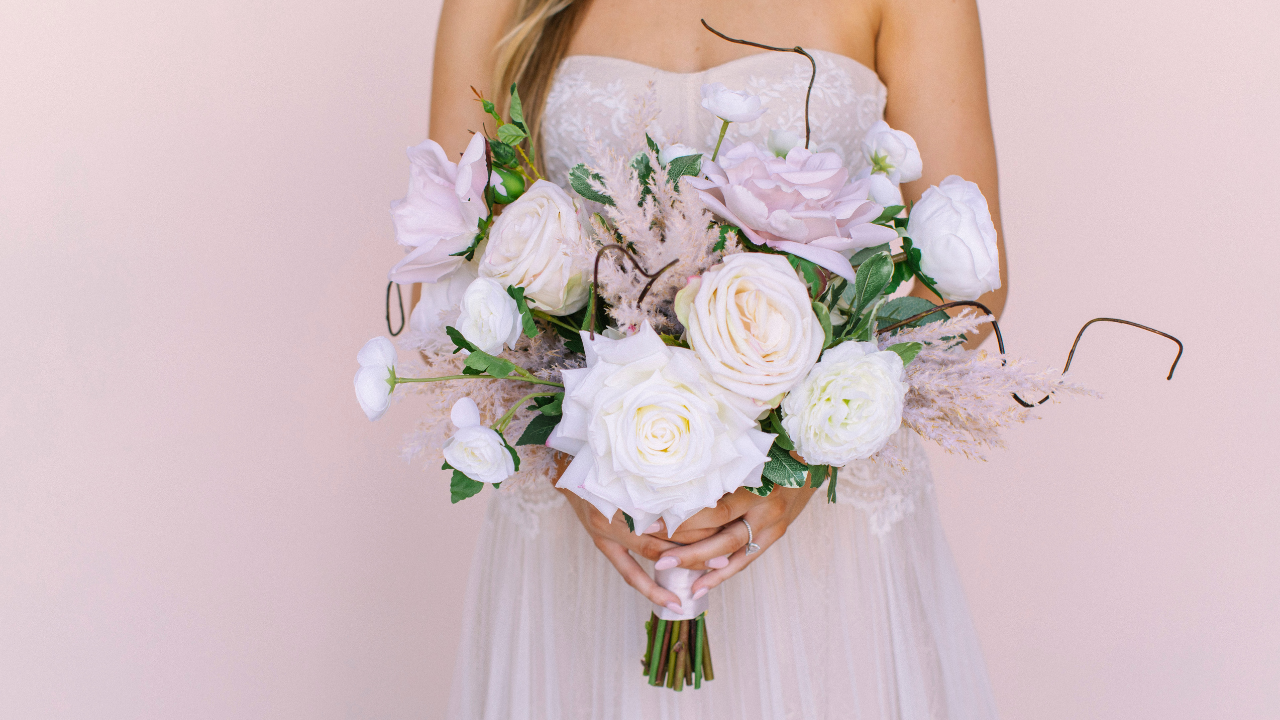 Shop hand-tied bridal bouquets with the Taylor Collection.
Garden-cut Bridal Bouquet
One of our favorites! The garden-cut style bouquets are longer in stem length and more abundant in floral stems. With little to no texturized elements, this style bouquet is very modern and what we consider to be a true statement bouquet.

If you're looking for a bouquet that looks like it was cut straight from a field of just bloomed florals, look no further than a garden-cut style bouquet. SBBlooms Bride; Joyce, styled the Cameron Bridal Bouquet (Garden-cut) with a stunning floral dress for her engagement shoot.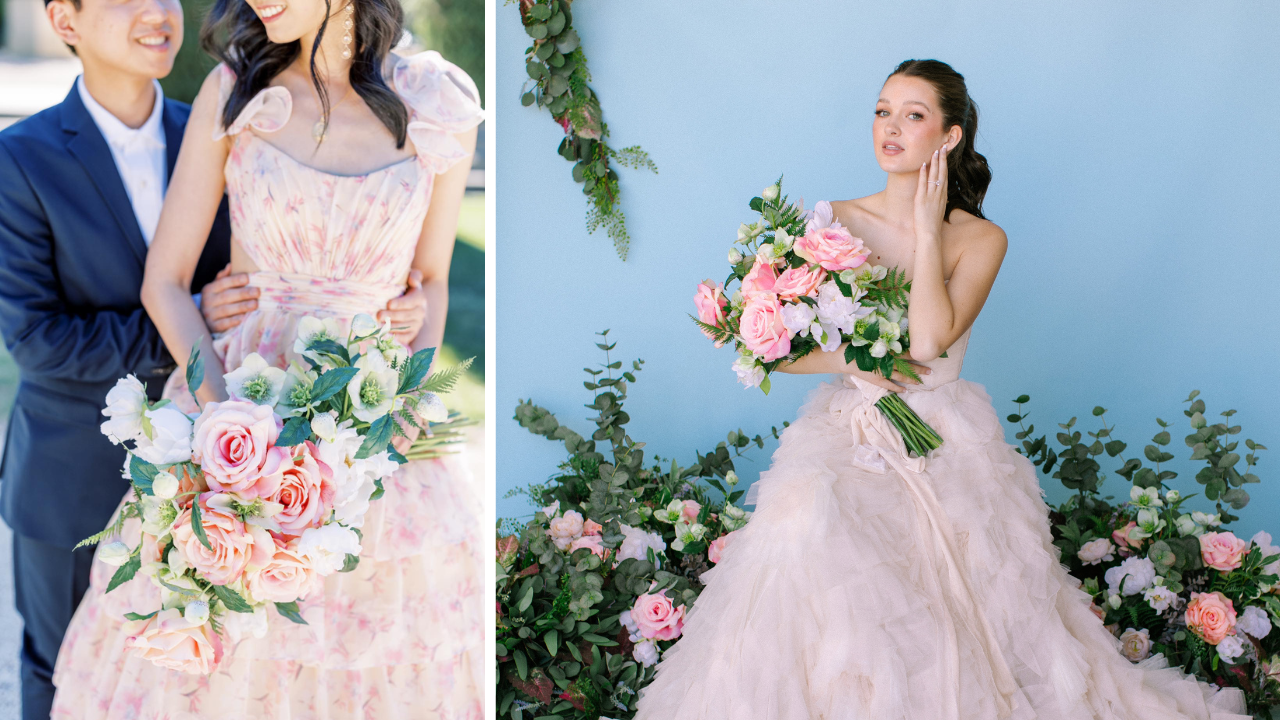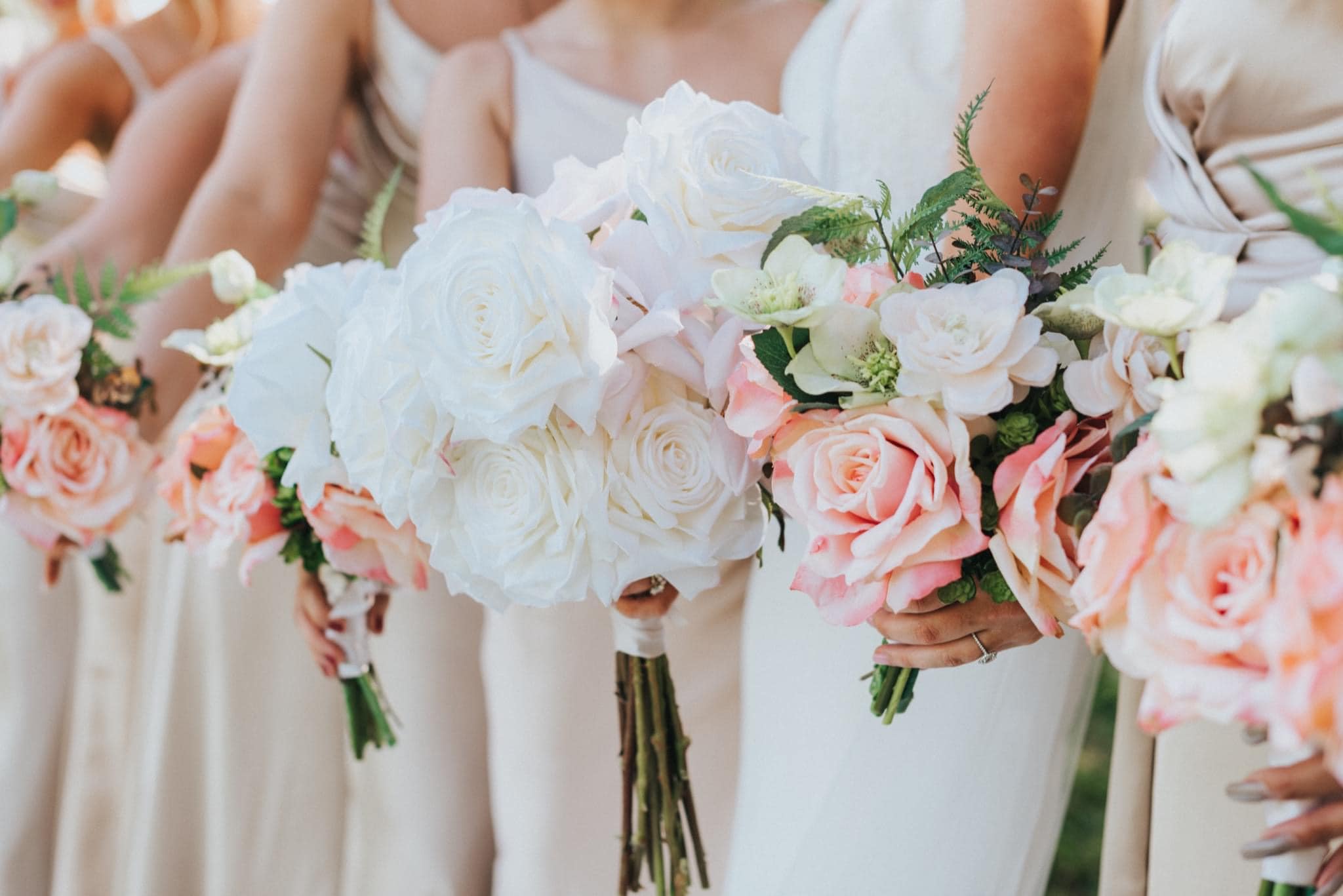 Shop garden-cut bouquets in the Wren, Stella, Millie, Shelbie, Bianca, and Cameron Collections.

Cascading Bridal Bouquet
Most popular during the 80's and early 90's, the cascading bouquet is truly making a comeback. The style is characterized by a waterfall effect. Florals are arranged asymmetrically, with a trail of florals protruding from the front, overall creating a romantic look.
SBBlooms Bride; Elsbeth, styled her wedding day look with the Kimpton Bridal Bouquet (Cascading) and the matching Kimpton Boutonniere for the groom.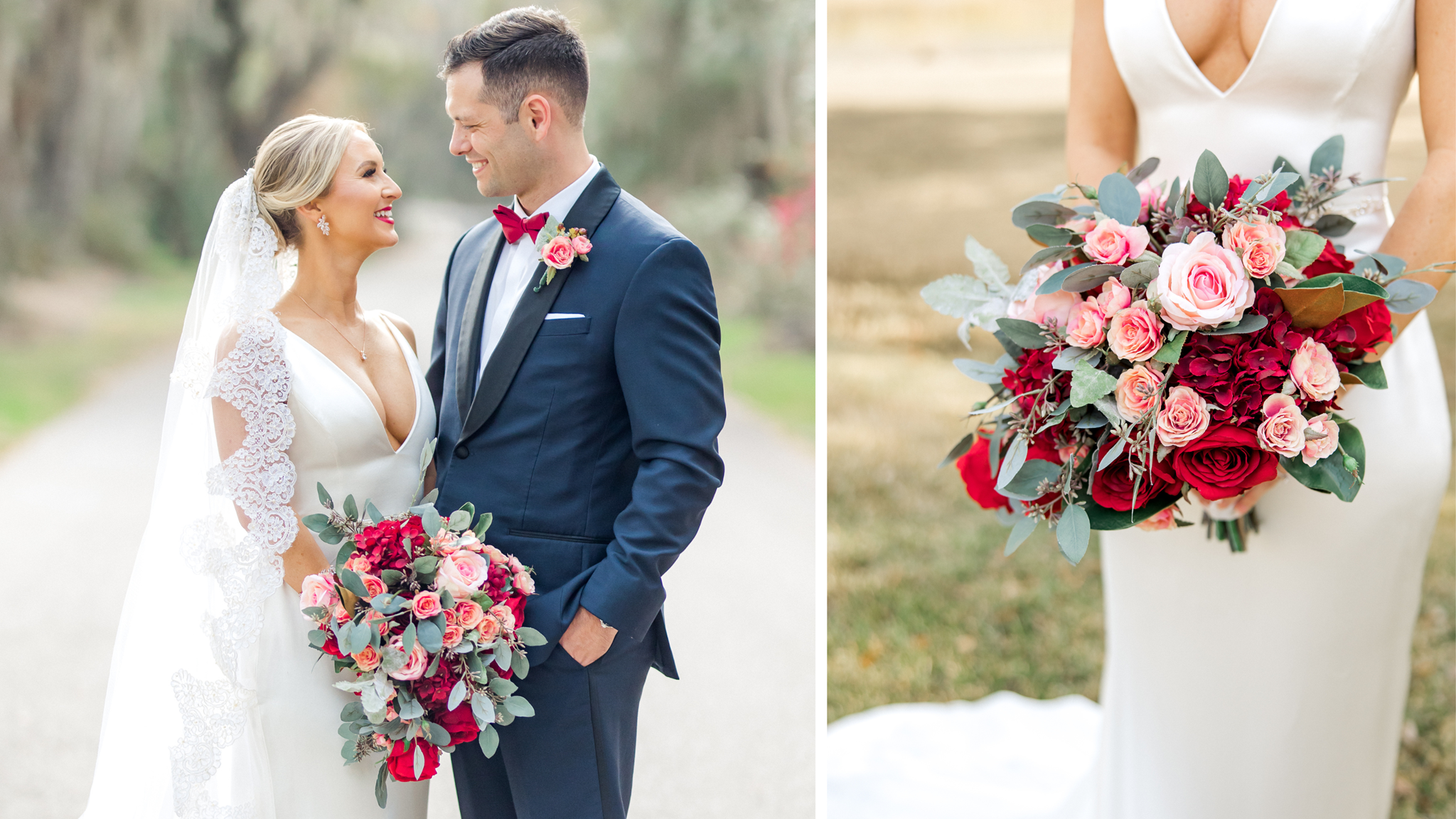 Shop cascading bridal bouquets in our Kimpton Collection.
Something Borrowed Blooms has beautiful options for every kind of bride! Tell us, which bridal bouquet will you be carrying down the aisle on your special day?