Helpful tips to save money on your wedding day, even with a large bridal party!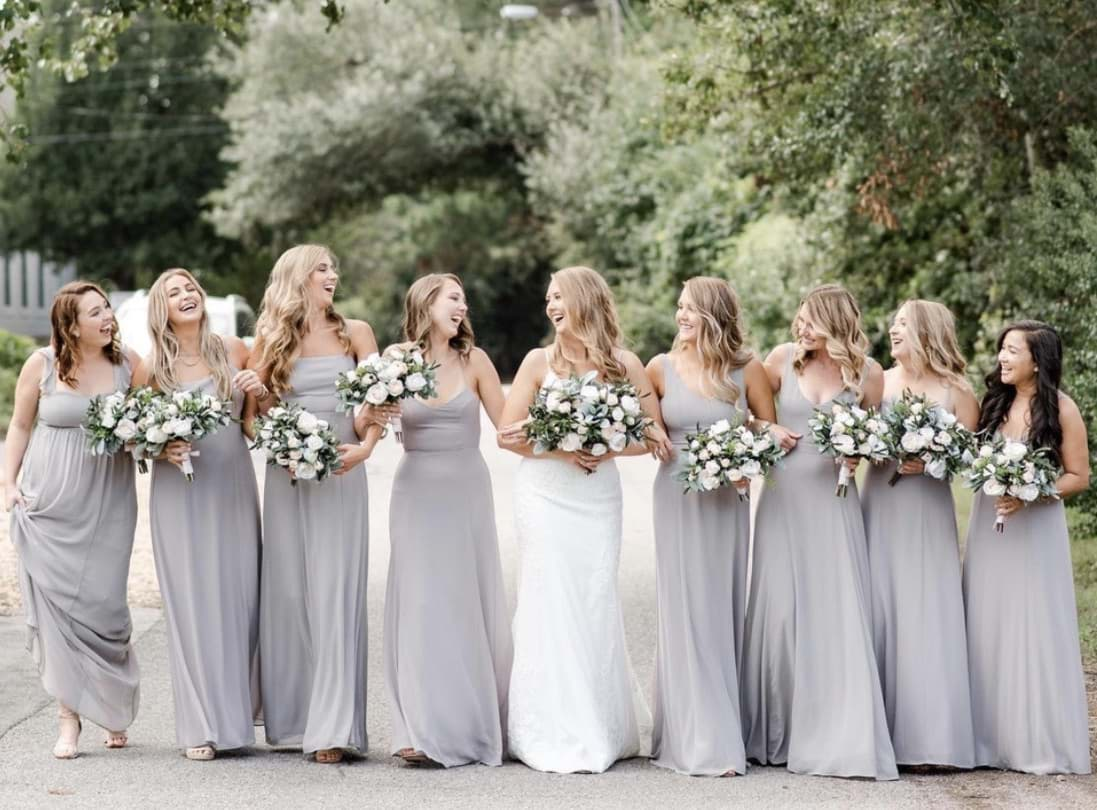 @courtneytimmsphotography
Your girlfriends are the heart and soul of who you are and you couldn't get married without them by your side. But if you find yourself cutting down your bridesmaid list to better fit your budget, we're here to tell you that's not necessary! You can have ALL your best girlfriends by your side at any budget.
If the recent trend of elaborate bridesmaid gifts have you stressing, just keep reading! While showing your bridesmaids that you appreciate and value their friendship with a little gift is very thoughtful, don't let this Pinterest inspired trend spiral your budget out of control! Because let's face it, your true girlfriends will be by your side under any circumstances. Stress no more! We've created a few budget-friendly ways you and your bridesmaids can save money during your wedding planning journey.
HOW TO ASK:
Asking your girlfriends to be your bridesmaids is the perfect time to reflect on your friendship, and why you chose them to be a part of your special day! With that being said, DIY personalized bridesmaid gift boxes are the easiest and most cost-effective way to go. Purchase personalized gift boxes like the one below from ModParty on Etsy for just $10 (your girls will keep these forever). Drop-in a cute little champagne bottle, wedding necessities such as bobby pins and stain removing wipes, an inexpensive candle, and you're all set! Including a sweet hand-written note will give the gift that personal touch and they will appreciate for years to come.
Pro-tip: Getting all of your bridesmaids together for a girl's night, is a foolproof way to ask them all at the same time!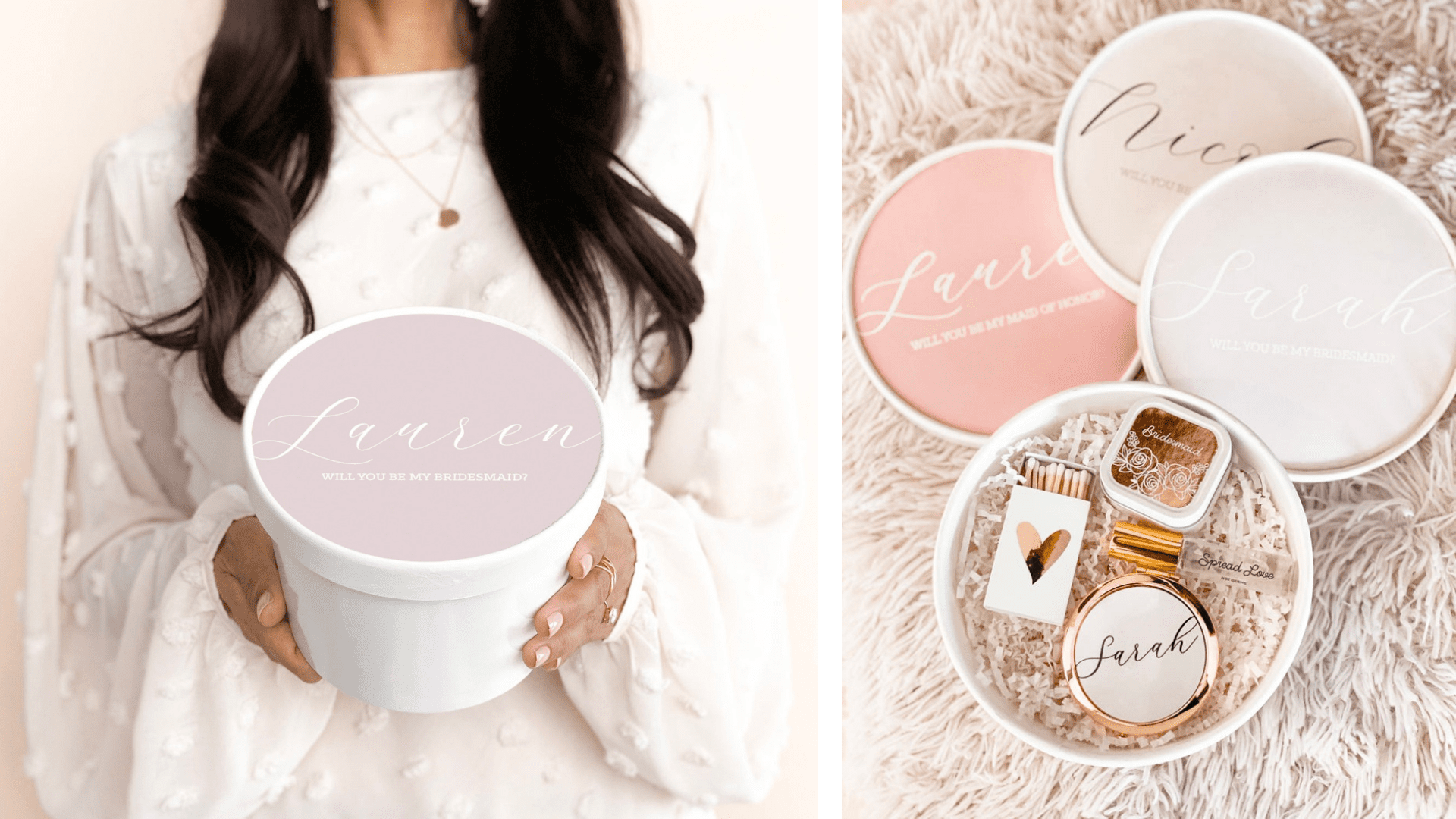 @ModParty -- Etsy
THE LOOK:
If you've been a bridesmaid before, you may understand the anxiety of waiting to hear how much your dress is going to cost. As much as we all love a stunning designer dress, it may take months to save up for this one-time-wear. Luckily, there are cost-effective alternatives that can be just as lovely. David's Bridal offers countless on-trend bridesmaid dresses for every budget. Try selecting coordinating bridesmaids dresses in different colors and style options so that your girls select the dress that they will feel most beautiful and comfortable in while staying within a budget that is reasonable for them. This gives your girls the freedom to choose the dress they like the best, and the one they can comfortably afford too. Don't forget to take into consideration alterations, undergarments, and matching jewelry, which can also add up quickly!
Cut hair and makeup costs by having your bridesmaids do their own or each other's hair. Odds are, someone in your bridal party is a hair and makeup guru, and would love nothing more than to give all your girls a makeover. Hiring professional hair and makeup artists can cost hundreds of dollars, and it's nice to give your bridesmaid the option to opt-out of it.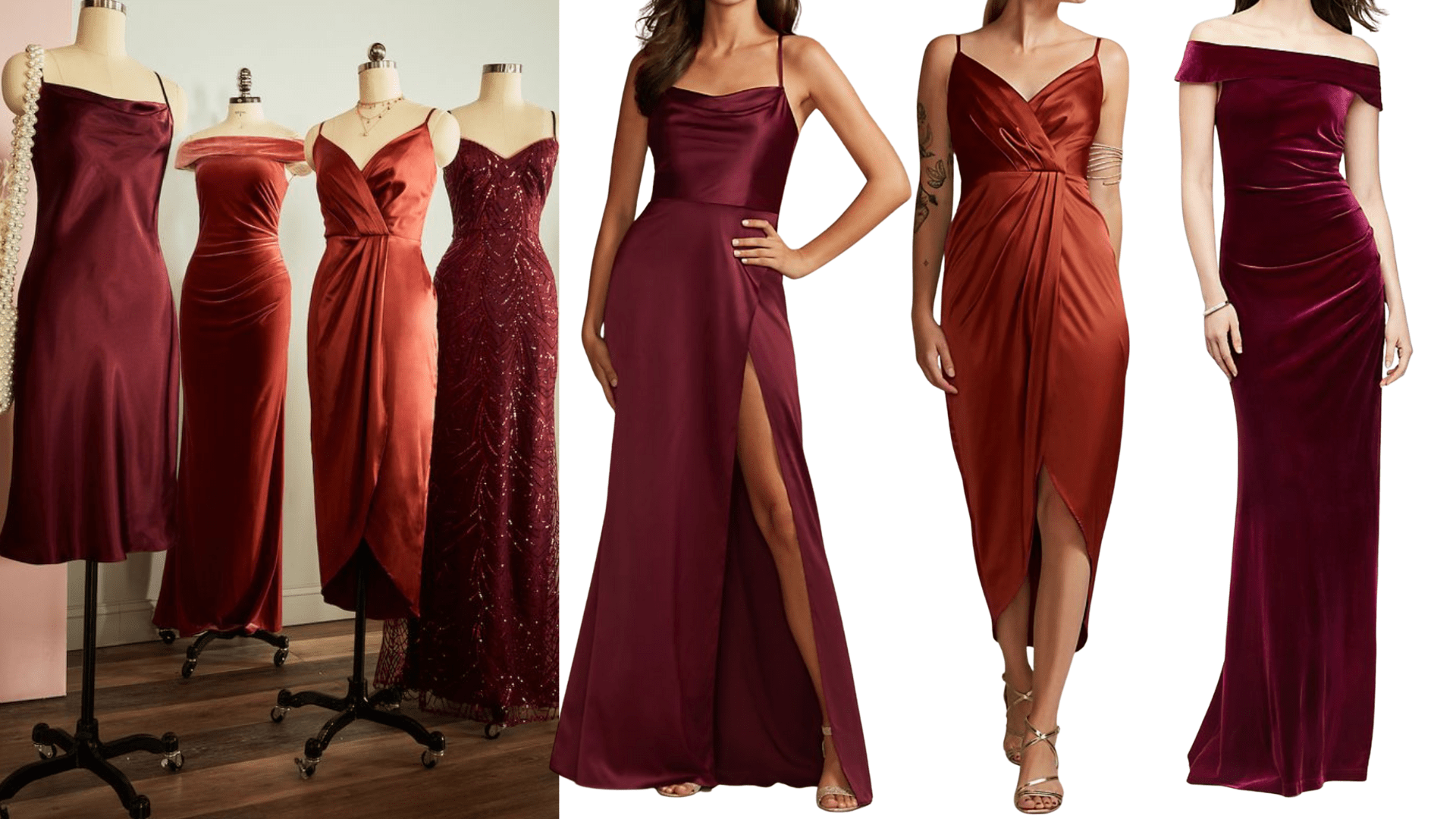 @DavidsBridal
THE BLOOMS:
If you've received quotes from your local florists, you know that florals will take up thousands of dollars in your wedding budget, roughly 20% to be exact. The average cost of a fresh bridesmaid bouquet can run between $50-$125. You can imagine how quickly that adds up for a large bride tribe. Something Borrowed Blooms' wide variety of silk wedding flower collections, each includes bridesmaid bouquets handcrafted with premium silk blooms by our professional florists and rent for just $32! Opting for silk florals for your bridesmaid bouquets or all your wedding flowers could free up thousands of dollars in your budget.
Wondering which collection is best for you? Rent a Preview Pack to sample your bridesmaid bouquets to help you finalize your decision. Choose between two centerpieces or two bridesmaid bouquets from your top collections to sample at home. By ordering a preview pack, you'll receive $20 in rewards points to use on your wedding order.
Pro-tip: Ask a family member or reception staff to collect the rented blooms at the end of the night to ensure that they don't walk off with any of your guests.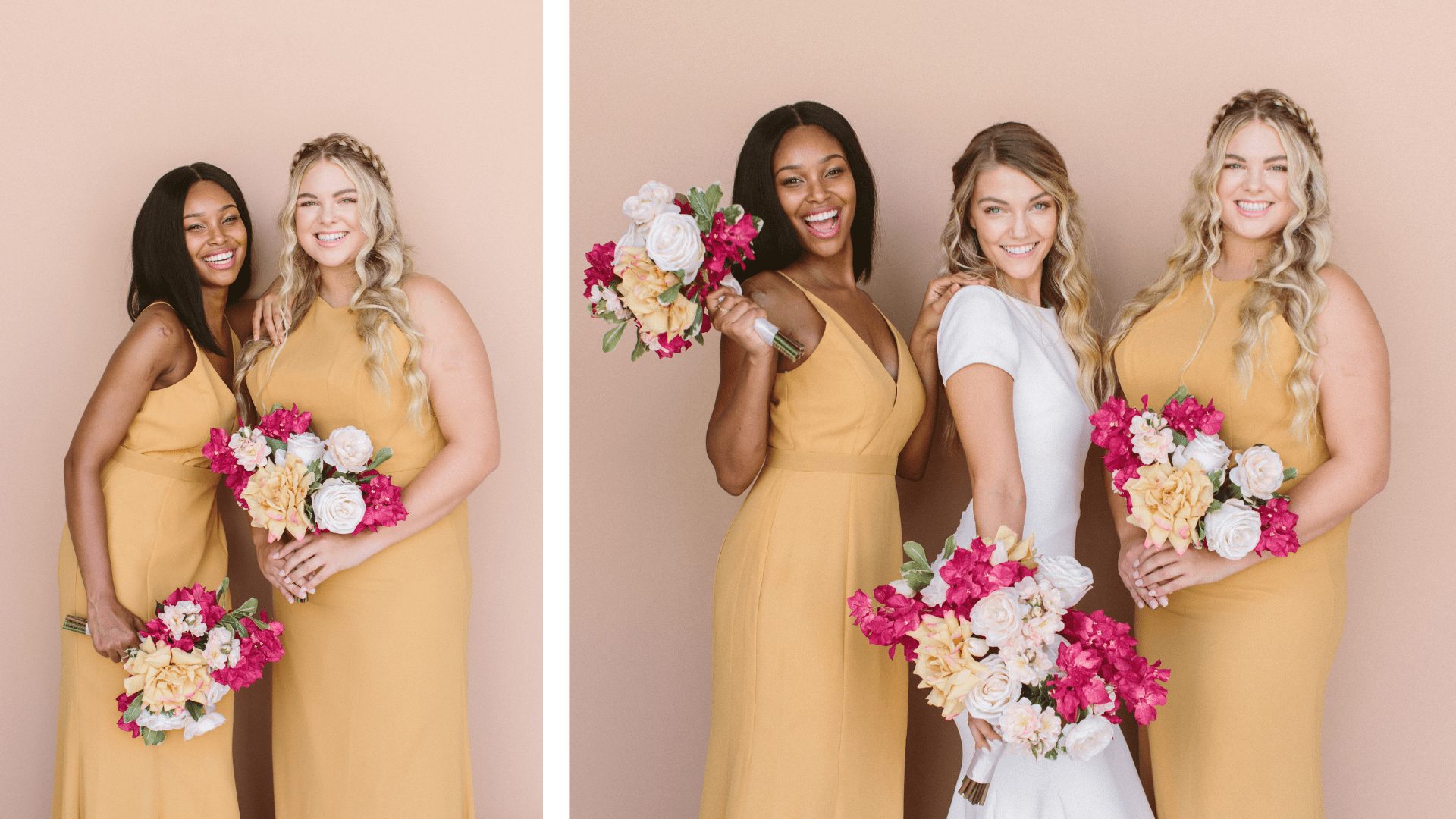 @sbblooms
Tell us, how are you saving money with your bridesmaids? Comment below with your best tips and tricks.
Join our SBBlooms Brides Facebook group to get all the insider pro tips and advice from past and present SBBlooms Brides. For more inspiration, browse our floral collections, follow us on Instagram, and subscribe to our YouTube channel for DIY tips, collection reviews, and behind the scenes.