Rust & Terracotta Wedding Flower Inspiration
Something Borrowed Blooms' newest wedding flower collection will make your sunset dreams come true.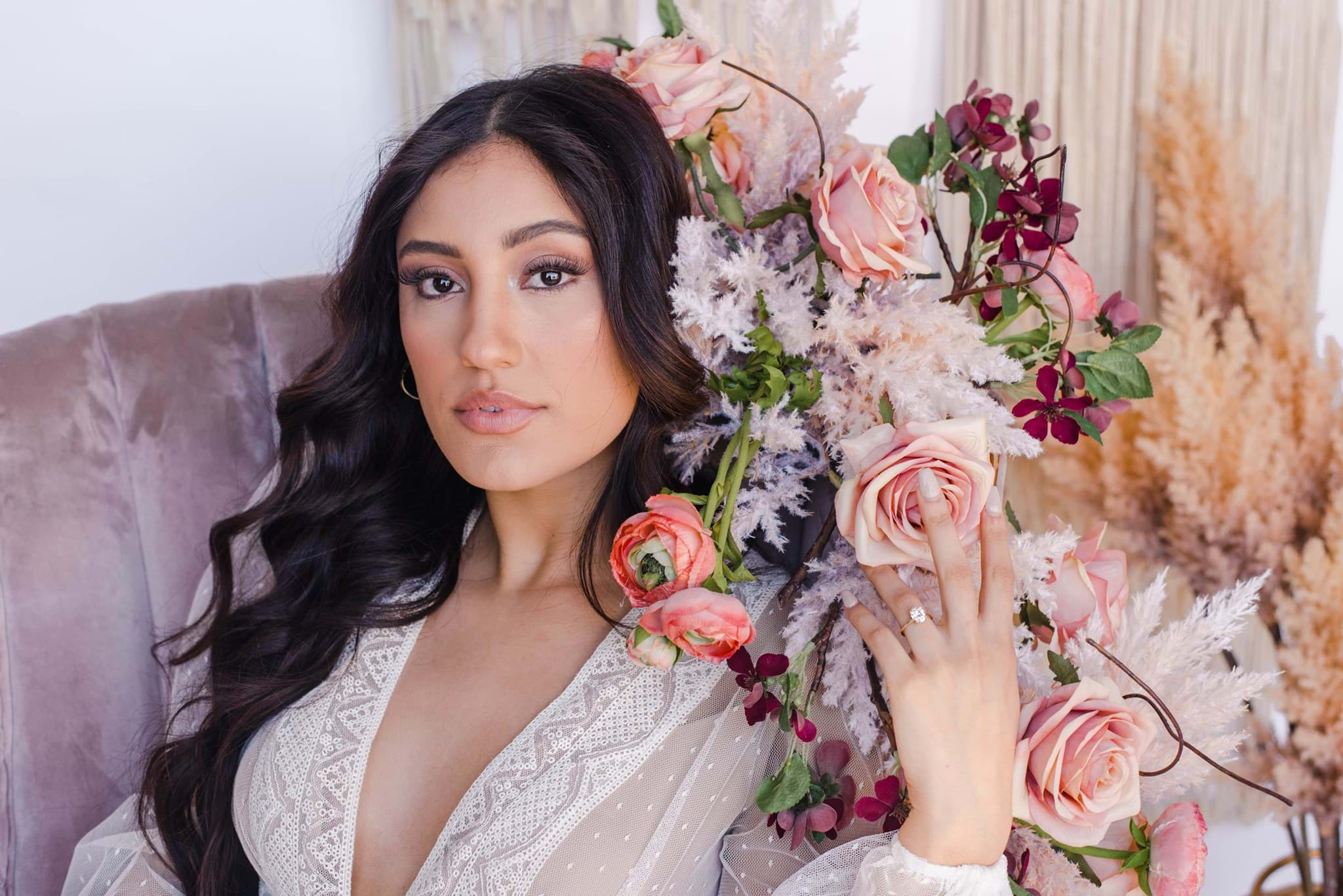 Nina is FINALLY here! We know you've all been patiently awaiting the arrival of our boho-inspired collection. We are so excited to debut Nina, a silk wedding floral collection from Something Borrowed Blooms that effortlessly captures the essence of a romantic western sunset. A warm and dreamy color palette with a variety of florals, making your bohemian wedding dreams come to life. Needless to say, our design team was in heaven creating this photoshoot. Follow along to shop the look!
THE BLOOMS
Of course, the inspiration for Nina started with what we're passionate about, the blooms. Nina is lush and fierce, featuring a variety of terracotta and light pink open dutchess roses. Accented with dusty lavender and rust ranunculus, and dark plum apple blossom sprays. Beige pampas grass and hints of curly willow provide the right amount of texture.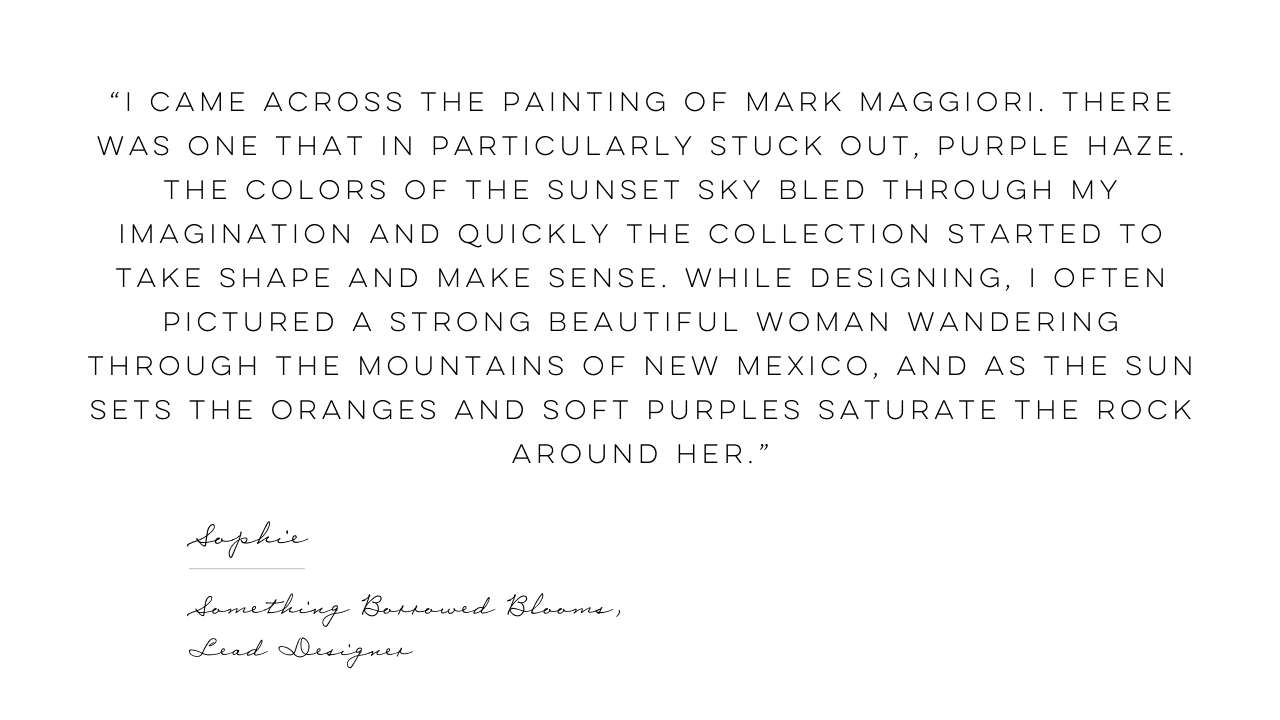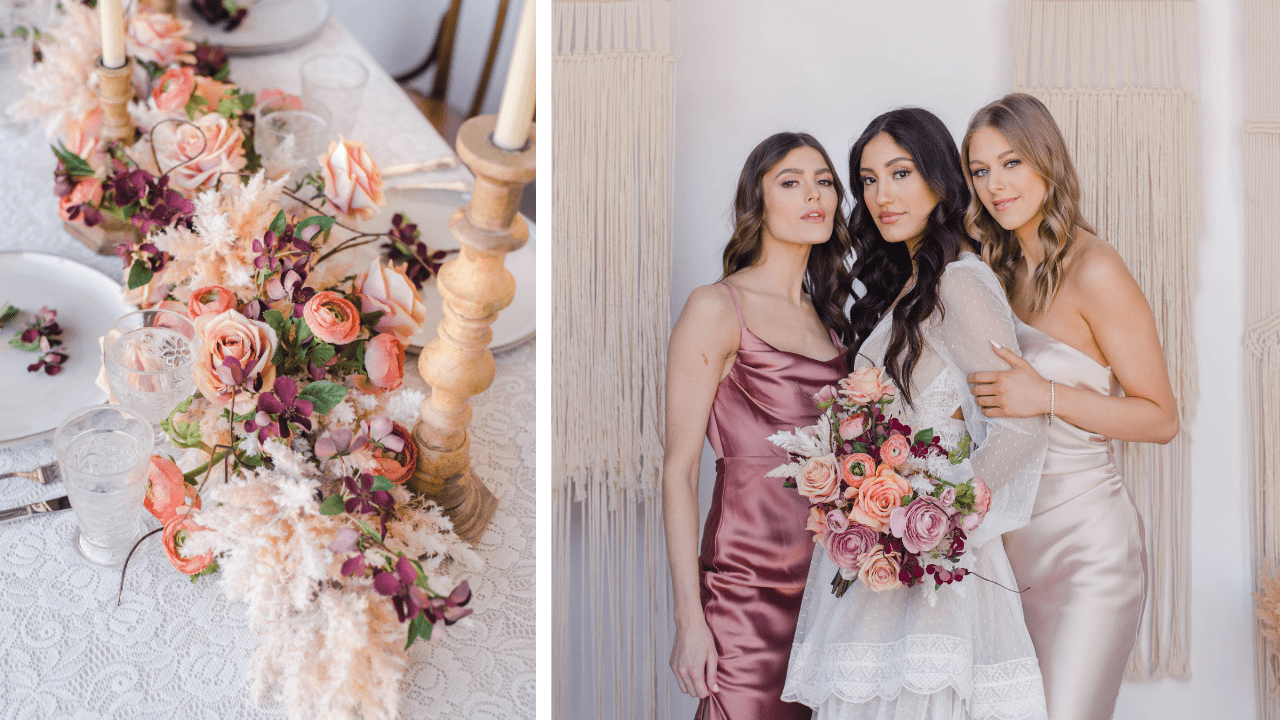 The full collection includes a bridal bouquet, bridesmaid bouquets, boutonnieres, corsages, posies, a pomander ball, garland, hair accessories, and coordinating florals for your fur family. Each piece is delicately designed with fresh florist techniques to create the most life-like wedding flower arrangements for rent.
The Nina Bridal Bouquet is a gorgeous hand-tied, organically shaped floral arrangement, with each product matching accordingly. The Bridesmaid bouquet is smaller than past collections, but with this one, we like to think less is more. The posy is a delicately sized arrangement, most often used by the Mother of the bride or groom or even the junior bridesmaid in your wedding party. We especially love options available in the boutonniere designs, allowing you to choose a design that best suits your aesthetics. Shop Nina Wedding Flowers here.
THE LOOK
For this photoshoot, we knew it was essential to find dresses that complimented the collection's overall look and bold feel. For the bridesmaids, we alternated an array of terracotta, blush, and cinnamon-colored dresses from our friends at Revelry. Each style and color matching perfectly with the vibrant colors of the Nina Collection. These satin dresses shimmered in the sun and gave off a beautiful glow!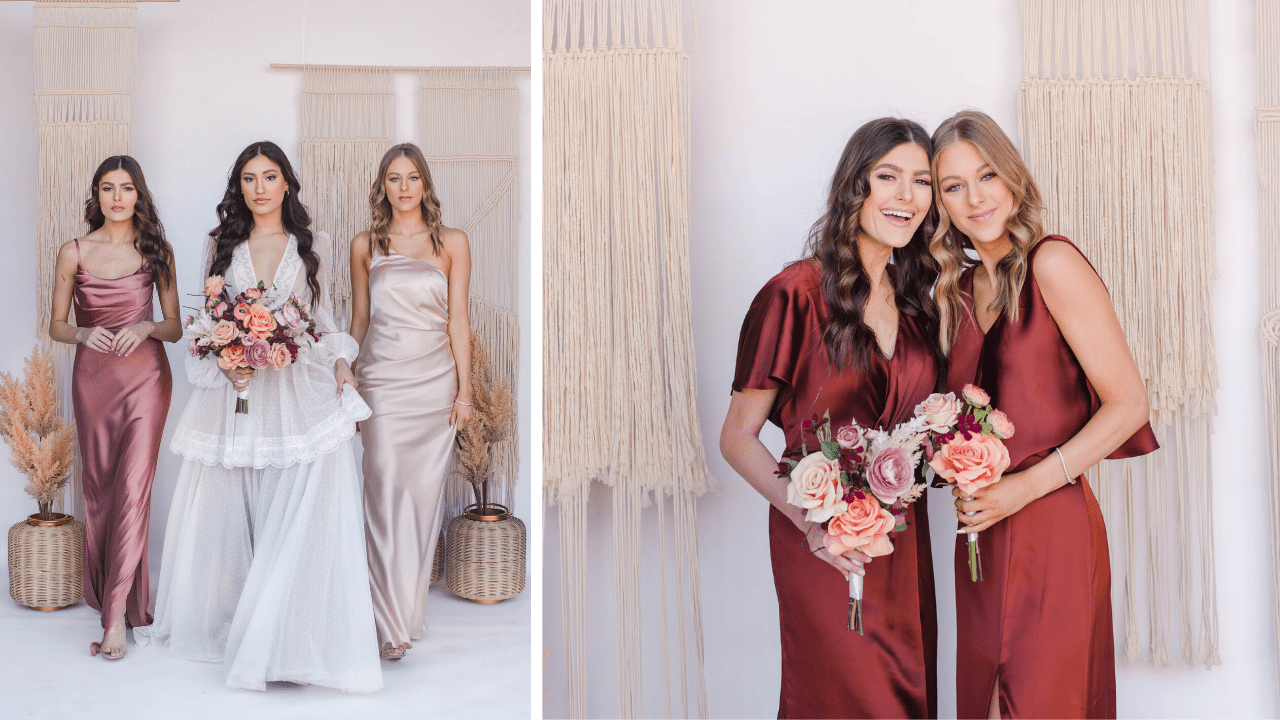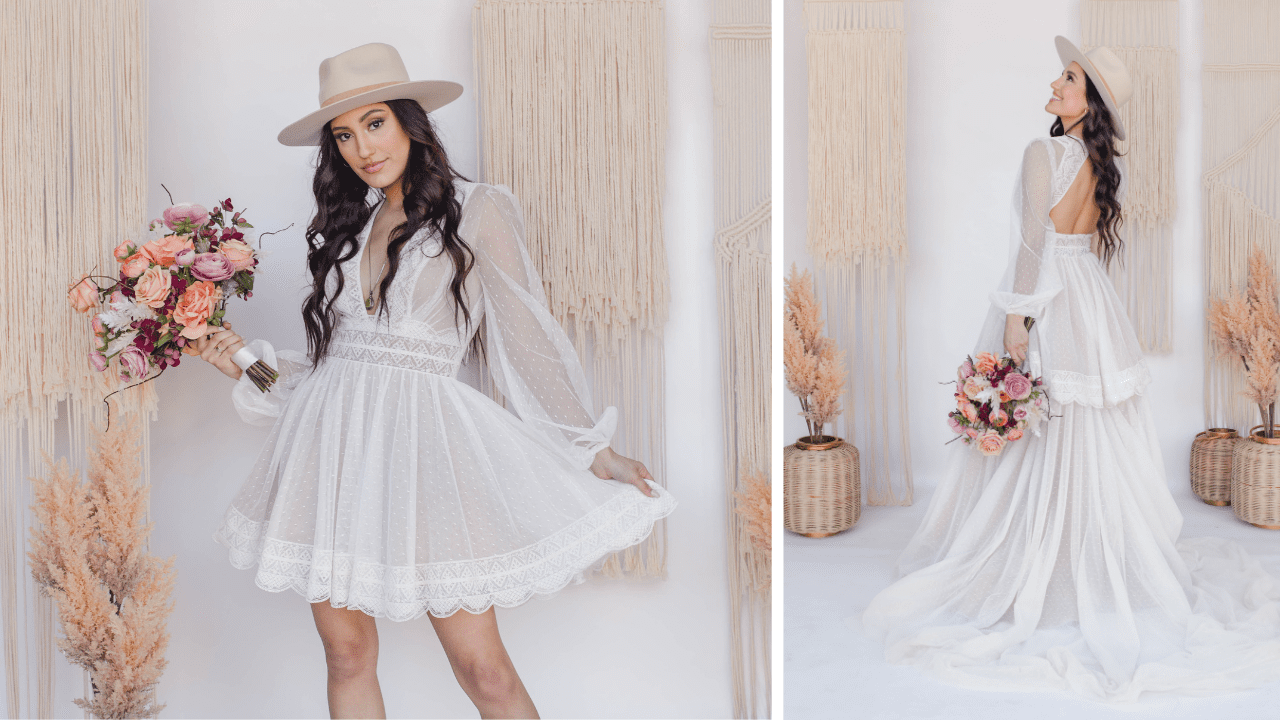 For the Bride, a stunning vintage-inspired lace gown from Willowby by Watters. The best part about this wedding dress... TWO styles in one! Walk down the aisle in a gorgeous layered nude lace gown and remove the bottom layer for the reception and dance the night away! Pair with a statement hat like this ivory ranch fedora from Lack of Color for a bold look. Perfectly boho and all things pretty here.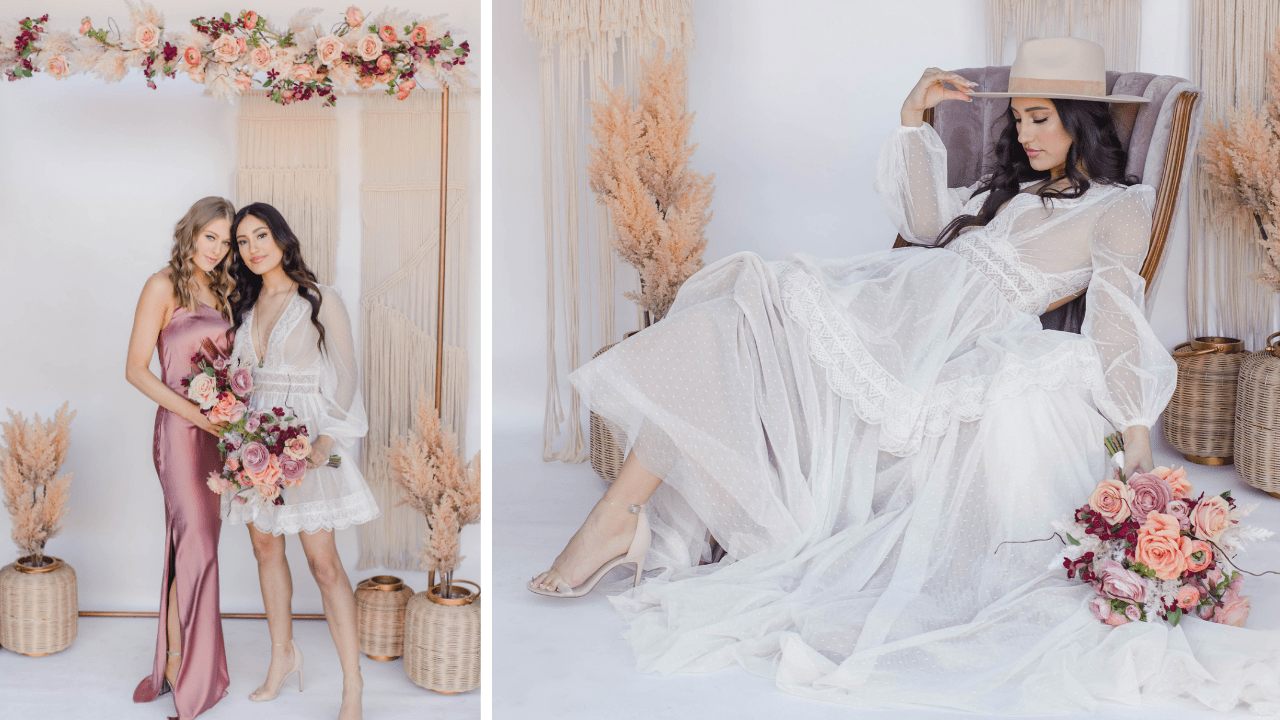 THE SETTING
The setting for this shoot was in-studio, but can easily be recreated anywhere! We chose a white backdrop to let the bold colors of Nina shine through. Our easy DIY copper arch displayed the Nina Garland perfectly. The floral garland is densely designed with lush silk floral blooms, featuring an abundance of florals on one end which is scaled down with soft pampas grass creating a modern, chic design. We're obsessed with the technique used to design this garland!
We incorporated softer beige elements, such as pampas grass picks to put in varying sizes of rattan jugs and macrame panels from our friend Kim, at Noble Heart Fiber Co. Adding fun velvet mauve chairs from Pure Vintage Rentals, was the perfect finishing touch for our sweetheart table design.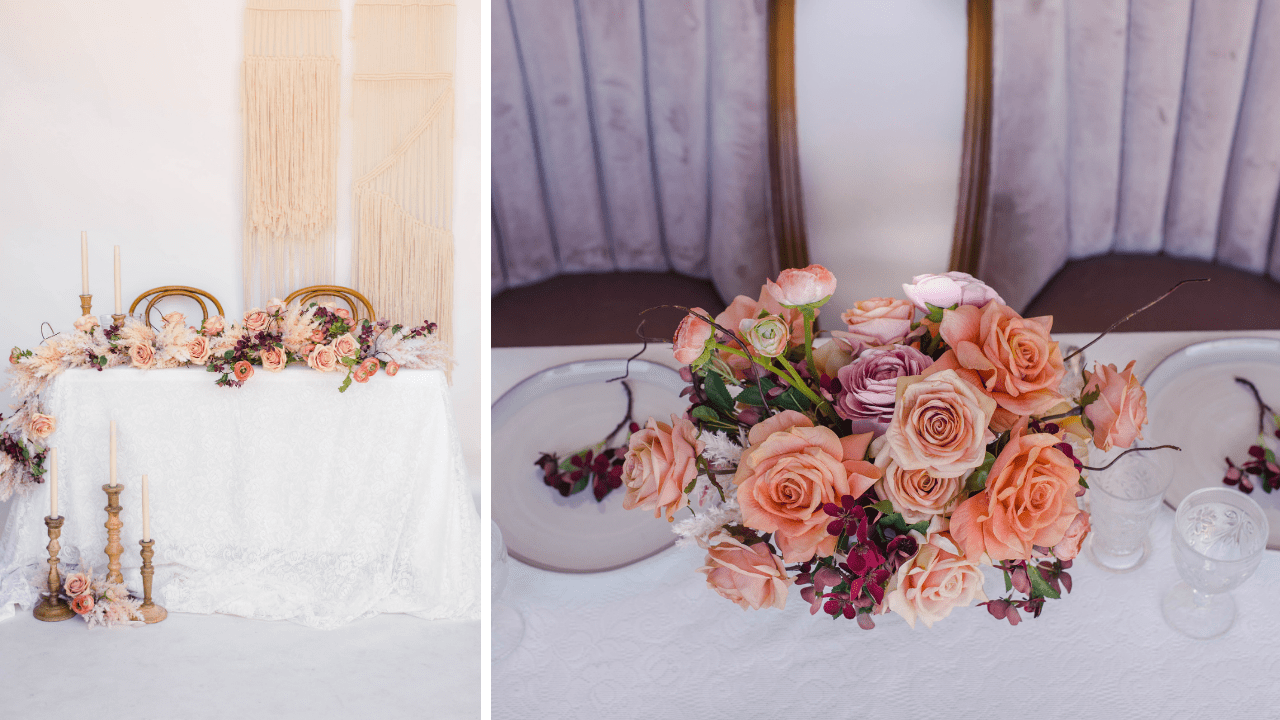 We hope our Nina Collection photoshoot gives you all the wedding inspiration needed to wrap up your planning! For a more in-depth guide on everything we used for this shoot, check out our Nina Pinterest board. For more inspiration, browse all of our floral collections, and follow us on Instagram for real wedding inspiration!