A COVID Wedding Cancelation Leads to the Most Intimate & Beautiful Mountain-side Ceremony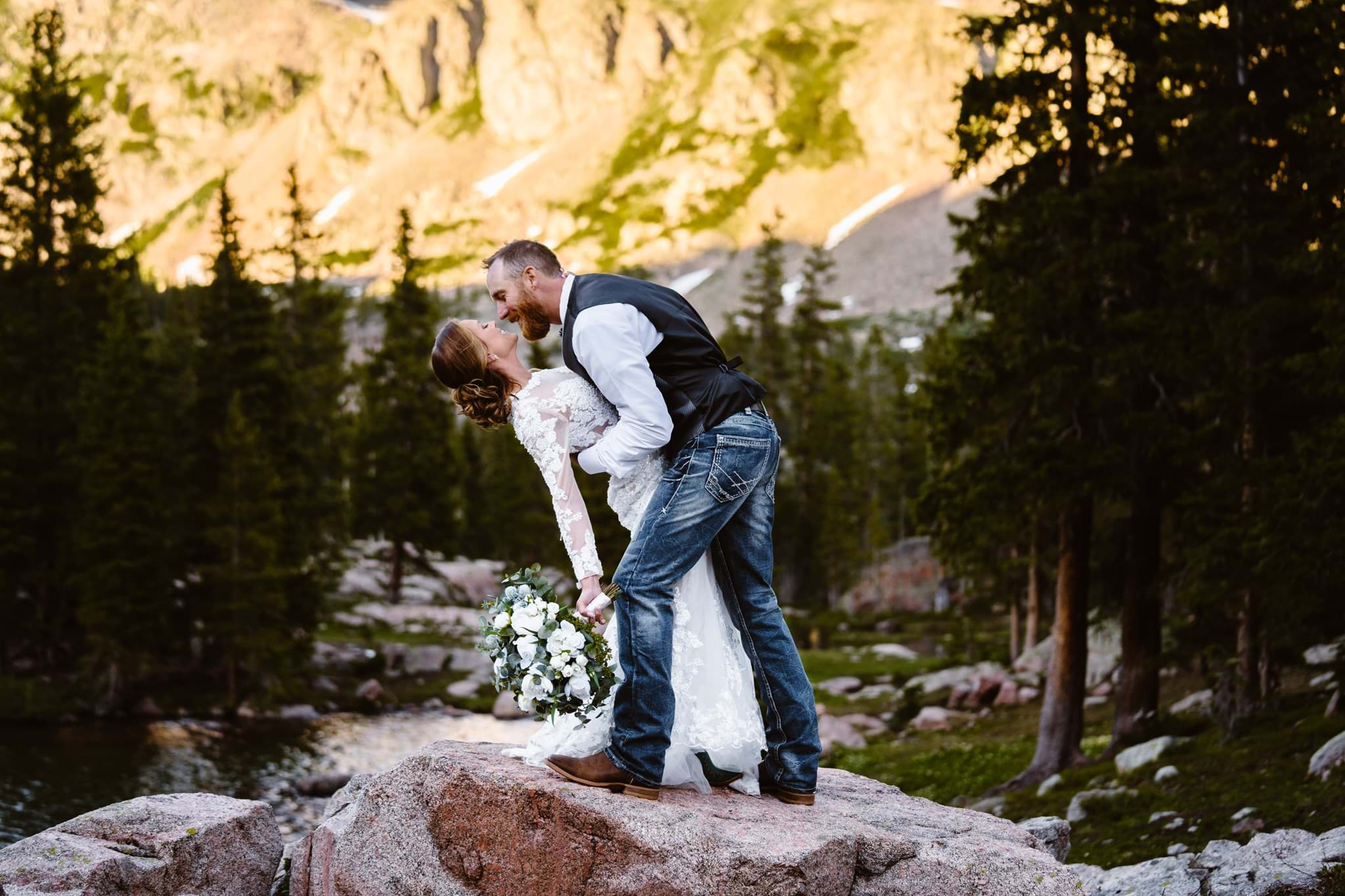 After six months of planning and organizing the wedding of their dreams, Heather and Jerrod were forced to make a difficult decision amid the pandemic. Although canceling their wedding was not ideal, the end result was better than they could have ever imagined. In the time of uncertainty, the love they share and the willingness to elope at such great heights was true!
Heather was frantically searching for the best places to elope and came across Sean Oblizalo's one-of-a-kind Vows and Peaks. A full-service guide, taking couples on a unique journey through some of the most amazing destinations to start the beginning of their life together. Sean takes couples through the entire day and is invested in his craft, "to capture authentic, candid shots paired with gorgeous portraits that highlight the relationship and the landscape equally."
The HIKE
As a couple who loves everything outdoors - bowhunting, 3D archery, hiking, and camping, Vows and Peaks was a perfect fit. Heather and Jerrod settled on a 2-day, 12-mile backpacking route in the front range of beautiful Colorado.
FROM HEATHER
"6.5 miles, 2,800 feet elevation gain, and almost 5 hours later, we made it to the top. We both carried in a backpack full of gear - mine obviously carried my dress, flowers, shoes, and camping gear. We had about an hour until sunset (exhausted, sore, and hungry), so we put on our wedding attire (Jerrod got dressed outside down by the lake, and I wiggled my way into my dress inside a two-man tent ((not recommended lol)). We had our first look down by the lake just as the sun started to set."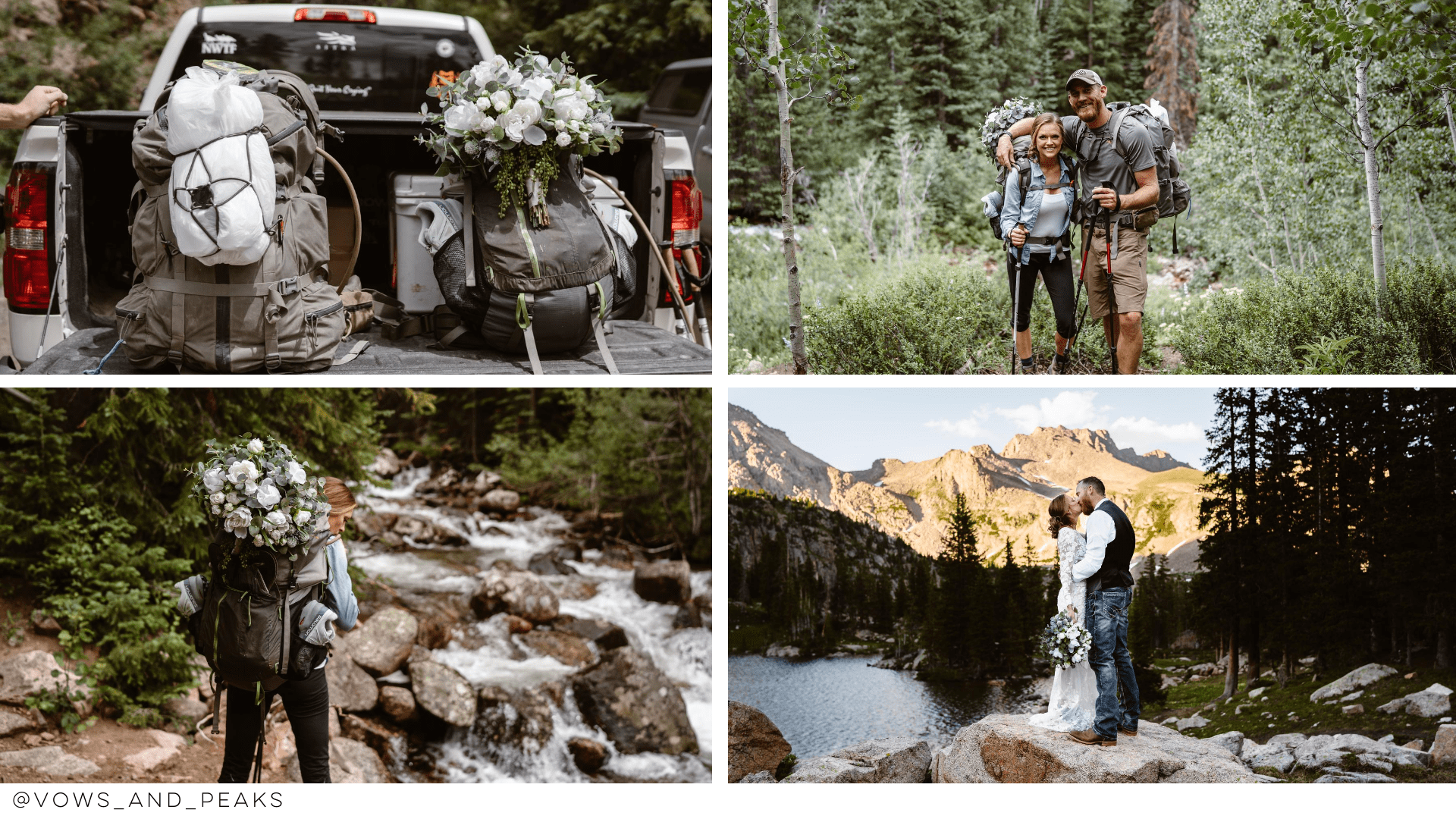 (LOOK at that stunning JANE Bridal Bouquet!)

The VOWS
"...We woke up around 5 am to obtain alpenglow shots for our vow exchange. It was a quiet, pristine, gorgeous morning for our ceremony surrounded by the most beautiful landscape and you guessed it, our wedding guests, the mountain goats. Without hesitation, we continued our picture taking regardless of them photobombing us. It was us in nature, just as we love to be. At one point we counted over 3 dozen goats including the tiniest, cutest babies who kept running all around us. After our ceremony, we walked back to camp to make pancakes for breakfast and we performed our unity which included the chord of three strands that we built together using branches from a spruce tree to make a cross. After breakfast, we packed up camp and headed back down another 6.5 miles to the trailhead - another grueling hike. This is when we ran into many hikers along the trail who complimented on how pretty my bouquet was - one lady even asked where I picked those wildflowers because she couldn't tell they were silk."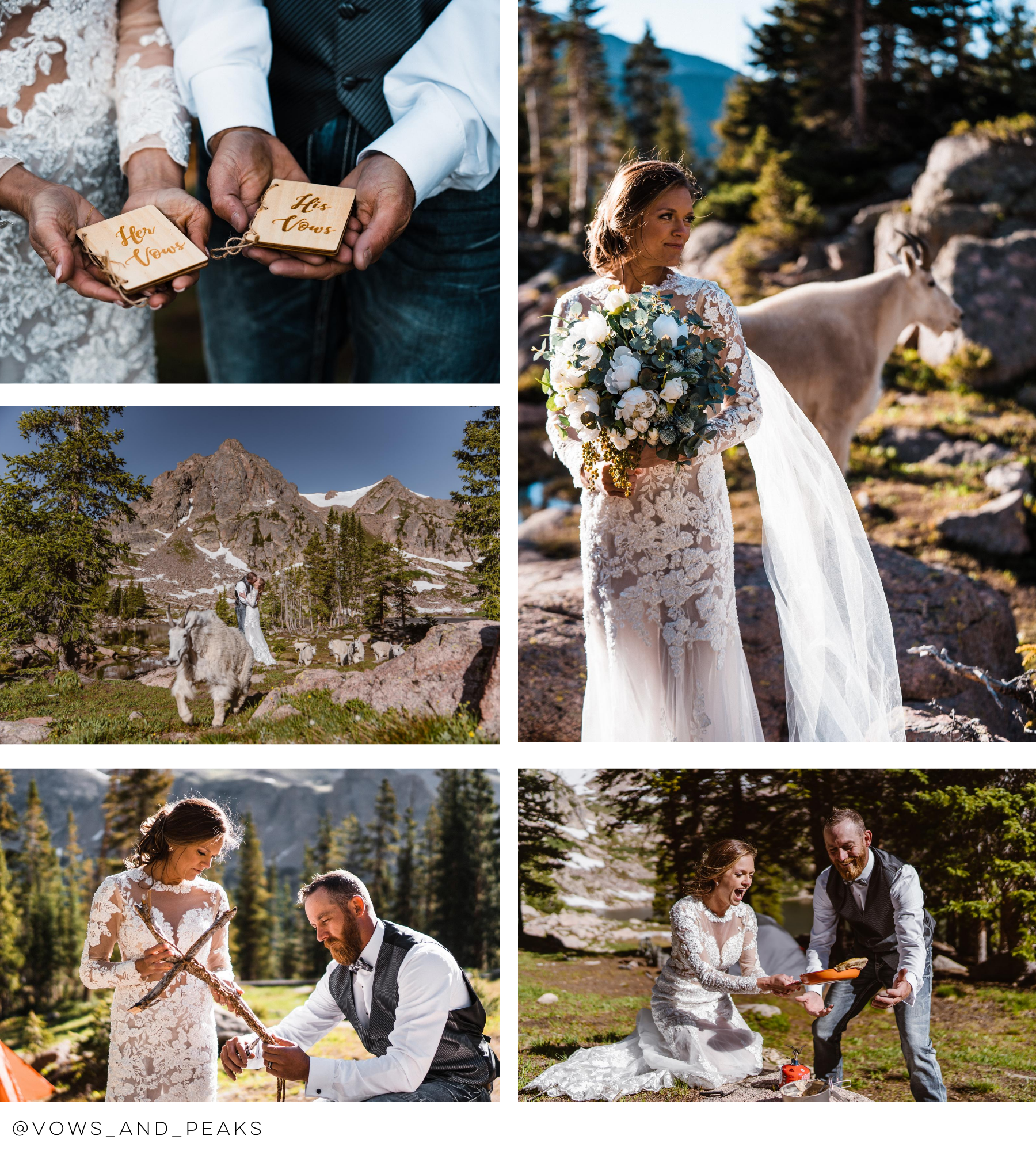 The BLOOMS
"When I first started my initial wedding planning last year, I researched the cost of wedding florals and was stunned by how big of an investment they were. I almost had to decide between florals or having a DJ. Fortunately, I did some more digging and researched other floral options where I read about Something Borrowed Blooms (SBBlooms). When I read about SBBlooms, I instantly said Y E S, this is perfect! And it fit right in my budget which was a huge lifesaver! I knew at the time I wanted a lot of greenery, with white florals and a mixture of texture. When I came across the Jane collection I knew that would fit with my original "country/outdoor" theme. Luckily the Jane fit perfect for our mountain elopement as the colors fit perfectly with our setting."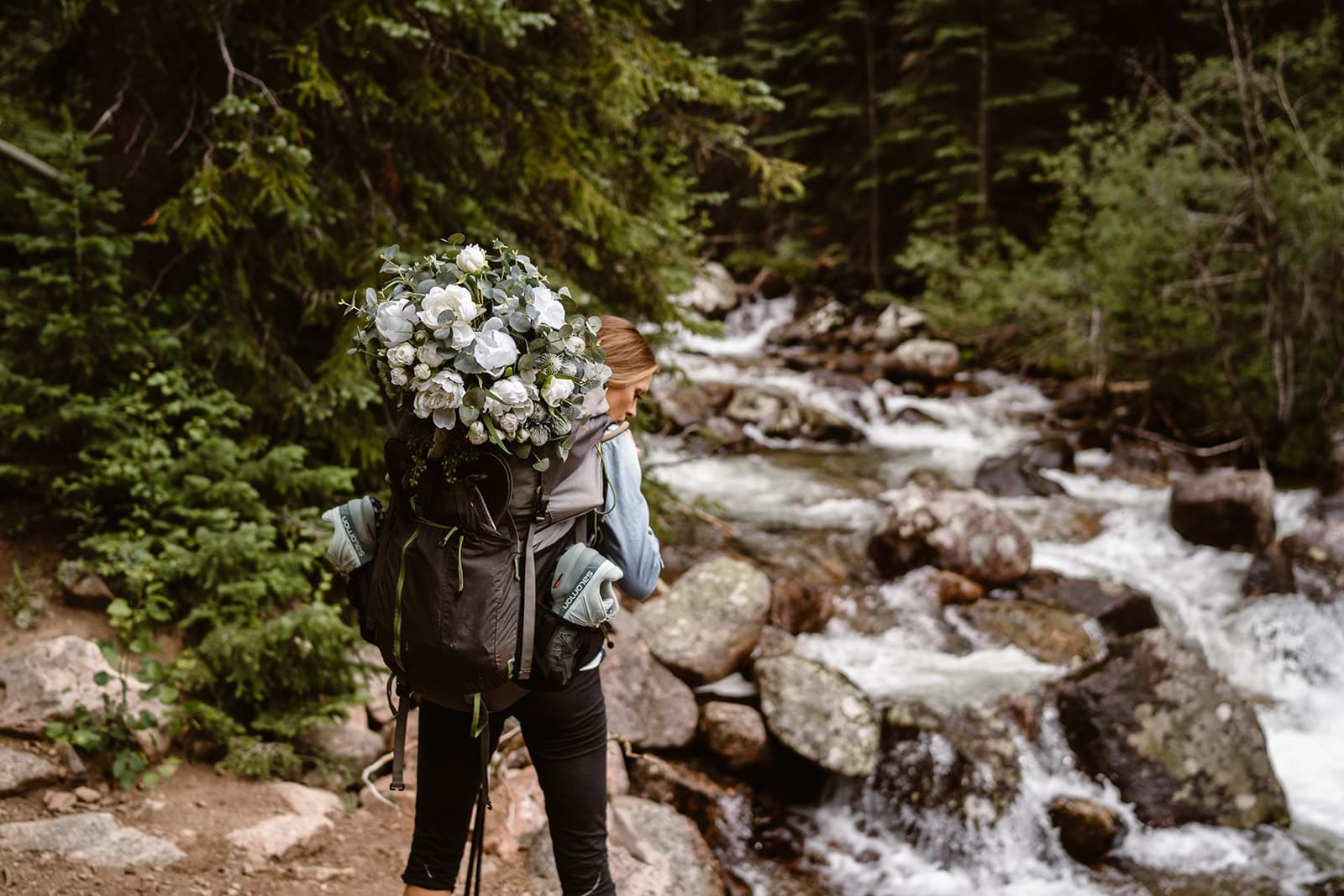 "Even with having to cancel my original wedding plans, which included having to cancel the majority of my SBBlooms order, I had nothing but the best experience. They were timely on their follow up emails and assured me that I would get my blooms in time even with having an address change. I have been recommending SBBlooms to all of my friends or future brides who are hung up on the cost of florals for their wedding day. It was the best decision I made and am so happy I chose SBBlooms to be a part of our special day!"
Heather and Jerrod's wedding elopement is certainly a breath of fresh air. It reminds us to focus on the positive and make the best of what we're given each and every day. Although their original wedding plans were sure to be beautiful and special, the magical elopement between the two was more than perfect in every way. We hope that all of our COVID affected couples can find this much joy, happiness, and love on their wedding day and always.
Congratulations, Heather and Jerrod!

We love hearing from our #sbbloomsbrides. Share your favorite wedding details and memories with us below.
XOXO,
The SBBlooms Team
Photos: @Vows_and_peaks