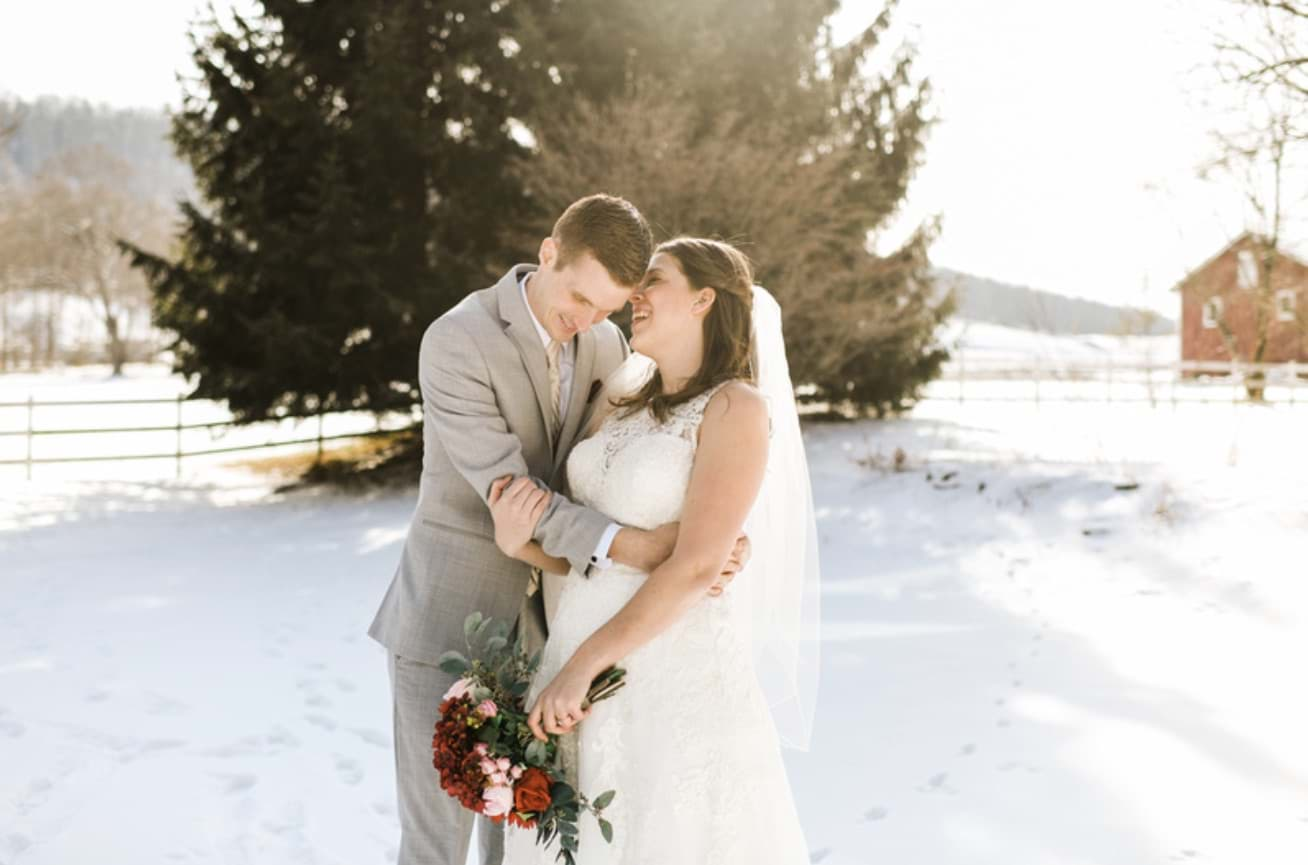 @lindseymareephotography
A winter wedding is generally considered an off-season event. However, this is not necessarily a bad thing! The overwhelming numbers of ceremonies in Spring and Summer mean you'd be competing for your favorite venue, wedding decor rentals, bakery availability for cake, and even your beloved guests.
Winter weddings come with many advantages, not just limited to more available choices in your vendor selection. Everyone is better able to attend, for one thing. People are ready to spread merrymakings and focus on what is truly important in their lives; family and friends. As far as honeymoons go, a tropical getaway is much more enticing (and cost-efficient) when you're leaving brisk temperatures. The best thing about a winter wedding? The built-in magical atmosphere of the season, making your design options much easier to finalize!
We've created the perfect outline for things to consider when planning your romantic winter wedding!
1. Choose Color with Care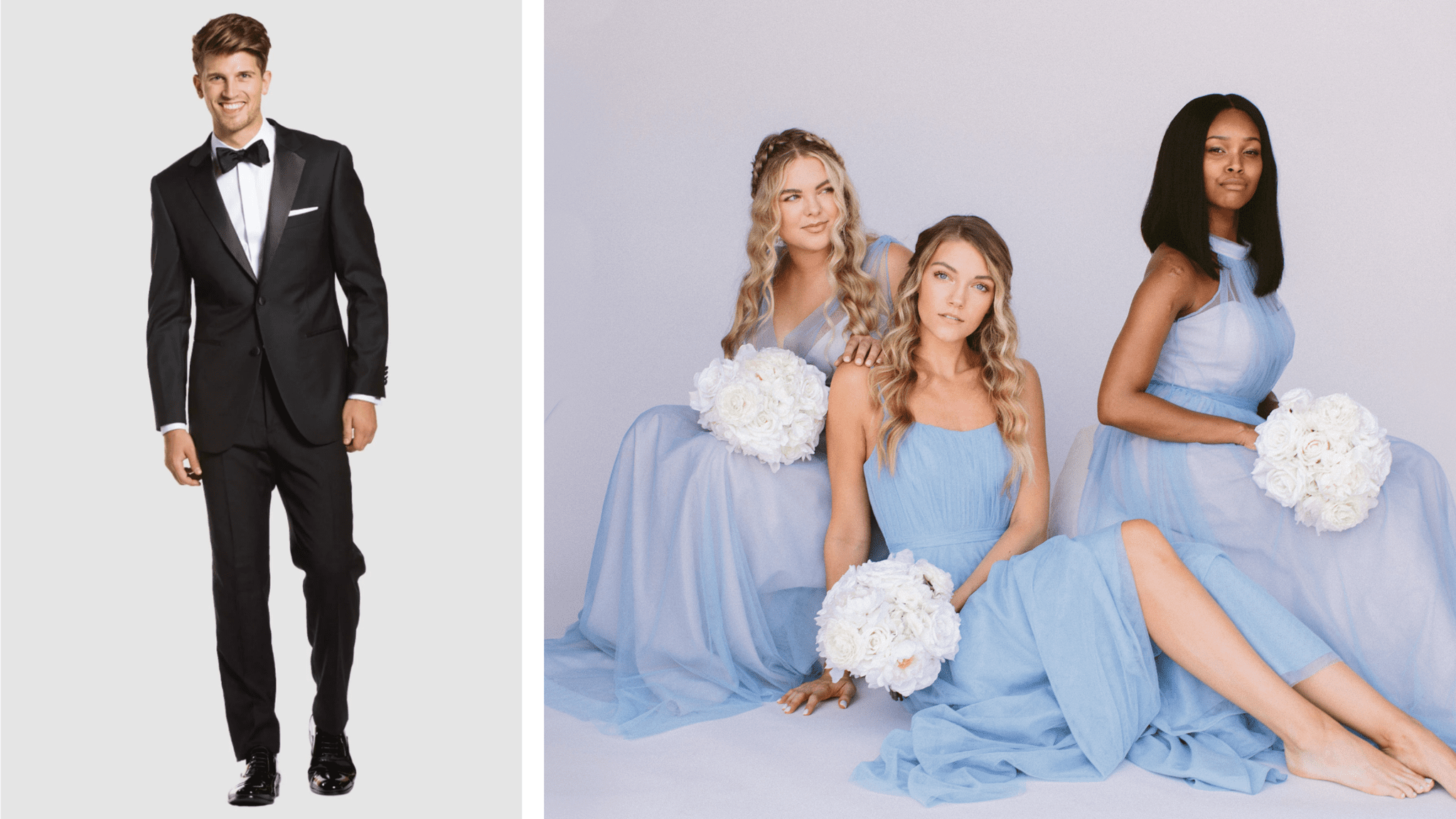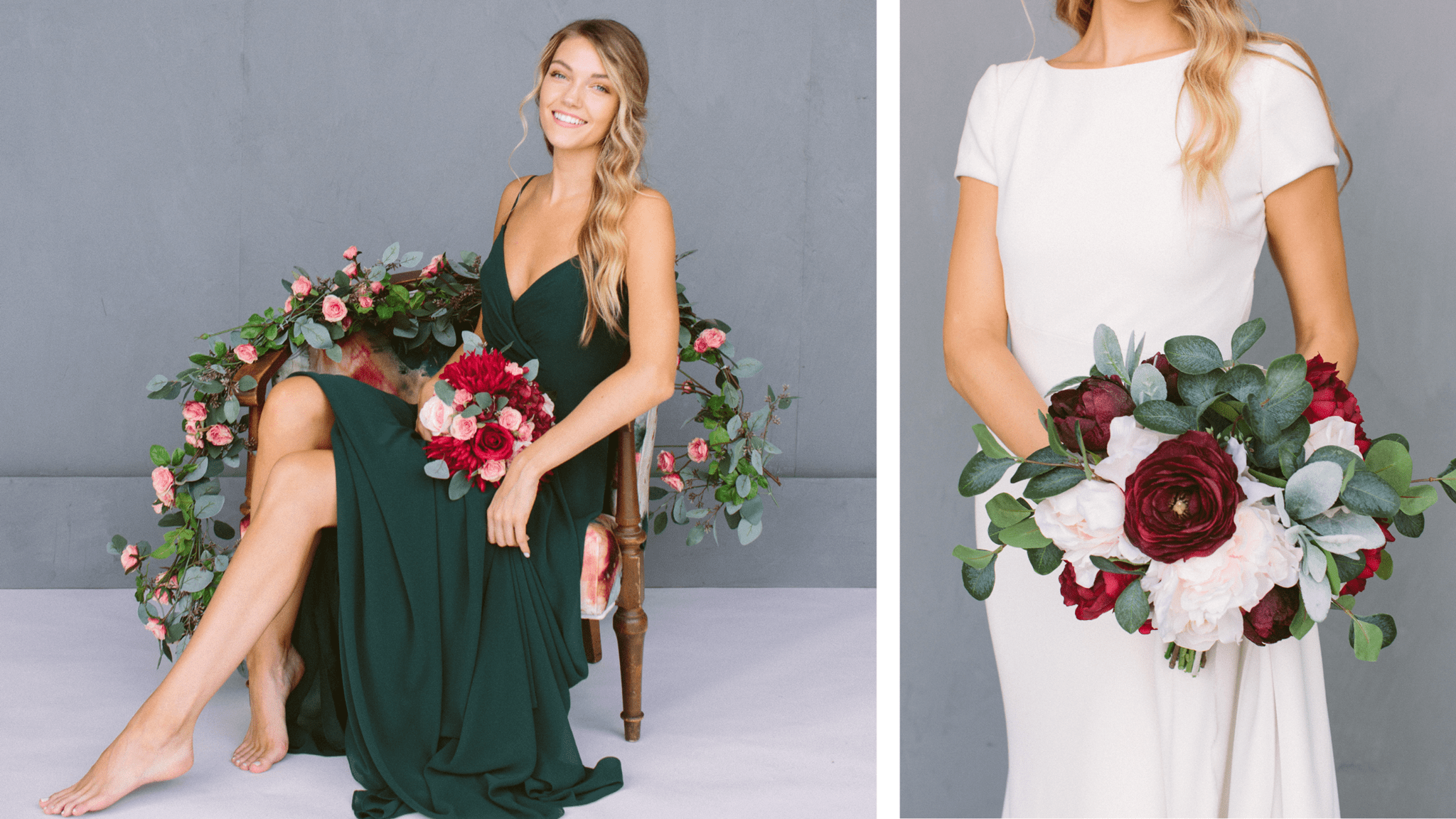 There are two avenues you can take when choosing your winter wedding color scheme. Some couples dream of a snow-filled white Christmas wedding (cue the Bing Crosby classic), while others love the bright and festive vibe to coincide with the holiday cheer. Either way, there are countless elegant ways to implement both of these visions.
For those of you who fantasize about a classic white color scheme, pairing neutrals like beige, ivory, a very light blue, and a touch of greenery, will really give your white elements the ability to stand out on their own. Have your groom and groomsmen wear a classic black tux like the one above from The Groomsman Suit, for a formal look to compliment the bridesmaids. Styling our all-white Audrey Collection or Sophia Collection with light blue bridesmaid dresses is the perfect finishing touch.
If you're looking for a more festive vibe on your big day, lean towards a vibrant and bold color choice to bring your vision to life. Vivid jewel tones like plums and lilacs, chocolates, bright berry, rich wines and burgundies, deep forest greens, and sparkling golds and citrine are just a few to consider. Pair with brilliant colored wedding flowers, such as our Kimpton Collection or the Stella Collection for a bold statement. If you're still unsure about which silk flowers for rent are the best for your vision, contact us and we'll help you decide on your style!
2. Food and Drink

Guests will rave about your wedding food for years to come, but only if you do it right! Because it's winter, your guests will be looking forward to a warm hearty meal to fill their bellies before hitting the dance floor. Choose festive foods like a delicious roast, featured on a carving station with appetizers and roasted vegetables that are in season. Baked puff pastries with brie and cranberries will make even the pickiest of eater's mouths water!
When it comes to drinks, champagne is a given, but including a fun holiday cocktail will really get your guests in the spirit. Try recreating this Sparkling Pomegranate Punch from Half Baked Harvest. 'Tis also the season for sugarplums to go waltzing through people's heads, so a holiday dessert bar is a MUST! Include cookies of all kinds and make sure to include holiday favorites like spiked egg-nog and hot chocolate.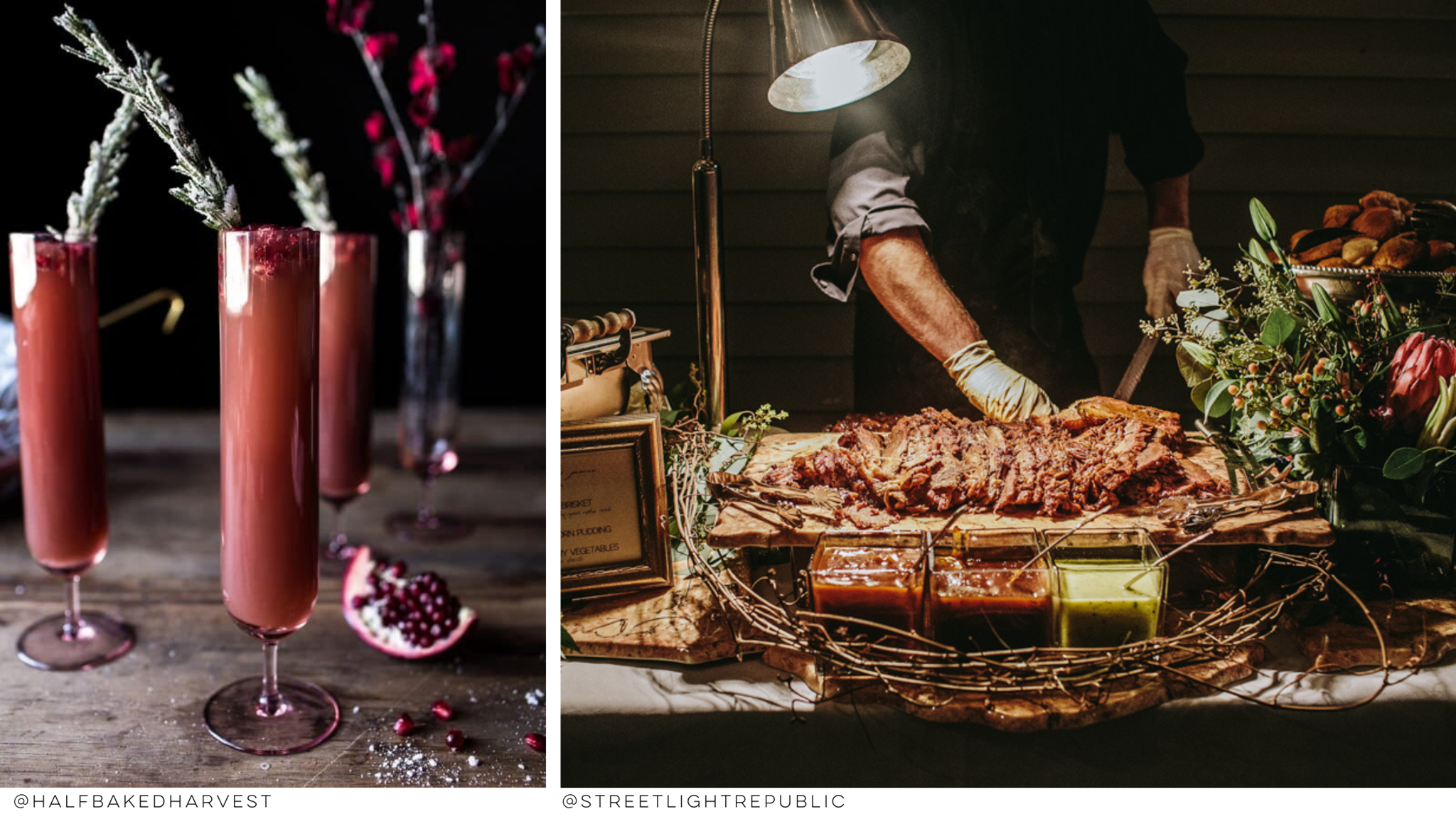 3. Decorations
There's a very fine line between tacky holiday decorations and decorations that fit just right in your environment. Having red and green Christmas decorations everywhere may confuse guests into thinking it is a Christmas themed wedding. This is YOUR day, not Santa's. Use various sizes of real Christmas trees to create a stunning woodsy ceremony backdrop. We are swooning over the set-up by Availed Wedding and Event Planning.
Don't have access to real Christmas trees? Having pre-lit and flocked Christmas trees throughout your venue will make your guests feel like they are walking into a winter wonderland...literally. Sticking with greenery and snow like decorations will keep the romantic feel without the Christmas overload. Add in some texture with wooden elements to keep the mood warm, along with different styled candles and lanterns.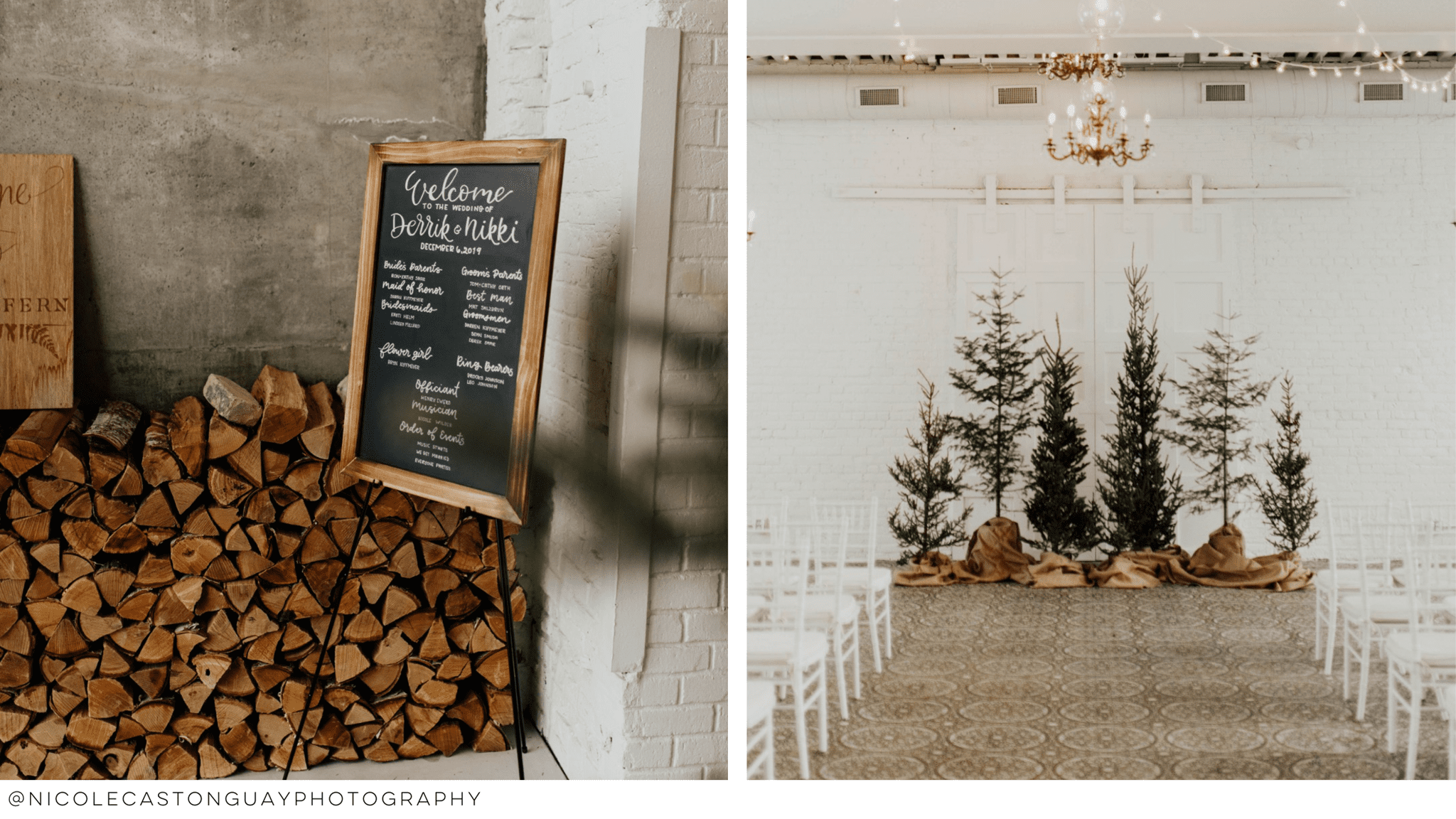 4. Lighting and Finishing Touches
Don't forget to add that warm holiday ambiance! Keeping the lighting low and moody will keep the romantic vibe going throughout the night. Utilizing string lights, fairy lights, and charming votives will make a huge difference around your food and dessert tables.
If you're lucky, you'll find a venue with a real wood-burning fireplace. It will add that 'home for the holidays' feel to your reception. If you're worried about the cold, see if you can borrow an electric fireplace if it goes well with your decor. Also, make sure to have other sources of heat, such as patio heaters, if your venue can be on the cold side. Having a basket of cozy blankets will entice your guests to get comfortable and enjoy the event. You don't want your guests shivering through the ceremony and reception! End the night with a magical lightning ceremony of paper lanterns. This is the perfect time for you and your now-husband to bask in the presence of your family and friends and enjoy the ending of your wedding day.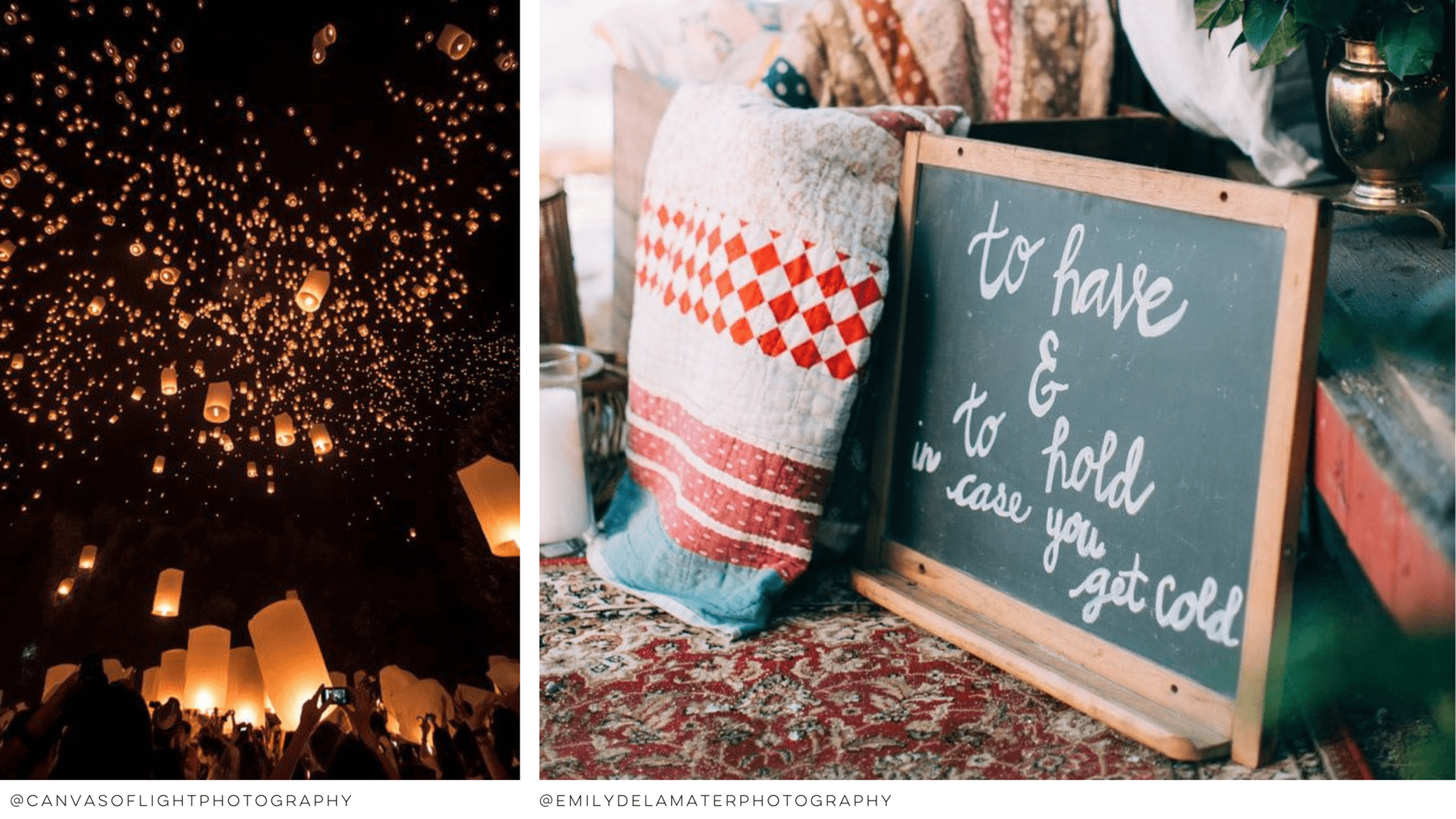 What does your dream winter wedding look like? Tell us in the comments!
Join our SBBlooms Brides Facebook group to get all the insider pro tips and advice from past and present SBBlooms Brides. For more inspiration, browse our floral collections, follow us on Instagram, and subscribe to our YouTube channel for DIY tips, collection reviews, and behind the scenes.