Finding ways to save money on your wedding without losing quality can be tough. Learn more about all the benefits of using silk flowers for your wedding today!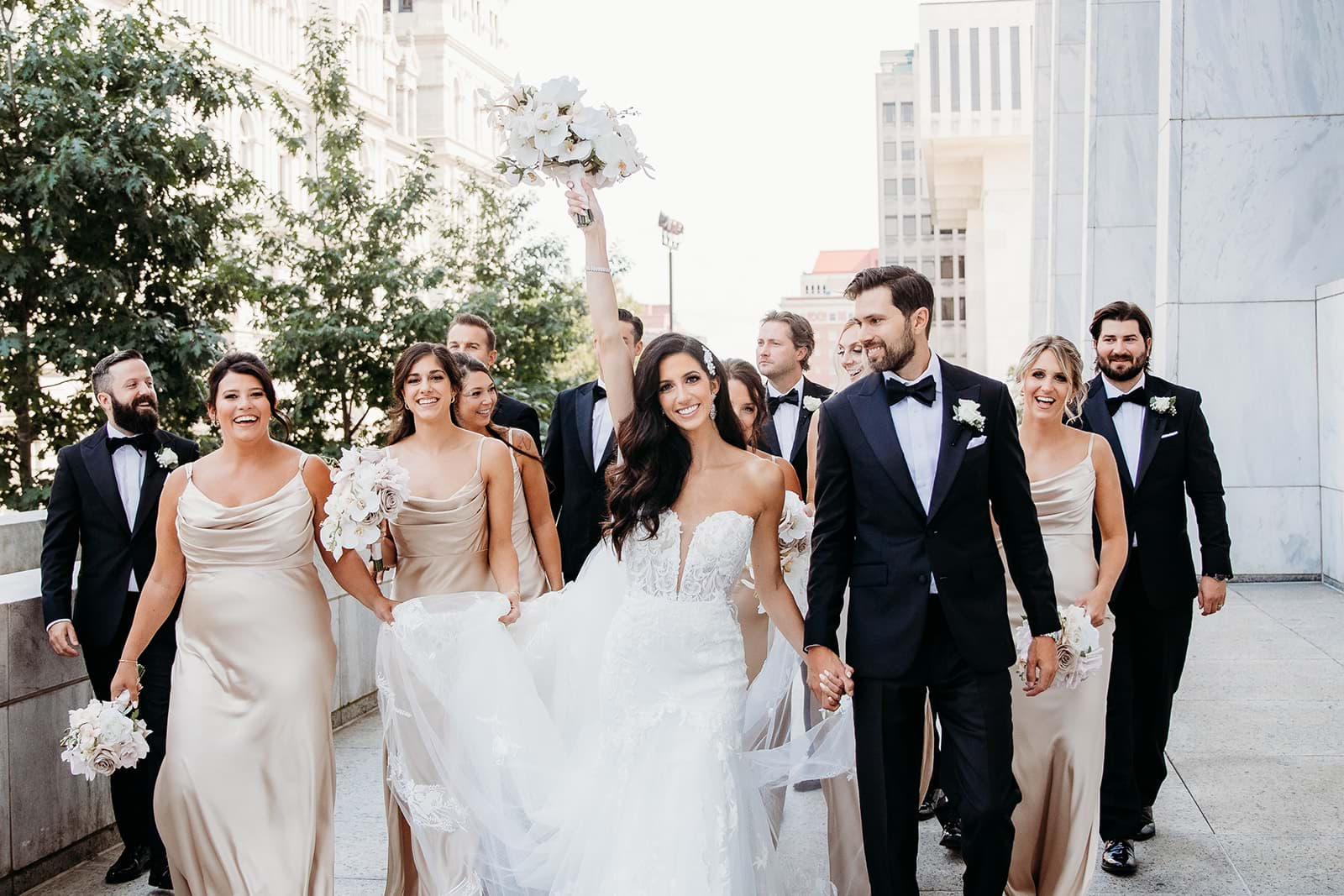 @DoriFitzpatrickPhotography
As a newly engaged couple, you're weeks into wedding planning and as you confirm more selections for your wedding day your budget begins to close in on you. And so comes the most basic floral question - "How much do wedding flowers cost?". It seems like a pretty simple question, expected to be followed by a rather simple response. But not so much so! Determining the cost of wedding flowers varies greatly from couple to couple. The rule of thumb budget suggests 8% of the total wedding budget is expensed to flowers, but that rule is easily broken by various factors and considerations.
By way of example, let's walk through a few of those considerations... Are you using fresh flowers or open to premium silk flowers? Are your flowers of choice in season or out of season? Because let's face it, if you're looking for fresh peonies or ranunculus in your bridal bouquet during a winter wedding, that's going to cost a pretty penny! Are you getting married during a floral holiday like valentine's day or mothers day? Will fresh flowers be used for the ceremony and reception - how many pieces in total for each? Will the florist need to install flowers on the day of the wedding or beforehand... The list of questions goes on, and with all of these variables and other considerations comes the dreaded price point.
Not sure where to start? Take our Bloom Styler quiz and we'll help you find the perfect wedding flowers in no time!
Know Your Wedding Flower Budget
According to our friends at The Knot, the average cost of wedding flowers in 2022 was $2,400. That's about a 10% increase from years past and can fluctuate depending on your vision and style. Not to mention, the ongoing floral shortage and world supply chain issues can greatly affect that price. Whatever your wedding budget is, it is safe to start with 8-10% of your total budget dedicated to flowers. From there, you can work your budget up or down based on your needs.
Cost of Ceremony Flowers
If spending thousands of dollars on flowers that will die, makes you weak in the knees… we have a great alternative option for you. Something Borrowed Blooms offers gorgeous, premium silk flowers all at a fraction of traditional costs. Our premium silk wedding flowers look real, smell amazing, and are always in season! We are our constantly expanding options of bridal bouquets, bridesmaids bouquets, boutonnieres, hair accessories, aisle markers, and more to rent for your wedding day! Take a look at the potential savings associated with Something Borrowed Blooms' silk wedding flower rentals compared to the average cost of real flowers:
| | | |
| --- | --- | --- |
| | Average Wedding Flowers | Something Borrowed Blooms |
| Bridal Bouquet | $195 - $275 | $65 |
| Bridesmaid Bouquet | $65 - $70 | $35 |
| Posy | $40 - $55 | $15 |
| Hair Accessories | $35 - $40 | $6 |
| Boutonniere | $20 - $40 | $6 |
| Corsage | $20 - $40 | $12 |
| Flower Girl | $40 | $15 |
The difference in cost is J A W D R O P P I N G, right?
For many of our couples, saving thousands of dollars on wedding flowers is a sure YES! But for others, we see a thoughtful compromise. If fresh flowers are REALLY important to you, but so is your budget, consider mixing fresh and silk flowers. We've seen countless couples pull off a beautiful look by mixing fresh and silk. And to be quite honest, silk florals complement fresh flowers so well and it's a great way to cut down on overall costs!
Below, SBBlooms Bride; Maggie mixed a fresh floral bridal bouquet with our Taylor Bridesmaid Bouquet for a gorgeous fresh and silk combo!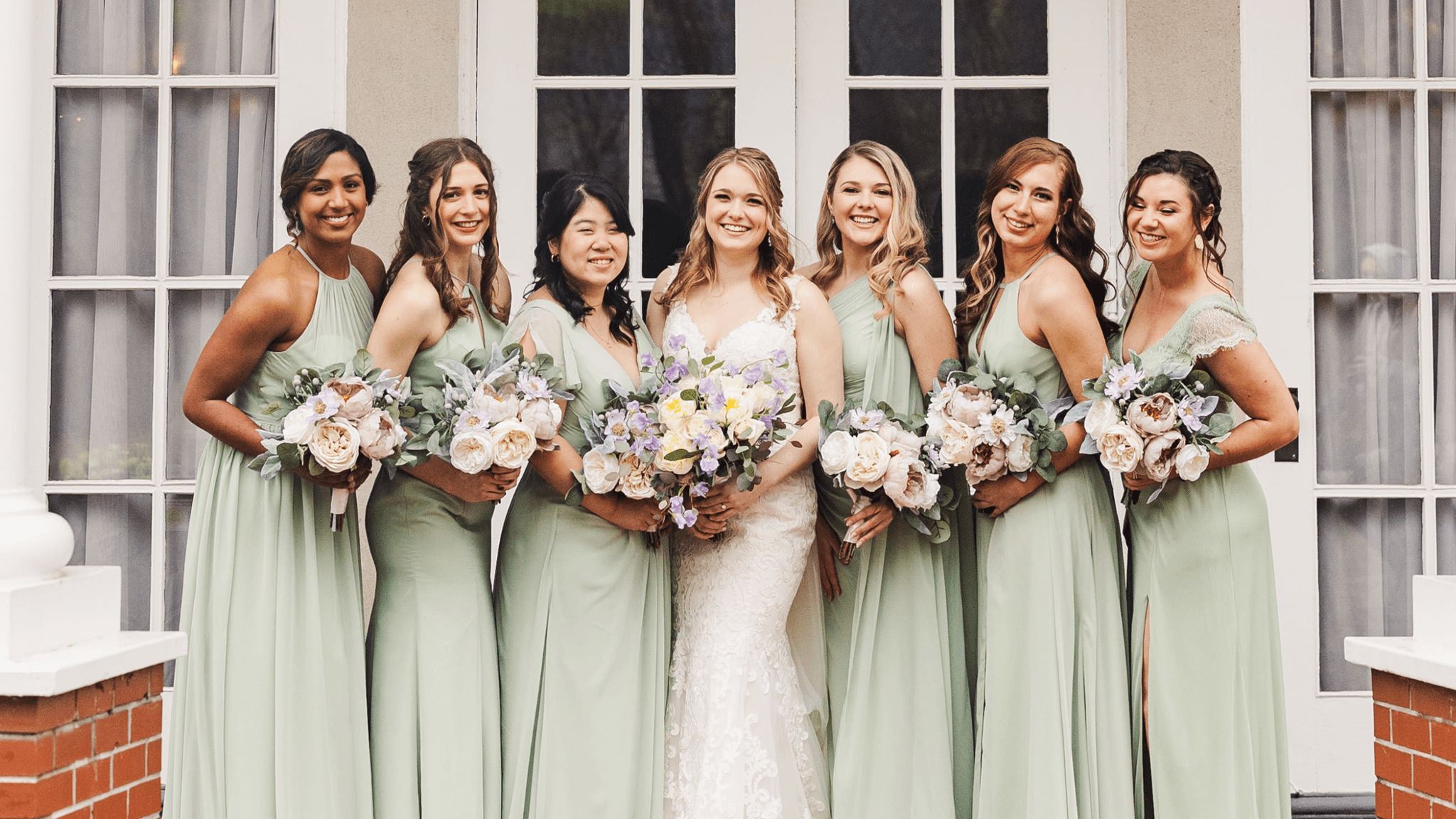 Cost of Reception Flowers
Switching to silk florals for the reception can also rake in big savings! Every Bride falls in love with elaborate floral installs and lush fresh floral garlands… until they see the price tag. These elements are very labor-intensive for fresh florists, so the cost reflects just that! We've compared side by side the potential savings on reception flowers and it's substantial!
| | | |
| --- | --- | --- |
| | Average Wedding Flowers | Something Borrowed Blooms |
| Archway Garland | $275 - $550 | $50 - $65 |
| Greenery Garland | $65 - $70 | $6 - $18 |
| Reception Table Centerpiece | $165 - $250 | $28 |
| Grand Centerpiece | $275 - $350 | $120 |
At Something Borrowed Blooms we're proud to offer ceremony and reception flowers that rival the rest! Our product line includes a variety of centerpiece sizes in every collection, including grand centerpieces. When pairing these elaborate arrangements with our collection of custom garlands, any couple can achieve larger-than-life floral installations on their big day for less.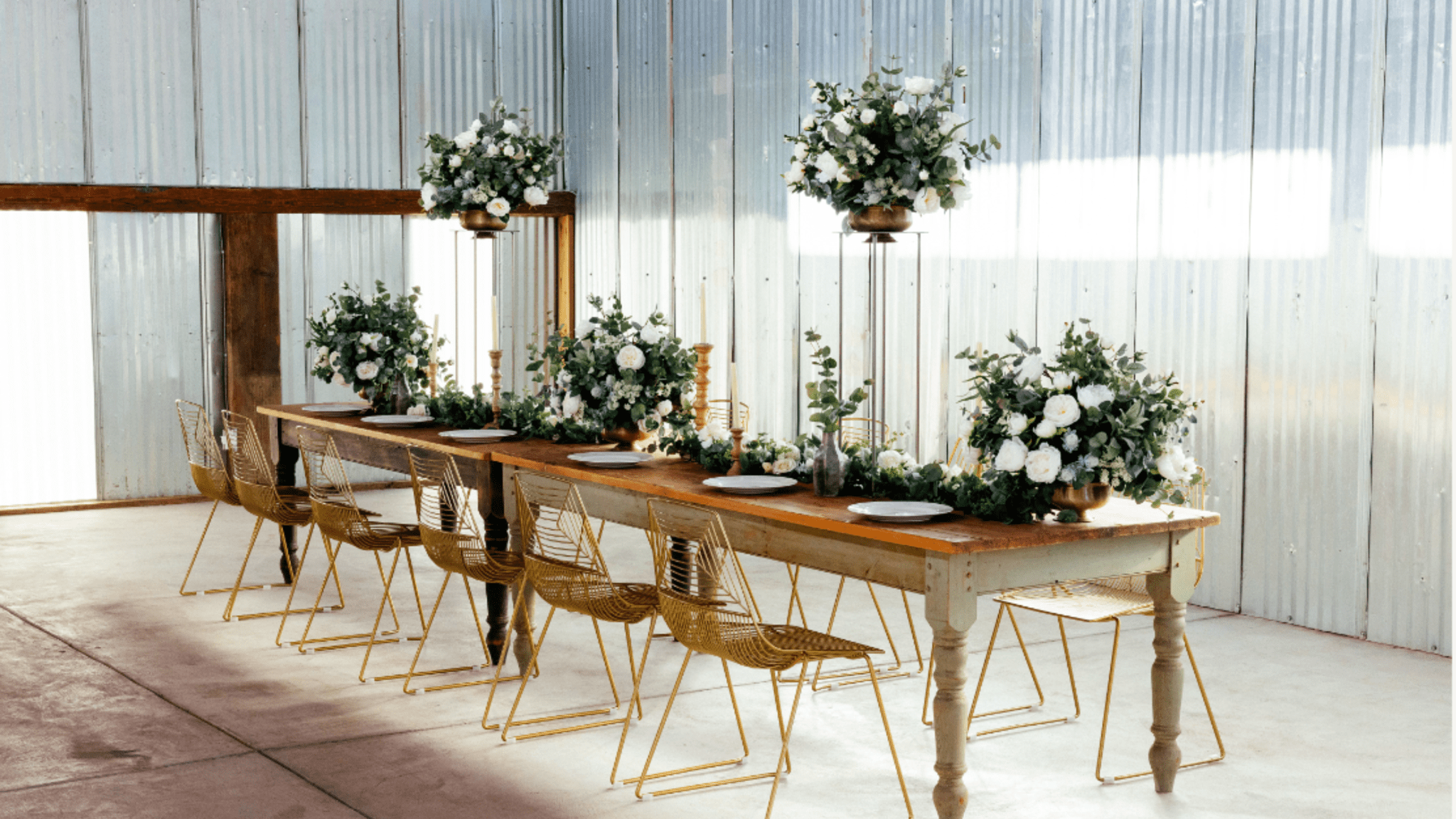 Our custom garland coordinates perfectly with each of the seventeen floral collections, so you are sure to find one that matches your wedding colors. Designed especially for ceremony arches, railings, welcome signs, and other key focus areas and the set-up is as easy as it gets. Simply remove the garland from the box, gently fluff and attach using zip ties. Attach multiple strands together with zip ties for larger areas as needed.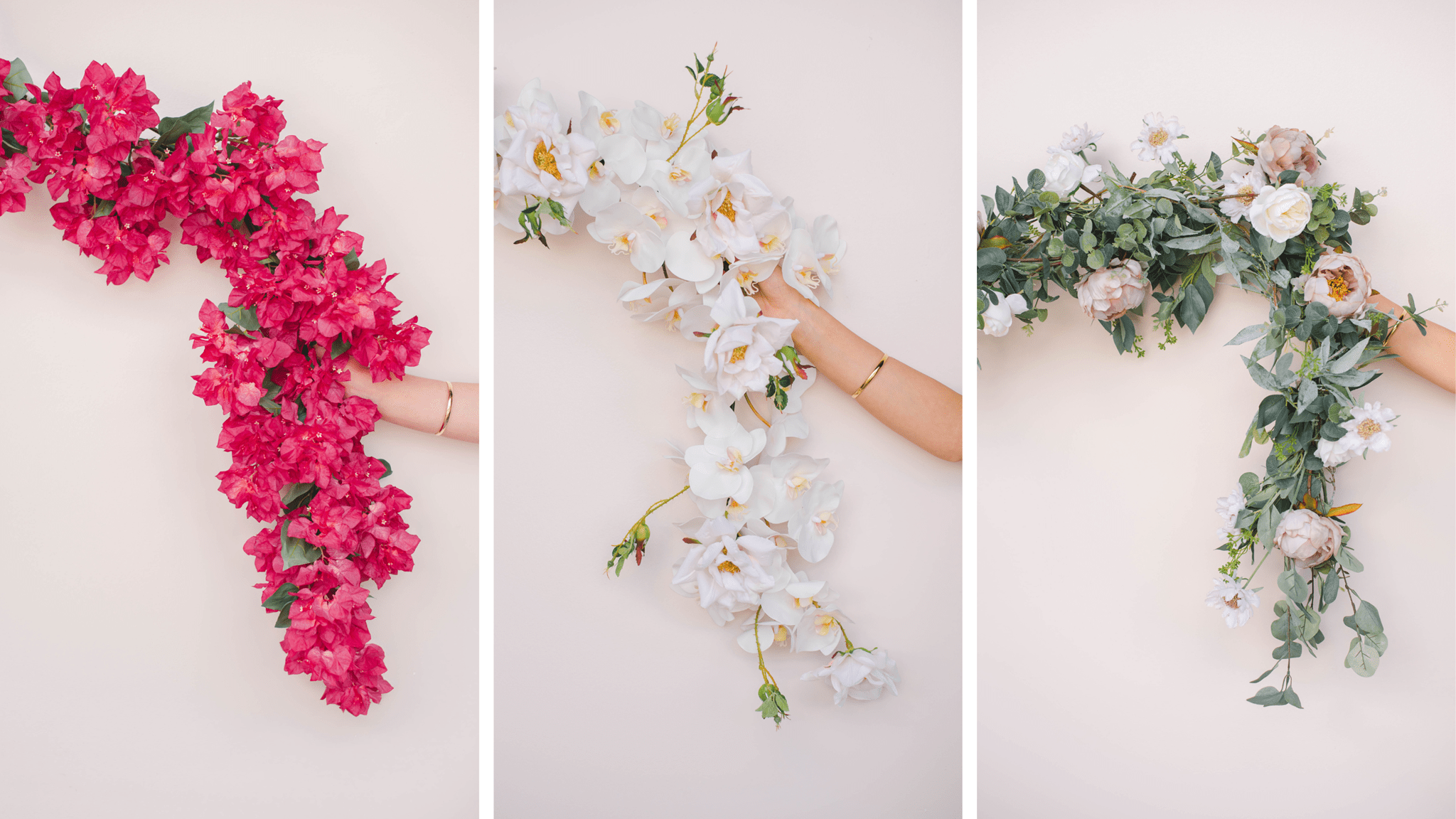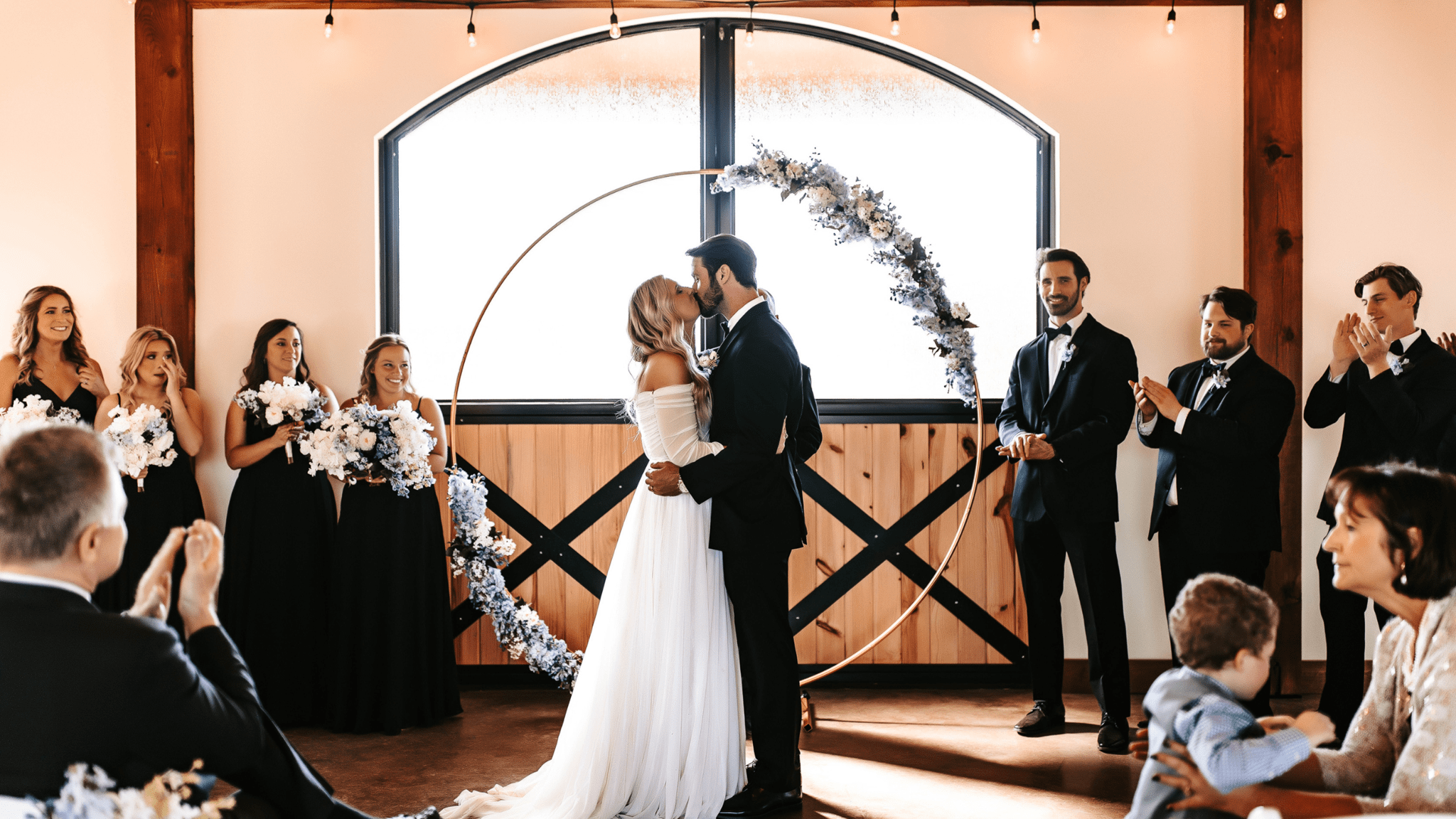 Whew… who would have thought such a long response would be needed for such a simple question! We're glad you stuck around to learn all the tips and tricks for saving on florals, while learning why floral budgets vary so drastically. And hopefully, we provided you with the insight needed to finalize your wedding floral expenses while staying within a budget that fits YOU just right!
Have questions? We're here to help! Reach out to us at info@sbblooms.com and our bloom experts will answer any and all questions you may have about renting your wedding flowers with Something Borrowed Blooms.

XOXO,

Lauren & Laken