Wedding flowers for your destination wedding or elopement just got easier with Something Borrowed Blooms!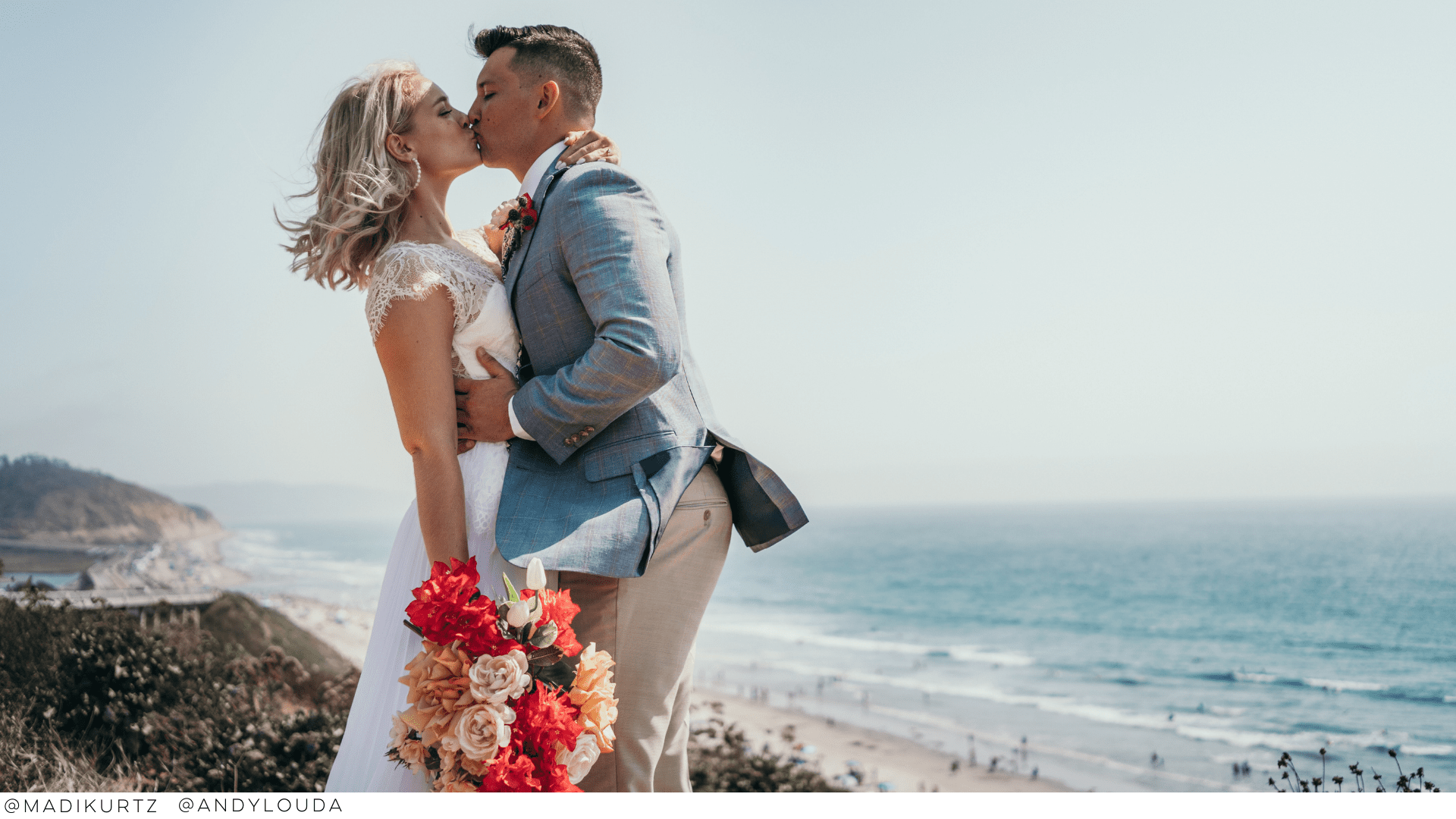 After what feels like an endless year of being cooped up, we are seeing more and more couples with a sense of adventure, and rightfully so! Destination weddings and elopements are the perfect way to reflect your fun-loving spirit and venturesome heart as a couple. But, how will your wedding flowers follow where your feet may bring you? No need to worry, Something Borrowed Blooms makes traveling with wedding flowers simple and stress-free. And great news, we've just added an extended rental option to give couples the freedom to bring their blooms wherever they may roam. Spend less time worrying about sourcing fresh flowers in a city you don't know and more time making memories to own, with our rent and return silk wedding flowers that are always picture perfect!
CONVENIENCE
Our new 10-day rental period allows couples to receive their blooms domestically and travel with them wherever they wish to exchange their vows. How cool? Couples can receive their wedding flowers in the comfort of their home with a 10 day period to travel freely across the country, or internationally, and back before returning your blooms. The convenience of a 10-day rental takes the stress of finding a local FedEx away when you're in an unfamiliar city.
HOW IT WORKS
Something Borrowed Blooms ships anywhere in the continental United States and Canada, but what if you and your love decided to elope to a place like Cabo San Lucas? We have a solution! Start your wedding order or quote, by creating an account through our website and selecting your wedding date. Below the wedding date box, there's a toggle button with 'Make my Order an Extended 10-day Rental'. By clicking this, the prices on each of our products will reflect the price you would pay for the 10-day rental, instead of the standard 5-day rental period.
Continue through the shopping experience by adding any and all items you desire to your cart. There are never any minimums or package requirements, so you're free to create an order that meets your specific needs. The check-out process is quick and easy. Once your order is placed and your 50% deposit is paid, you're all set! Your blooms will be delivered to your door 3 days prior to your event date, ready to travel wherever you go! Need your order sooner than 3 days prior? If so, select your event date as the day you plan to travel. This will ensure your flowers are in-hands before your travel date.
PRICING
When selecting the 10-day rental option, your total will be adjusted accordingly - twice the price of the original rental period with a special 20% off discount! Here's a quick comparison to show the various pricing options of wedding flowers.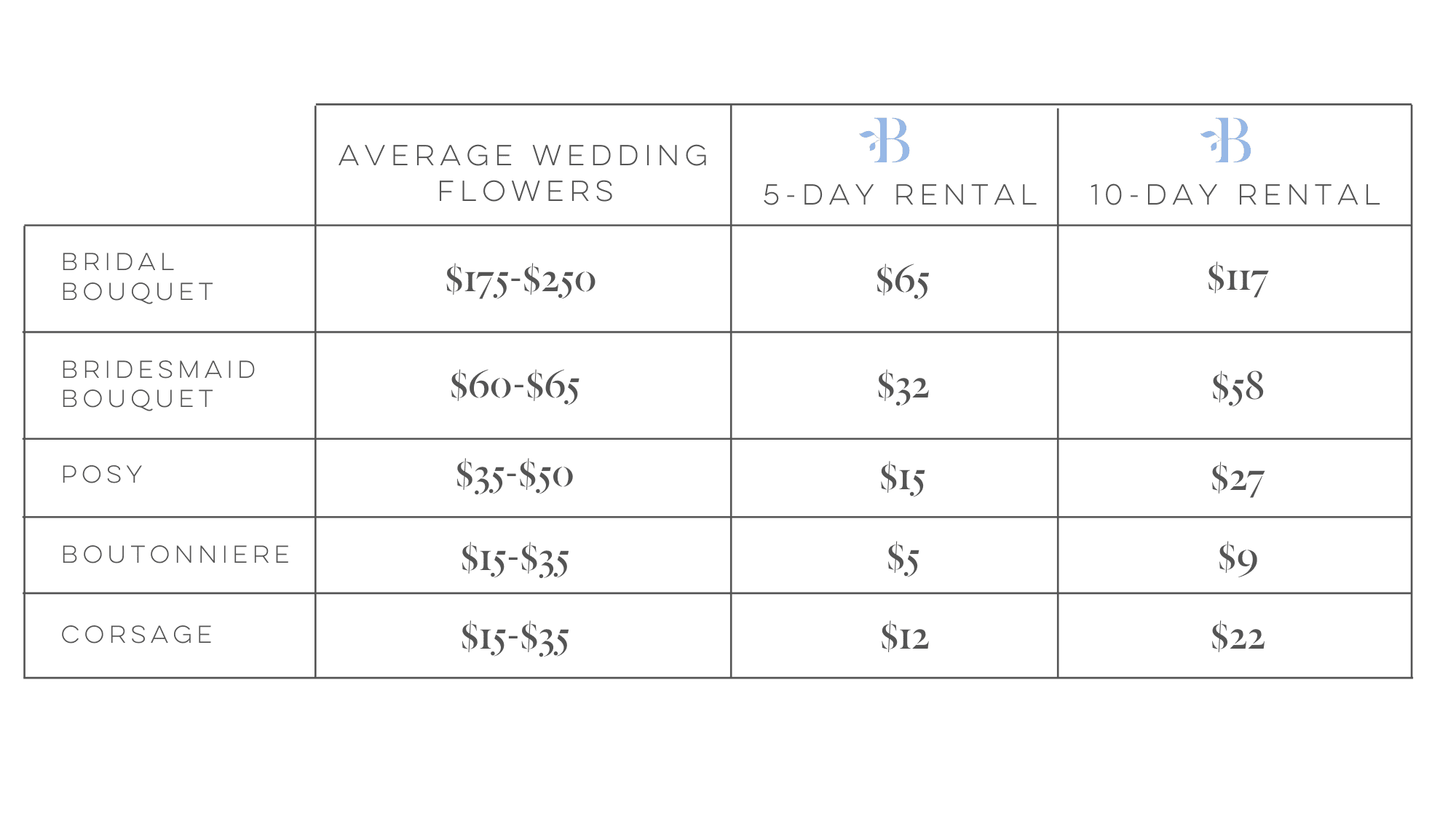 Although the 10-day rental price is steeper than our traditional pricing, there's still A LOT of savings to be had. Even more so, when compared to resort pricing. Often resorts have pre-contracted florists for weddings and events, meaning you can't choose your florist or price shop. Typically there is a set price and packages that you're presented to select from and at times floral selections can be limited depending on the time of year and location of the resort. Knowing exactly what you'll receive on your wedding day from Something Borrowed Blooms is a huge advantage for those type-A personalities.
TIME TO ELOPE
If you've been contemplating an elopement in the pink sands of the Bahamas or a breathtaking mountain top ceremony with the love of your life, there's never been a better time to do it. We hope our rent and return wedding flowers will ease the stress of planning and become part of your sweet memories!

Questions about the new 10-day rental option? Reach out to us on our website or send us an email at info@sbblooms.com. You can also join our SBBlooms Brides Facebook group to get all the insider pro tips and advice from past and present SBBlooms Brides.
For more inspiration browse our floral collections, follow us on Instagram, and subscribe to our YouTube channel for DIY tips and collection reviews.
XOXO,
The SBBlooms Team